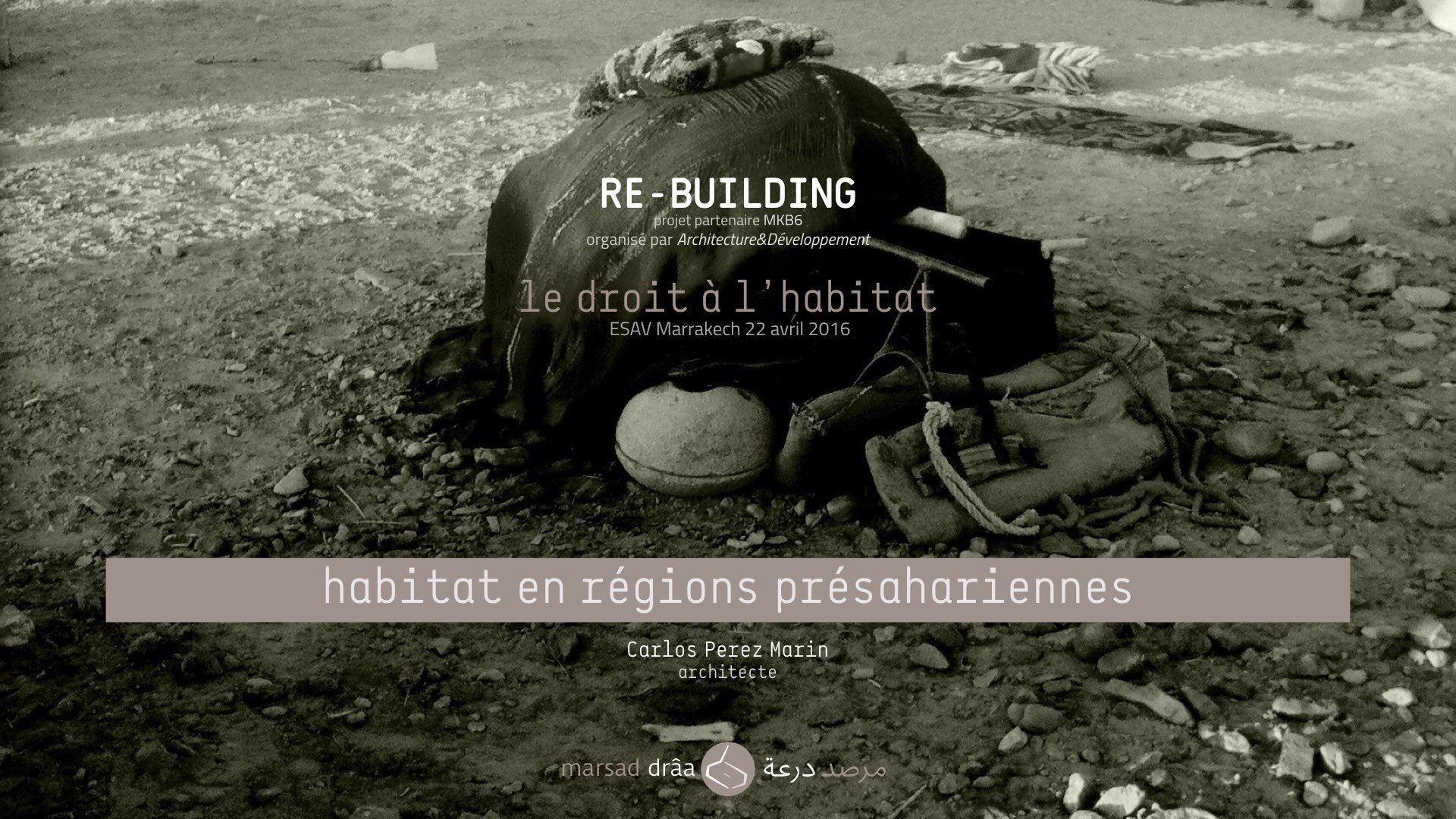 1. Dans les régions présahariennes (celles qui se trouvent entre les montagnes du Haut Atlas et le désert du Sahara), la plus part de la population se concentre dans les plaines et les vallées, sur trois axes principaux, qui connectent le nord du Maroc avec le sud: Guelmin-Agadir-Marrakech, M'hamid El Ghizlane-Ouarzazate-Marrakech et Rissani-Errachidia-Fès.
1. In the pre-Saharan regions (those located between the High Atlas Mountains and the Sahara desert), most of the population is concentrated in the plains and valleys on three main axes that connect northern Morocco with the south: Guelmim-Agadir-Marrakech, M'hamid El Ghizlane Ouarzazate-Marrakech and Rissani-Errachidia-Fez.
2. On va expliquer les différents types d'habitat en fonctionne de son rapport avec le milieu physique, quels sont les principaux problèmes, les solutions que les habitants mettent en place pour les résoudre et finalement, quelques propositions afin d'améliorer ces constructions.
2. We will explain the different types of habitat depending on the physical environment, what are the main problems, what are the solutions that people set up to resolve them and finally some proposals that could improve these constructions.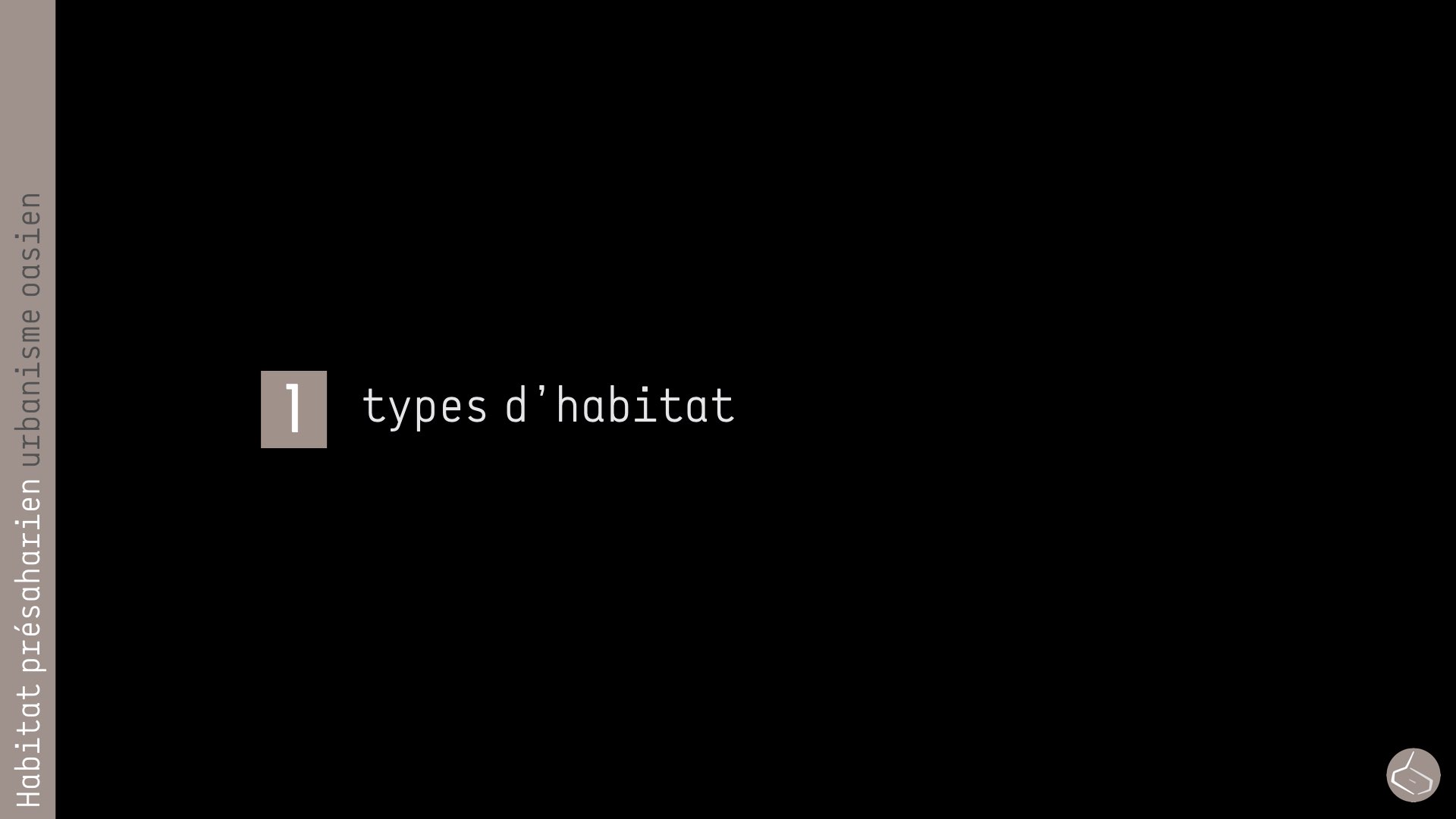 3. On avait dit que le milieu physique était important. La pénurie d'eau fait que les gens habitent là où ils peuvent la trouver, c'est à dire, tout près des rivières et fleuves, où nous trouvons aussi des palmeraies.
3. We said that the physical environment was important. Water shortage makes people live where they can find it, for example, near rivers and streams, where we also find palm groves.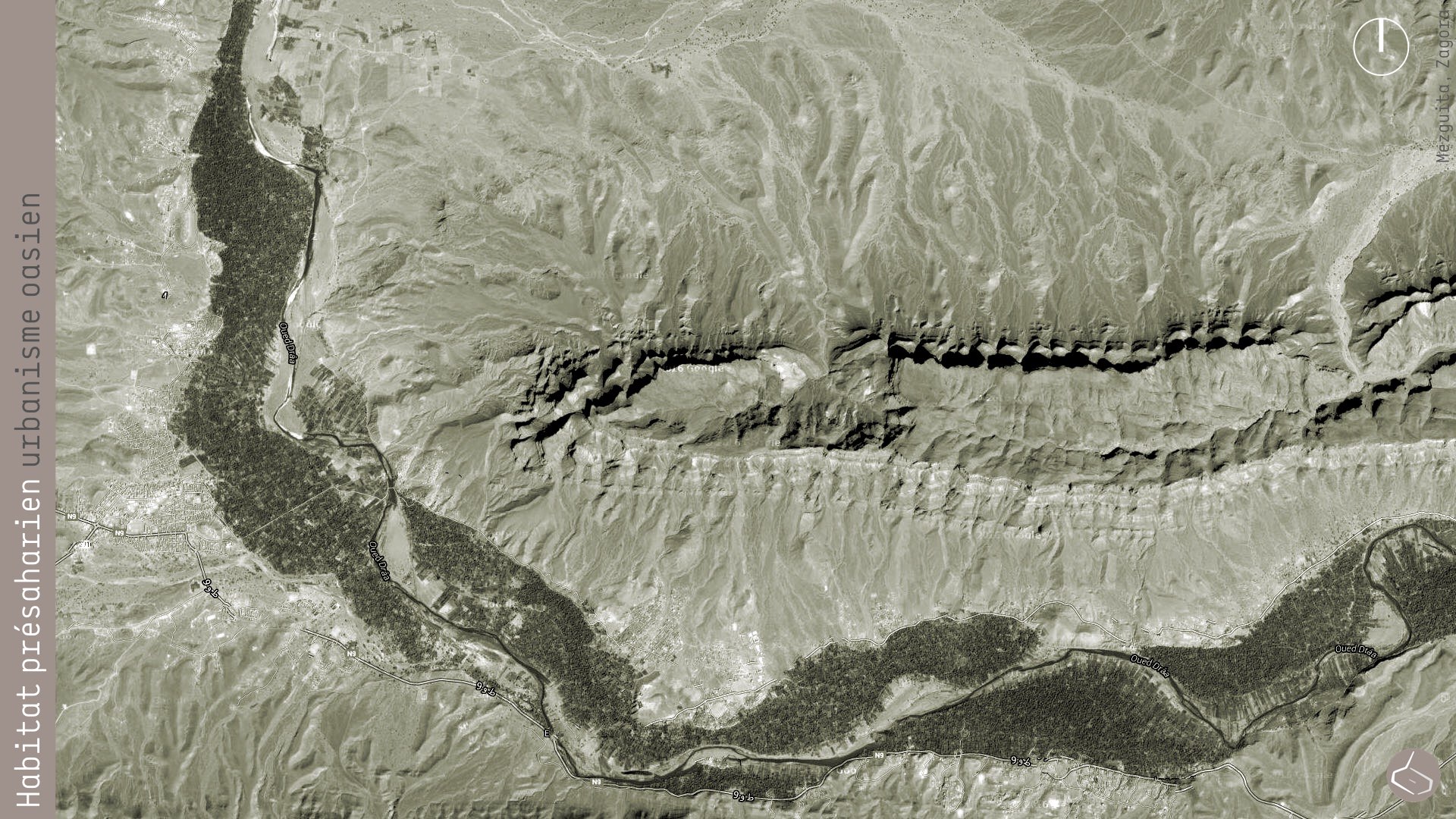 4. Une des premières palmeraies de la vallée du Drâa est celle de Mezquita.
4. One of the first palm groves of the Drâa valley is Mezquita.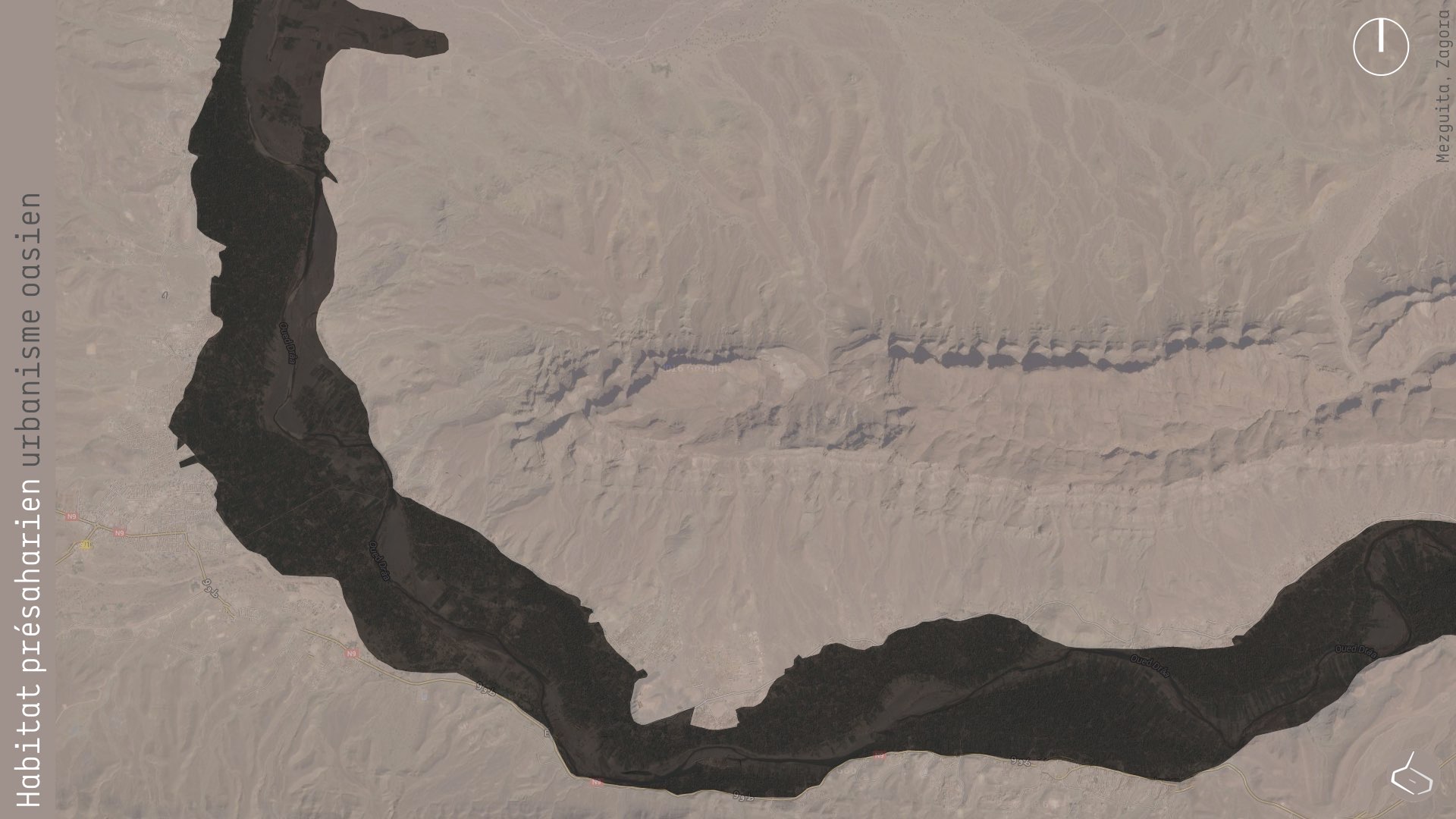 5. Une vallée étroite qui ne laisse pas de la place pour les constructions.
5. A narrow valley that leaves no room for constructions.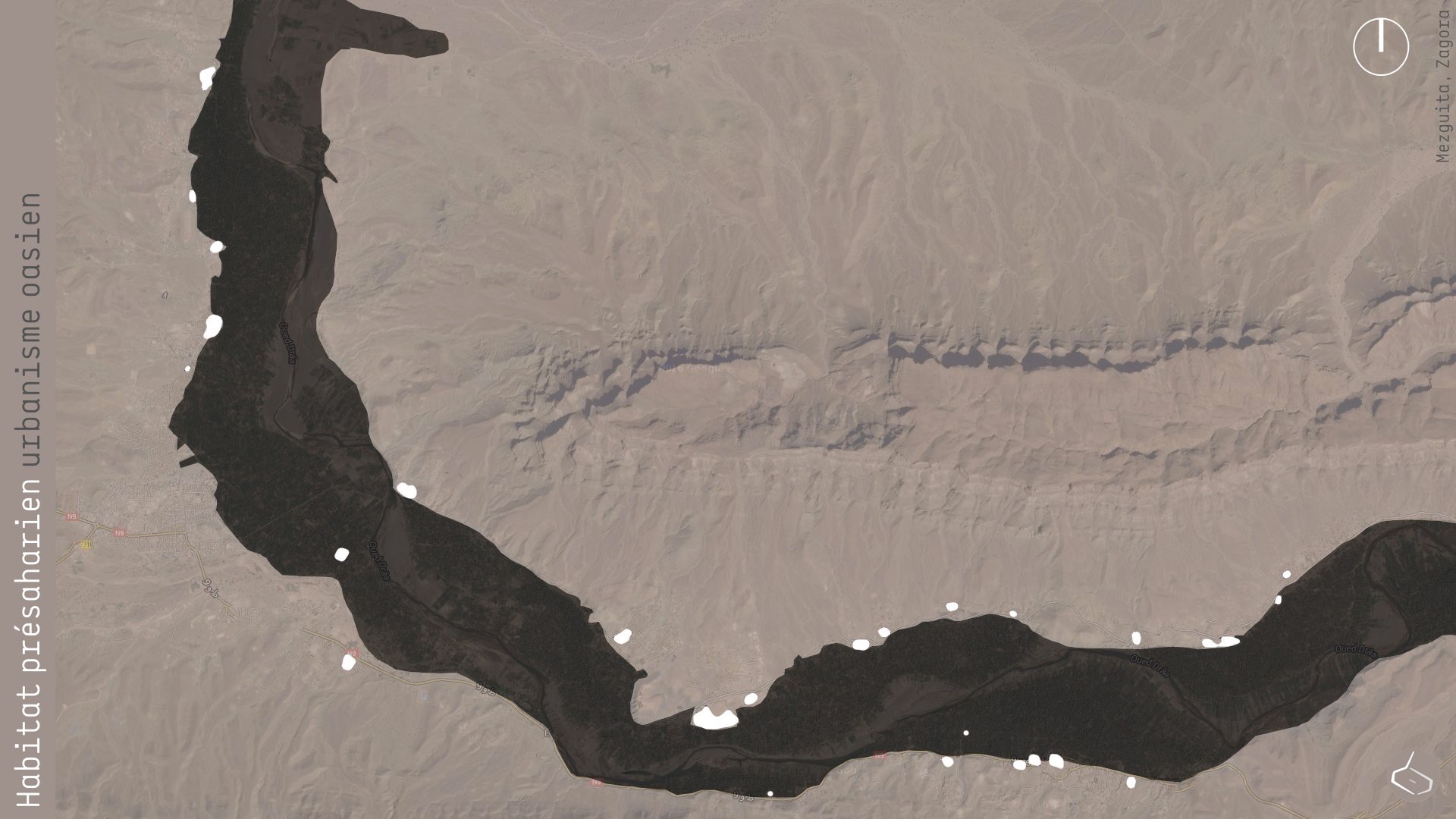 6. Les ksour ont dû être bâtis au bord de la palmeraie (sauf trois).
6. The ksour had to be built at the edge of the palm grove (except three of them).
PATRIMOINE/HERITAGE MEZGUITA:
https://plus.google.com/u/1/collection/oCo9c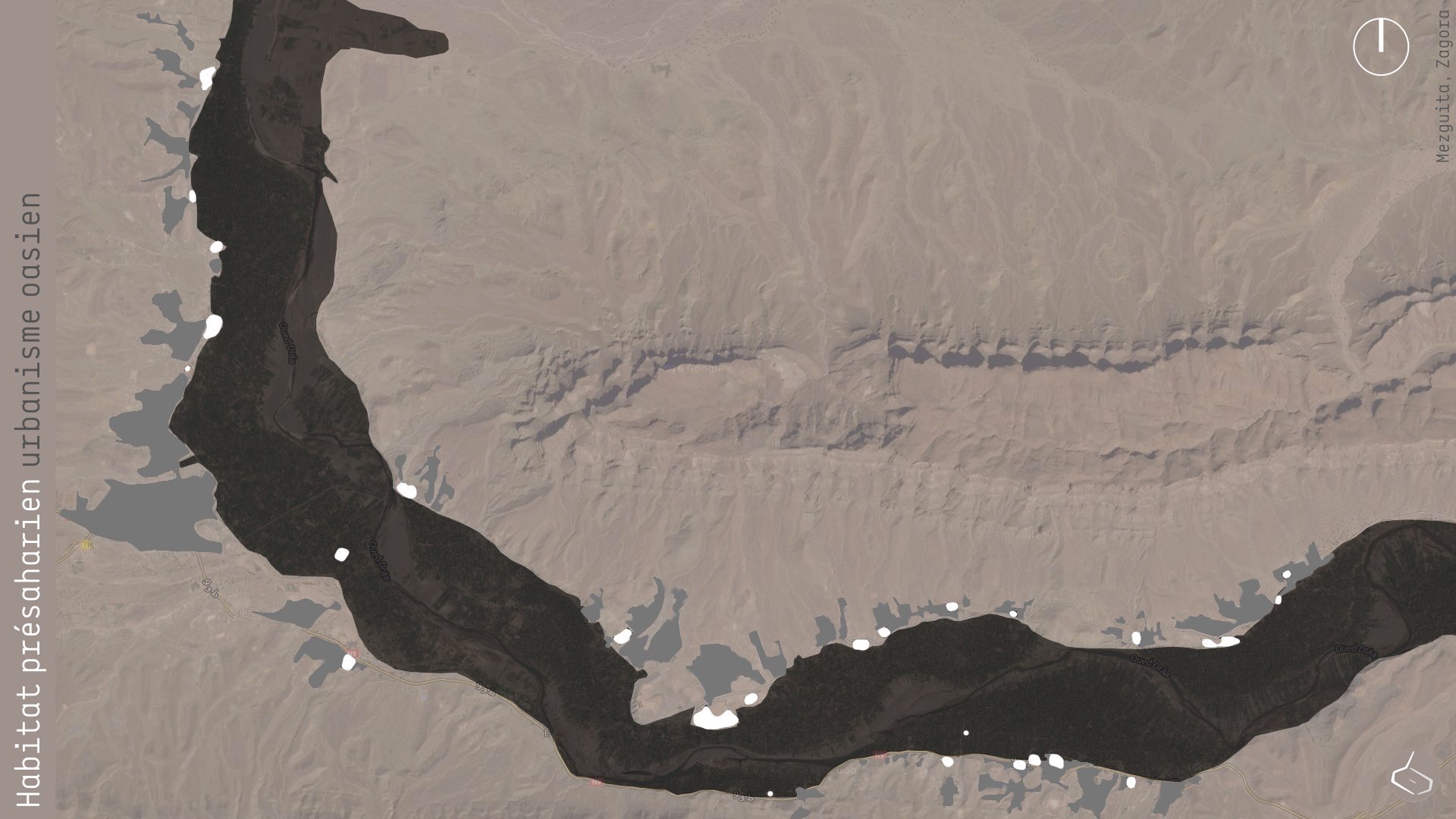 7. Aujourd'hui, l'AMÉNAGEMENT URBAIN se fait toujours sur le BORD DE LA PALMERAIE (parfois autour des ksour), mais cela n'empêche pas que ce développement se fasse en dépriment de la surface de la palmeraie.
7. Today, URBAN PLANNING is always done on the edge of the palm grove (sometimes around the ksour), but it does not stop this development to reduce the surface of the oasis.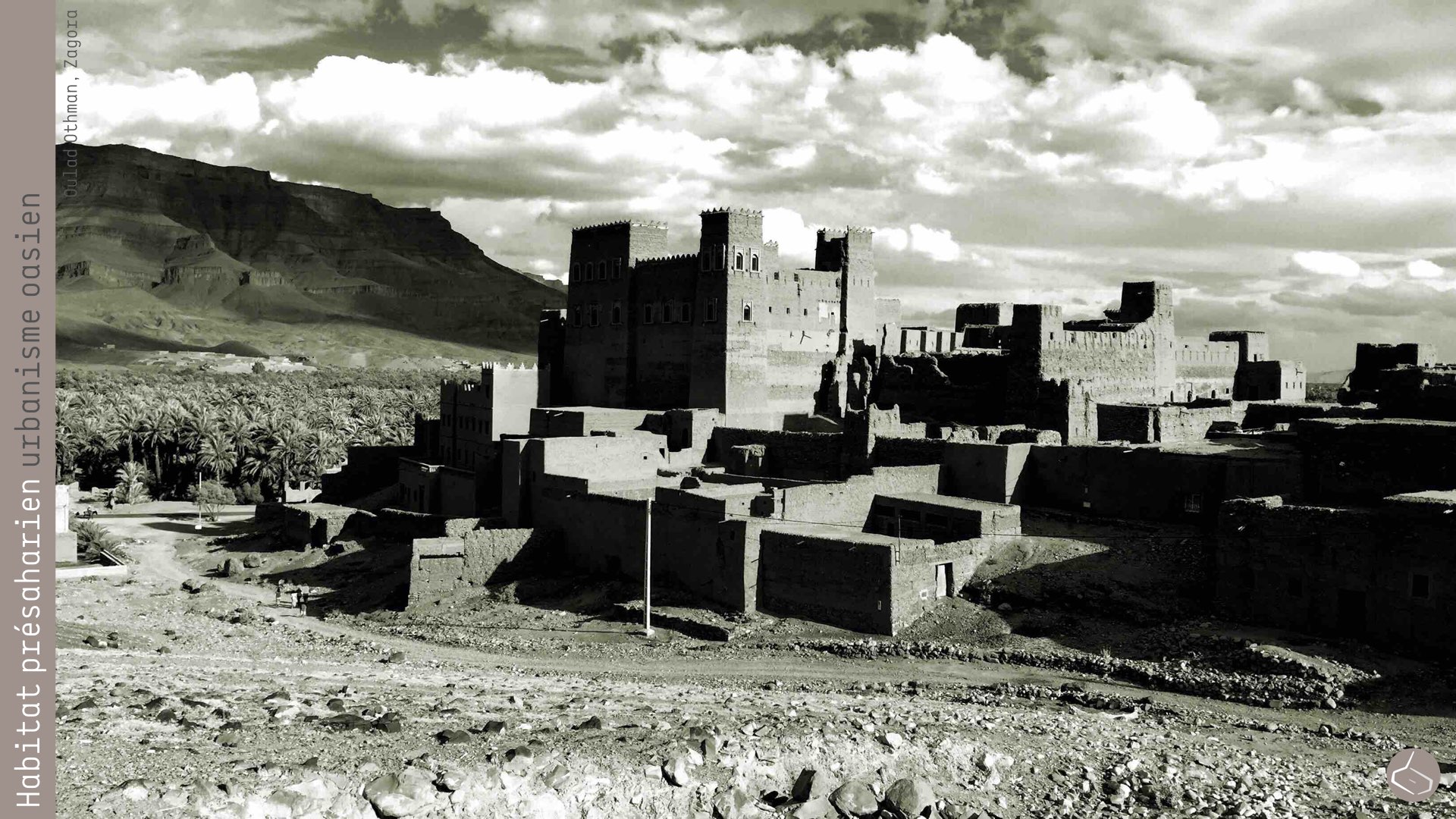 8. La situation des ksour sur le bord peut s'expliquer pour le besoin d'être plus haut et ainsi se protéger des attaques des tribus rivales (il faut rappeler que jusqu'aux années 40 ces régions ont été en constant conflit tribal).
8. The situation of ksour on the edge can be explained because of the need to be higher and thus be protected from the attacks of rival tribes (we have to remember that until the 40s these areas have been in constant tribal conflict).
9. Parfois, les hauteurs permettaient aussi de rester vigilant sur les parcours suivis par les caravanes qui arrivaient à M'hamid El Ghizlane (Zagora) et à Tighmert et Assir (Guelmim), depuis le Mali et le Soudan.
9. Sometimes the heights also allowed to remain vigilant on the routes followed by the caravans that arrived to M'hamid El Ghizlane (Zagora) and Tighmert and Assir (Guelmim), from Mali and Sudan.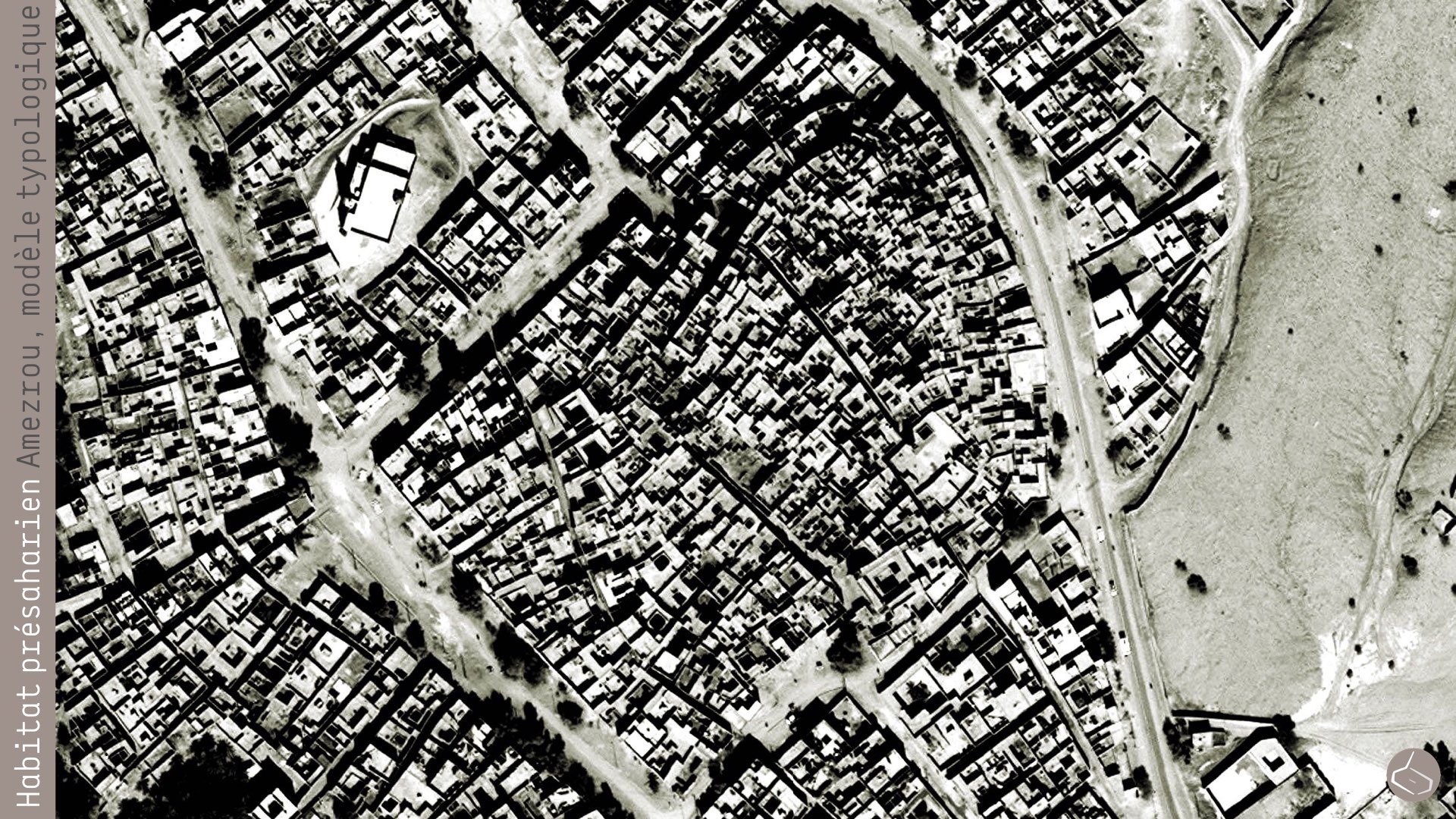 0. Mais les aménagements urbains "moderns" ne doivent pas se consacrer ni à la vigilance du passage des caravanes, ni à la protection de la population. Or, il y a des cas où le modèle "ksarien" peut être toujours valide, avec des petits changements. C'est le cas d'Amezrou, dans la palmeraie de Fezouata, à Zagora. Un ksar au bord de la palmeraie qui est toujours occupé et qui a suivi des extensions jusqu'à donner origine à tout un quartier.
10. But "modern" urban development should not focus nor the vigilance of the passage of caravans, or the protection of the population any more. However, there are cases where the "ksarian" model may still be valid, with small changes. This is the case of Amezrou, in the oasis of Fezouata, Zagora. A ksar at the edge of the palm grove which is still occupied and carrying out extensions to give rise to an entire neighbourhood.
Ksar Amezrou: https://goo.gl/photos/ZDek112wAjJiNnFh7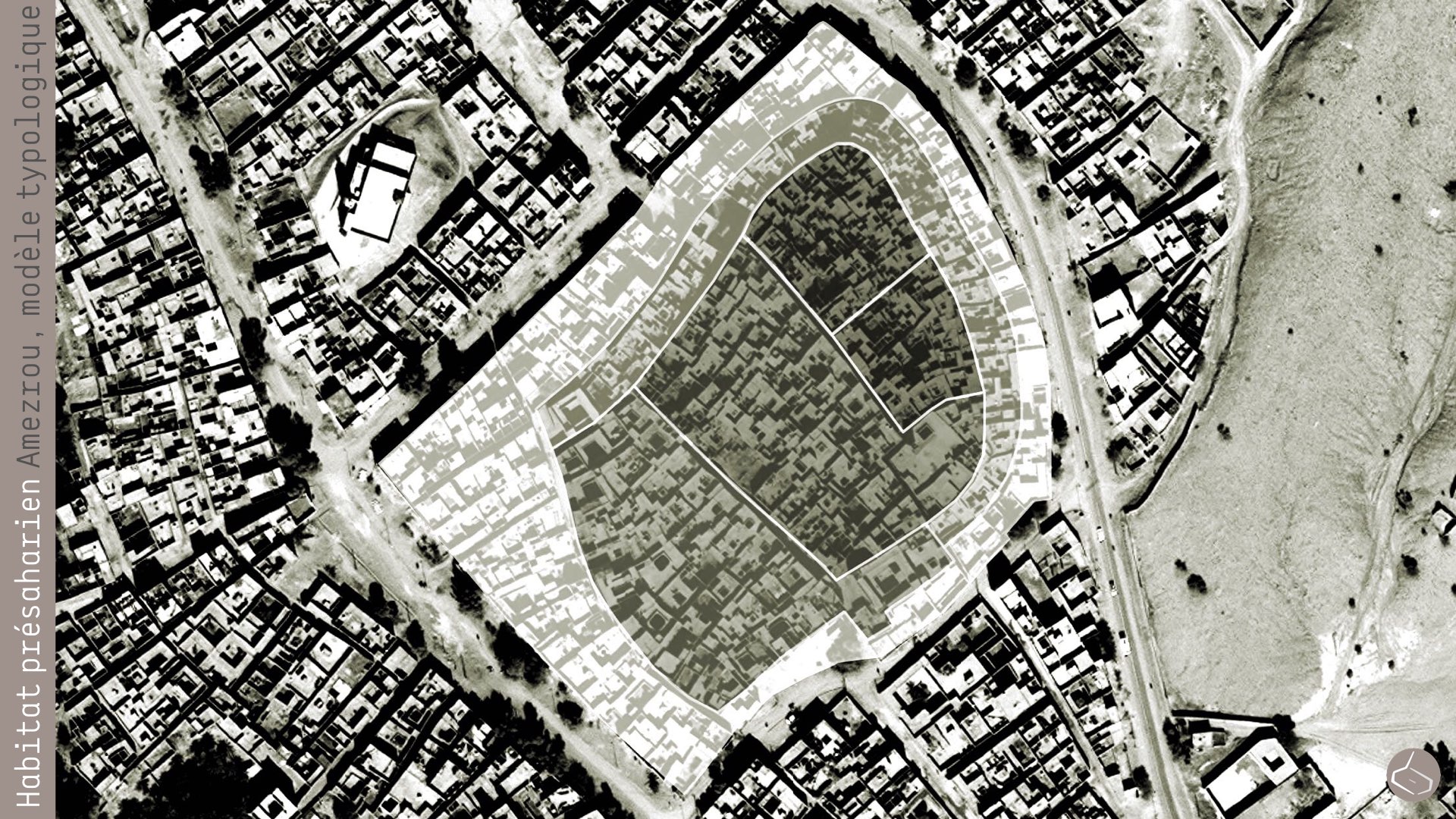 11. On avait commencé à étudier ce cas singulier avec les étudiants de l'ENAT (École Nationale d'Architecture de Tétouan), mais après on a approfondi chez Marsad Drâa. Nous avons essayé d'identifier les différentes phases de l'évolution du ksar et c'est là, que nous avons trouvé une des problématiques majeures des ksour, leur datation. Puisqu'il n'y a pas beaucoup d'information écrite de l'époque, on ne sait pas vraiment quand est-ce qu'ils ont été construits. D'ailleurs, la construction en terre pose pas mal des problèmes car les murs sont démolis et refaits avec les mêmes matériaux, c'est à dire, la terre ne peut pas nous apporter des informations sur l'année de construction. Dans le ksar d'Amezrou, on a pu établir plusieurs secteurs selon les ruelles et impasses de distribution, mais il s'agit que d'une hypothèse. Ensuite on a visité des maisons de chaque phase et on a fait des esquisses.
11. We started to study this singular case with students of ENAT (National School of Architecture of Tetuan), but later we have delved into the study with Marsad Drâa. We tried to identify the different phases of the evolution of the Ksar but we found one of the major issues in the rehabilitation and study of ksour, their dating. Since there is not much written information on that period, no one really knows when they were built. Besides, rammed earth construction cannot be trusted if we want to know the year it was built because the walls are demolished and rebuilt with the same materials, so you cannot take into consideration the date of the materials. In the ksar Amezrou, we established several sectors according to the alleys and distribution of dead ends, but this is only a hypothesis. Then we visited some houses for each phase and we made sketches of their spatial distribution.
12. Il est incroyable que certaines maisons soient utilisées toujours de la même façon, avec le bétail en rez-de-chaussée, les chambres en premier étage et la cuisine sur la terrasse. Avec l'abandon de pas mal des maisons il y a des habitants qui les utilisent pour garder leur bétail, en laissant leur rez-de-chaussée pour la famille (normalement comme salon). La taille des maisons n'a pas un rapport avec les secteurs, on a visité cette grande maison et à côté il y avait…
12. It is amazing that some houses are still in use and in the same way they were, with the cattle on the ground floor, the rooms in the first floor and the kitchen on the terrace. With the abandonment of lots of houses there are people who use them to keep their livestock, leaving their ground floor for the family (usually as living room). The size of the houses are not relate to an specific area, for example, we visited this big house and next there was ...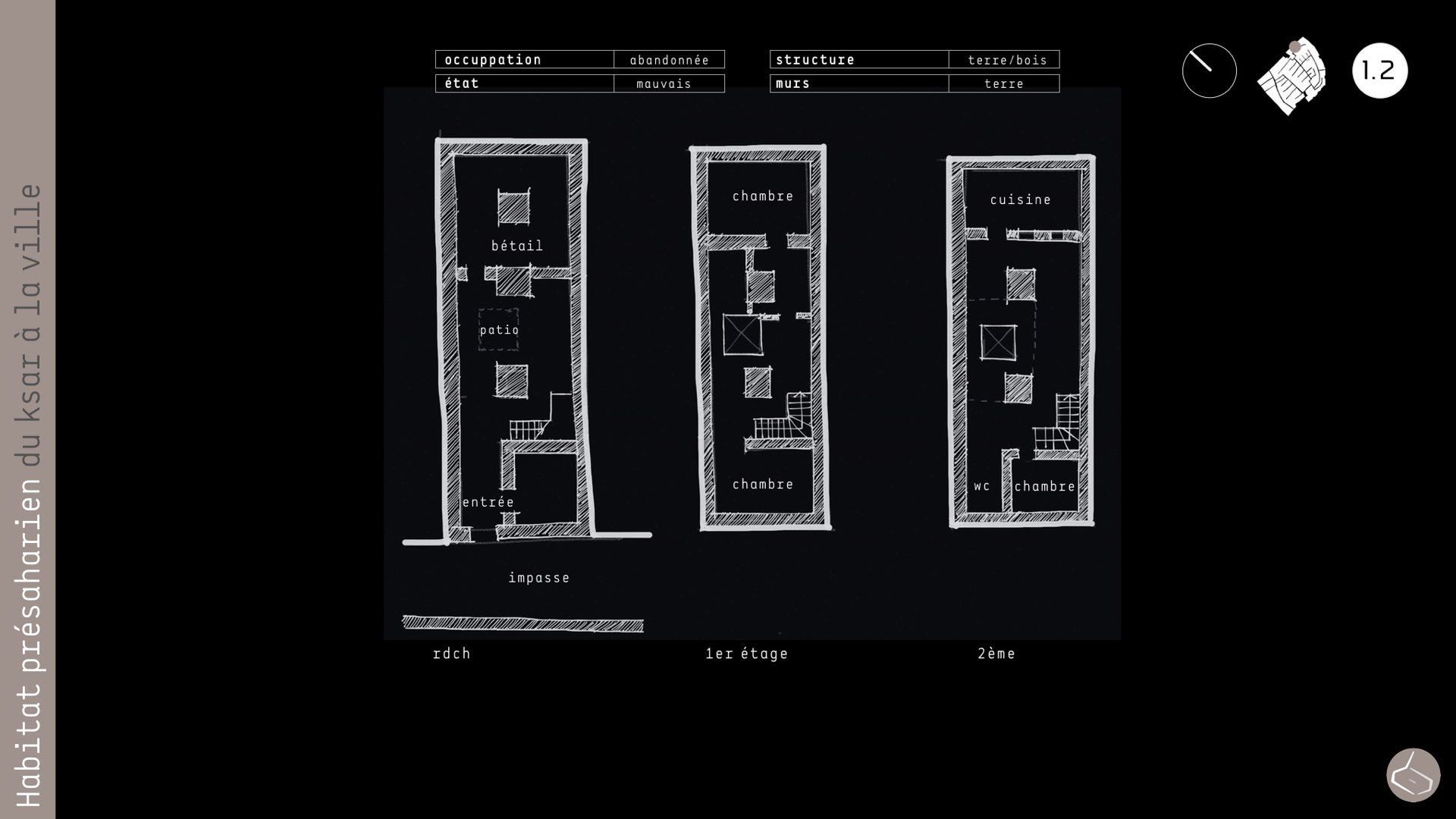 13. celle-ci beaucoup plus petite.
13. this one smaller.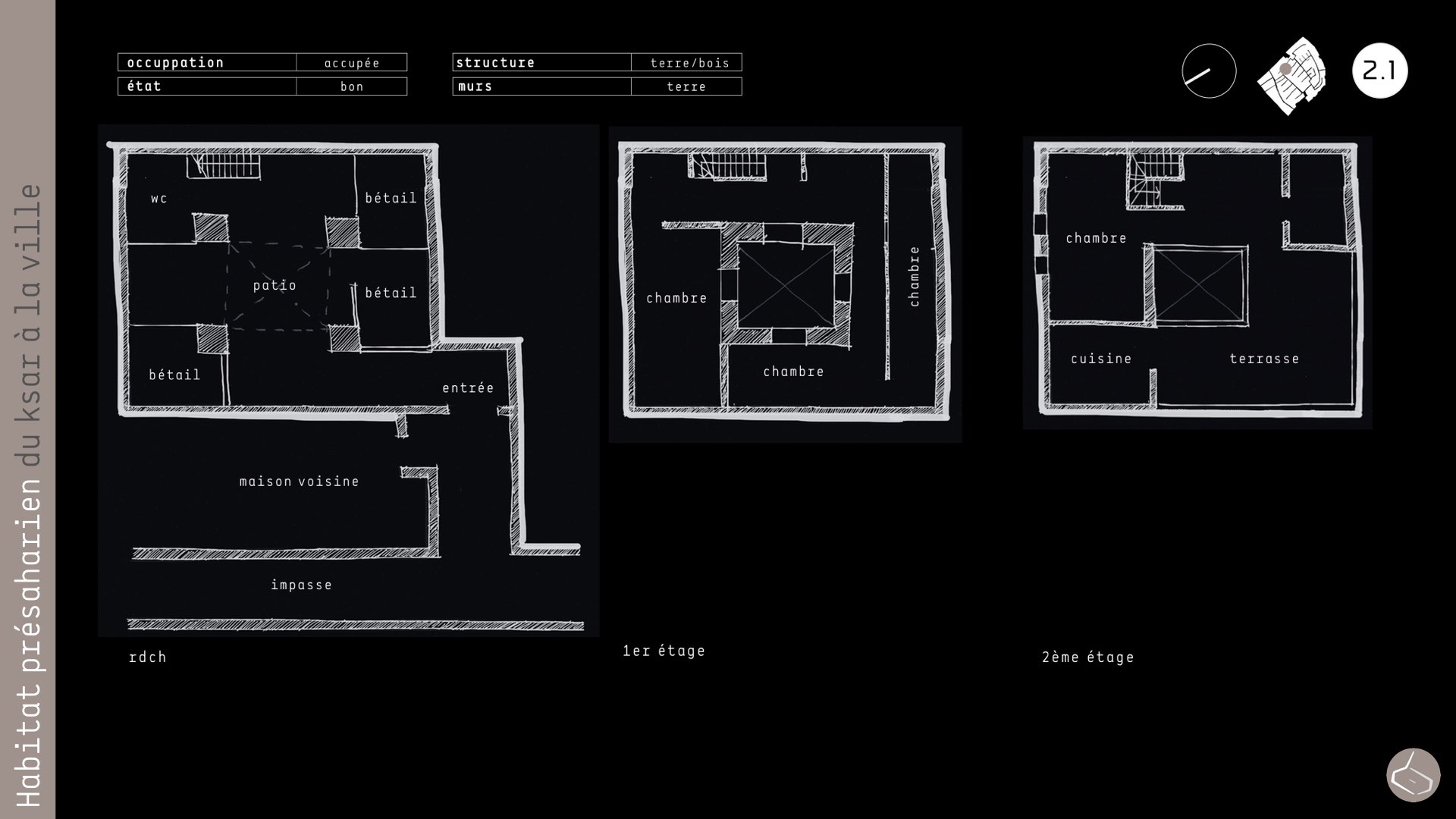 14. Au fur et à mesure que l'on s'éloigne du "centre", les maisons ne varient pas beaucoup, par contre les ruelles gagnent de l'ampleur jusqu'à ce qu'elles deviennent presque comme les ruelles des médinas.
14. If we move away from the "center", the houses do not change very much but the alleys become bigger, almost like the streets of the medinas.
15. Et si jamais il y a des familles qui veulent construire en dehors du ksar, l'organisation de la maison change radicalement. Tout d'abord, il n'y a qu'un étage, le patio est plus grand et les chambres sont autour de celui-ci.
15. And if there are families who want to build outside the ksar, the organisation of the home changes radically. First, there is only one floor, the patio is bigger and the rooms are placed around it.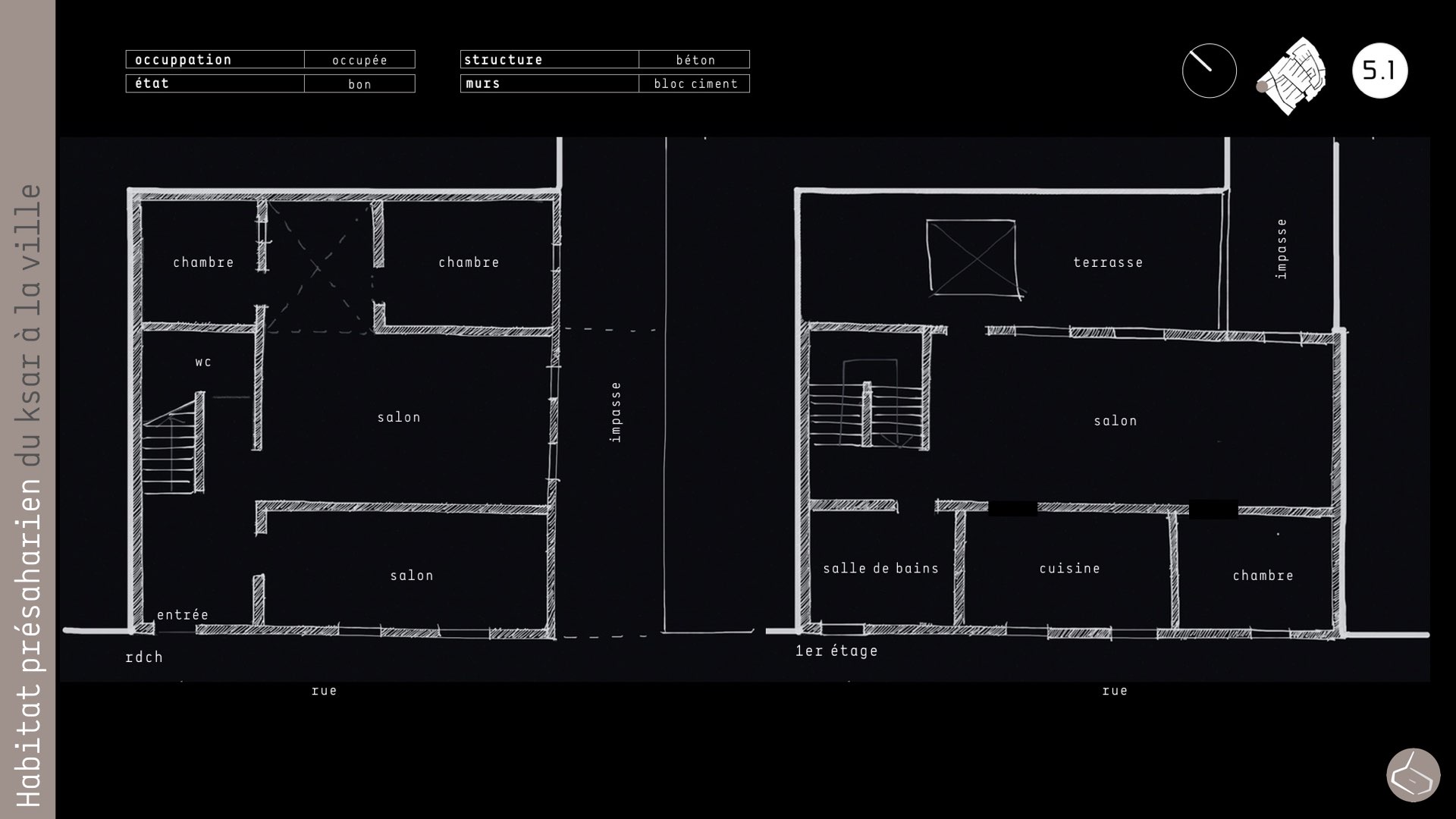 16. Quand le propriétaire decide de démolir la maison en terre, pour faire une nouvelle avec une structure de poteau-poutre en béton et la façade en bloque de ciment, il y a certaines habitudes qui ne changent pas. Le patio ouvert disparait et cet espace devient une grande chambre avec une lucarne. Les chambres sont toujours en premier étage, ainsi que la cuisine, qui reste en dernier étage. Le fait de situer les cuisines sur la terrasse s'explique pour l'usage du bois de palmier pour faire du feu (sa fumée est un peu toxique), mais dans les nouvelles maisons, les gens commencent à utiliser le gaz régulièrement.
16. When an owner decide to demolish the old house to build a new one with concrete structure and facade on blocks of cement, there are some habits that do not change. The open patio space disappears and becomes a large room with a skylight. The rooms are always on the first floor and the kitchen remains on the top floor. Kitchens are on the terrace because the use of palm wood to make fire (the smoke is slightly toxic), even if in new houses, people are starting to use gas regularly.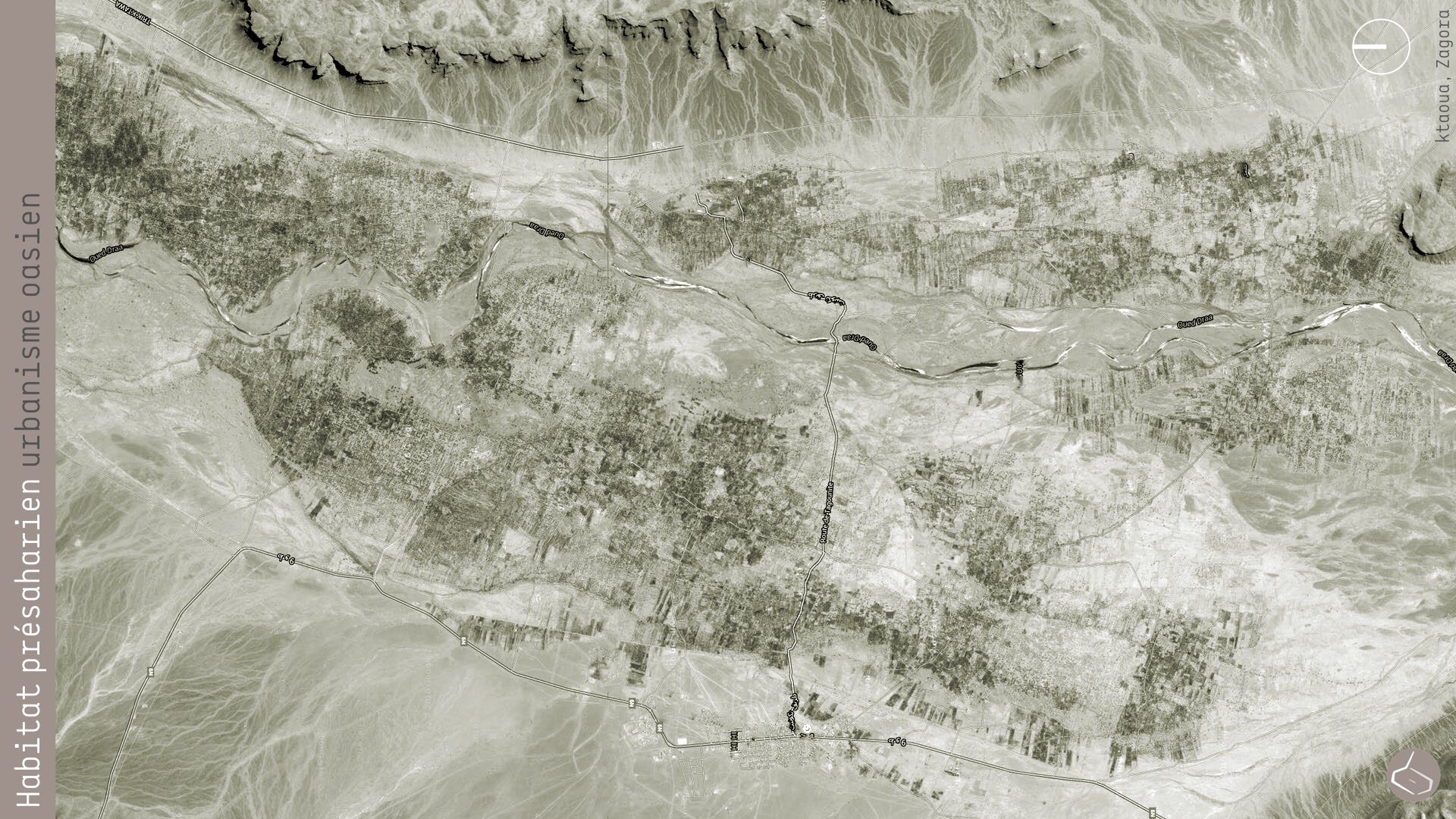 17. Il y a d'autres palmeraies beaucoup plus larges, comme celle de Ktaoua, l'avant-dernière de la vallée du Drâa à Zagora.
17. There are other palm groves much broader, such as Ktaoua, the last but one of the Drâa valley in Zagora.
18. des extensions qui permettent d'avoir les ksour…
18. extensions that allow the ksour to be built ...
19. À l'intérieur de la palmeraie et non pas au bord, comme celle que nous avons montré à Mezguita.
19. Inside the palm grove and not on the edge, like the one we showed in Mezguita.
PATRIMOINE/HERITAGE KTAOUA: https://plus.google.com/u/1/collection/cOx3S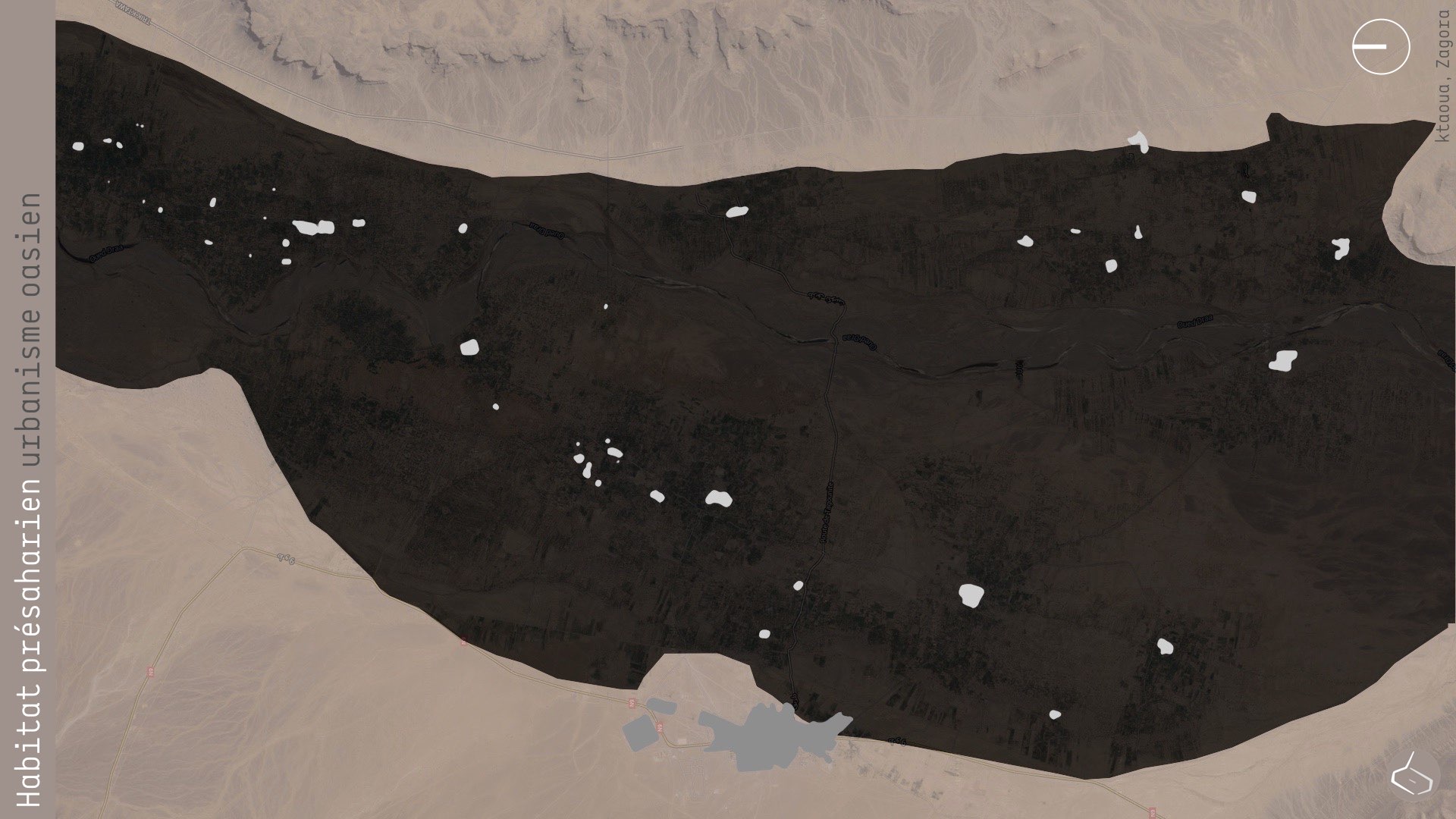 20. Par ailleurs, les aménagements modernes se font autour de Tagunite, à l'extérieur.
20. Furthermore, the new urban planning are made around the village of Tagunite, outside the green area.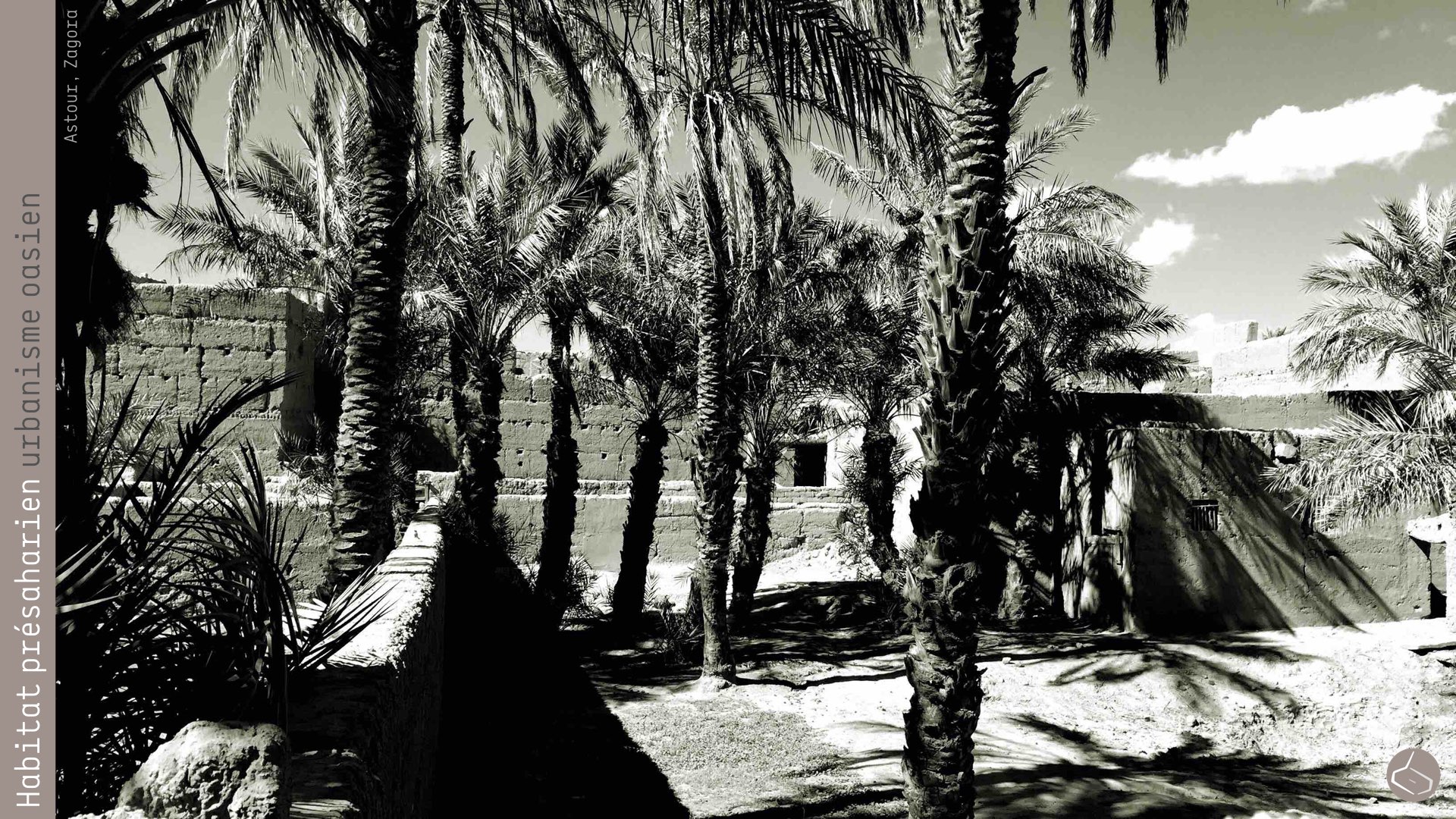 21. Vivre dans une palmeraie donne lieu à un autre type d'urbanisme et de façon de vivre, puisque la densification des constructions n'est pas aussi élevée, il peut y avoir même des parcelles agricoles à l'intérieur du ksar, comme à Astour, dans la palmeraie de Ternata (Zagora).
21. Living in a palm grove leads to another type of urban development and another way of life, since the densification of buildings is not as high, there may be even agricultural plots inside the ksar, as in Astour, in the palm grove of Ternata (Zagora).
Ksar Astour: https://goo.gl/photos/GZpp5CoE14NEntGy7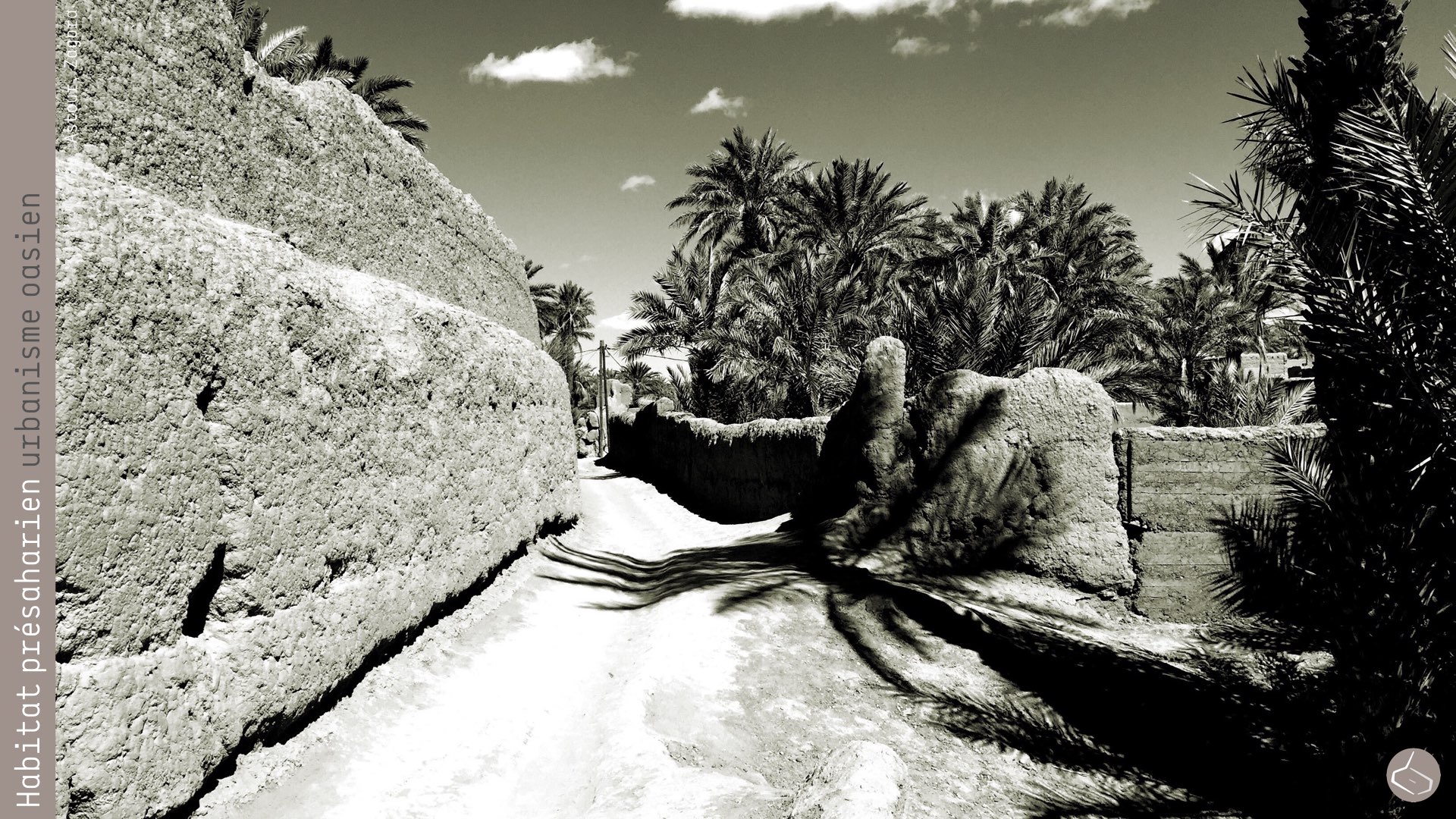 22. Où les murailles de protection sont complètement indépendantes de la structure urbaine.
22. Where the remparts are completely independent of the urban structure.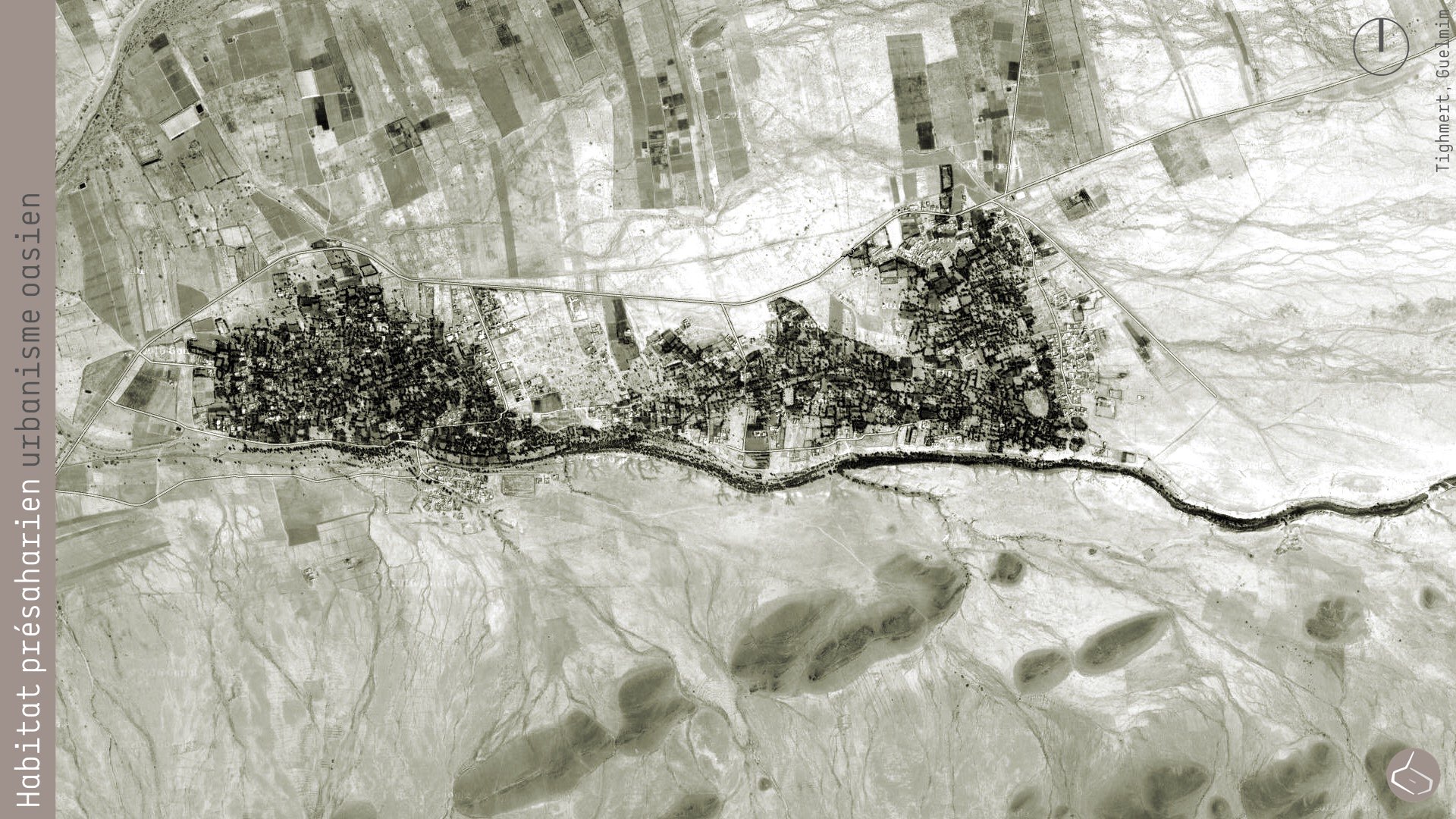 23. Les ksour ne sont pas le seul moyen de s'implanter sur le territoire. Depuis quelques décennies, de plus en plus de nomades ont décidé de se sédentariser, dans une période de paix où il n'est plus nécessaire de se protéger des attaques. Face à la décision de s'installer, il est évident que la meilleur option reste celle à l'intérieur d'une palmeraie, puisque la température entre vivre dedans ou dehors peut arriver à 6ºC.
23. The ksour are not the only way to be deployed on the territory. In recent decades, more and more nomads decided to settle down in a period of peace, where it is no longer necessary to protect themselves from attacks. Once they decided to settle down, it is obvious that the best option is inside a palm grove, where the temperature between living inside or outside can be up to 6ºC.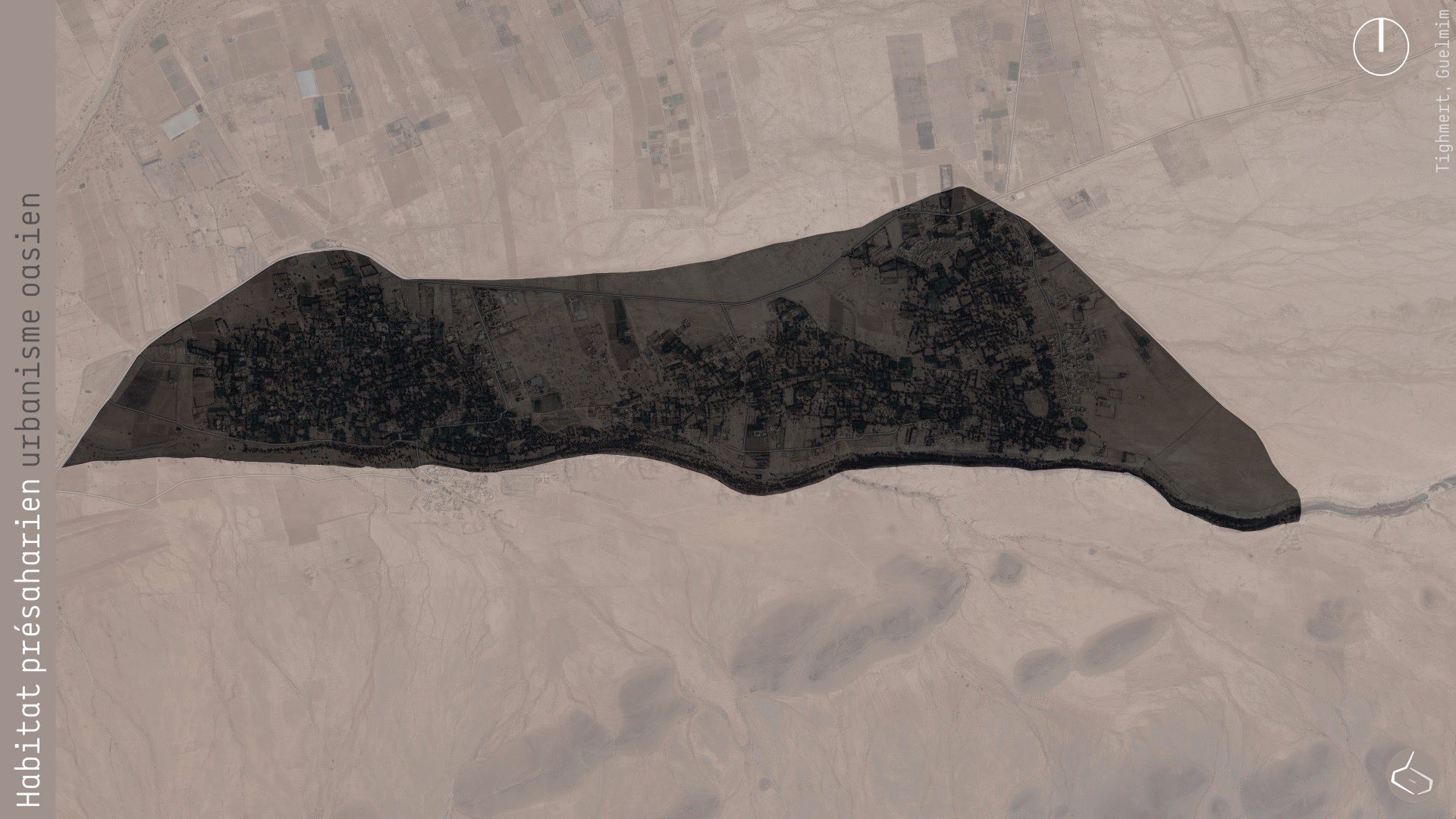 24. Dans la région de Guelmim, la tribu Azwafit a décidé de s'installer dans l'oasis de Tighmert…
24. In the region of Guelmim, the Azwafit tribe decided to settle down in the oasis of Tighmert ...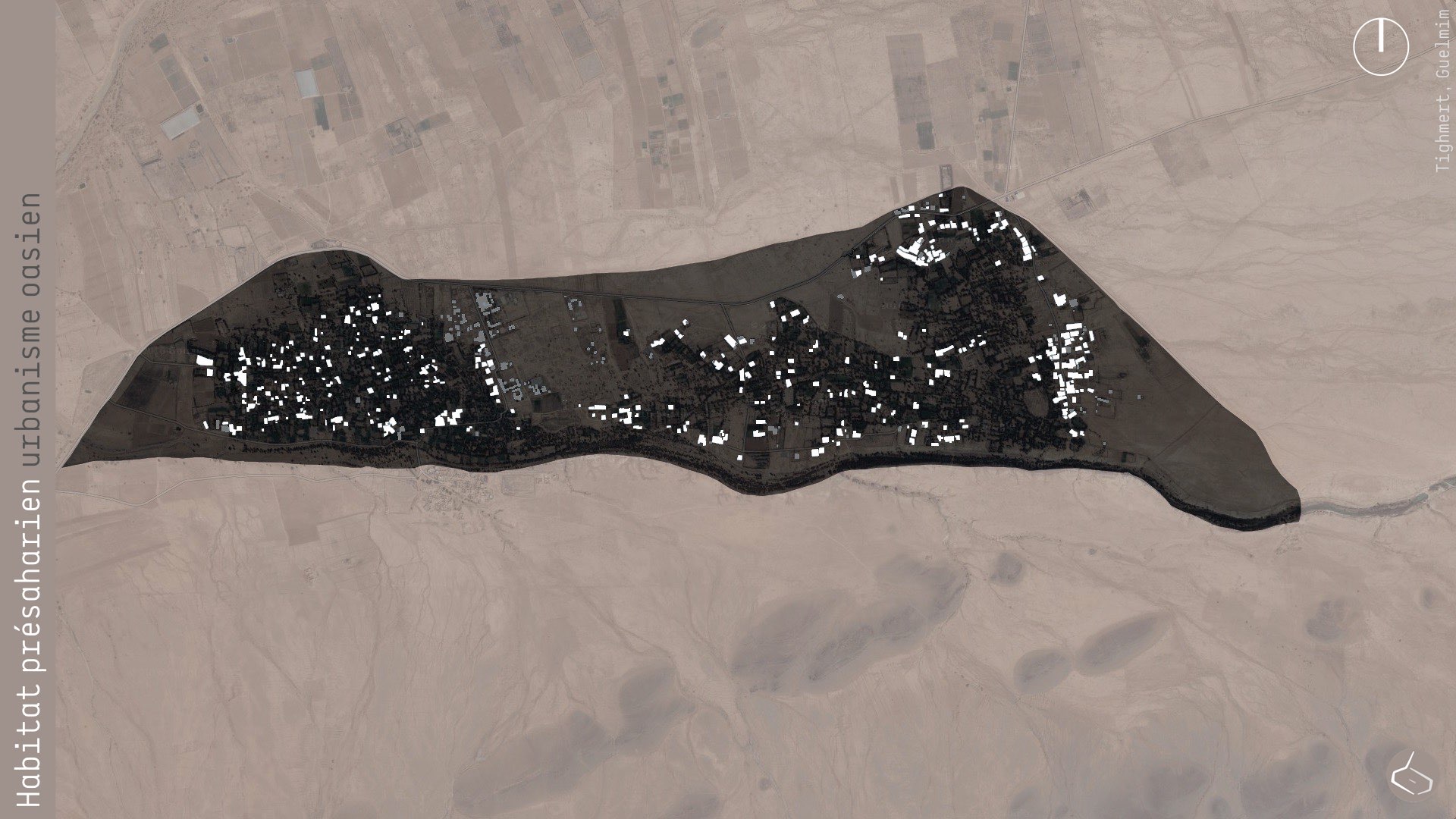 25. En construisant chaque famille des maisons individuelles dans ces propres terrains.
25. Each family built it house in their own parcels.
26. Des maisons faites en terre.
26. houses made in rammed earth.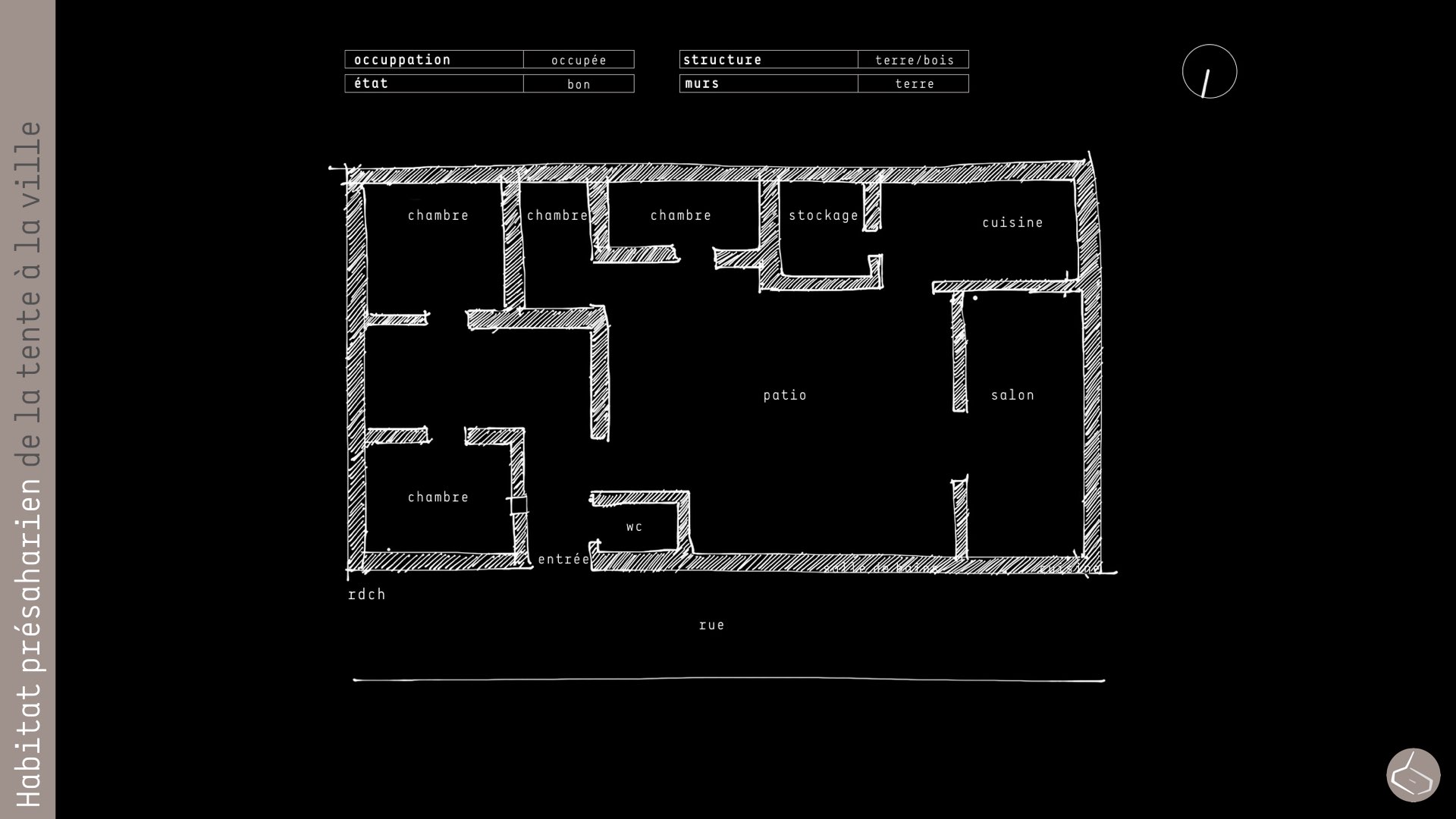 27. Avec un grand patio autour duquel se disposent les pièces.
27. With a larger patio and the rooms around.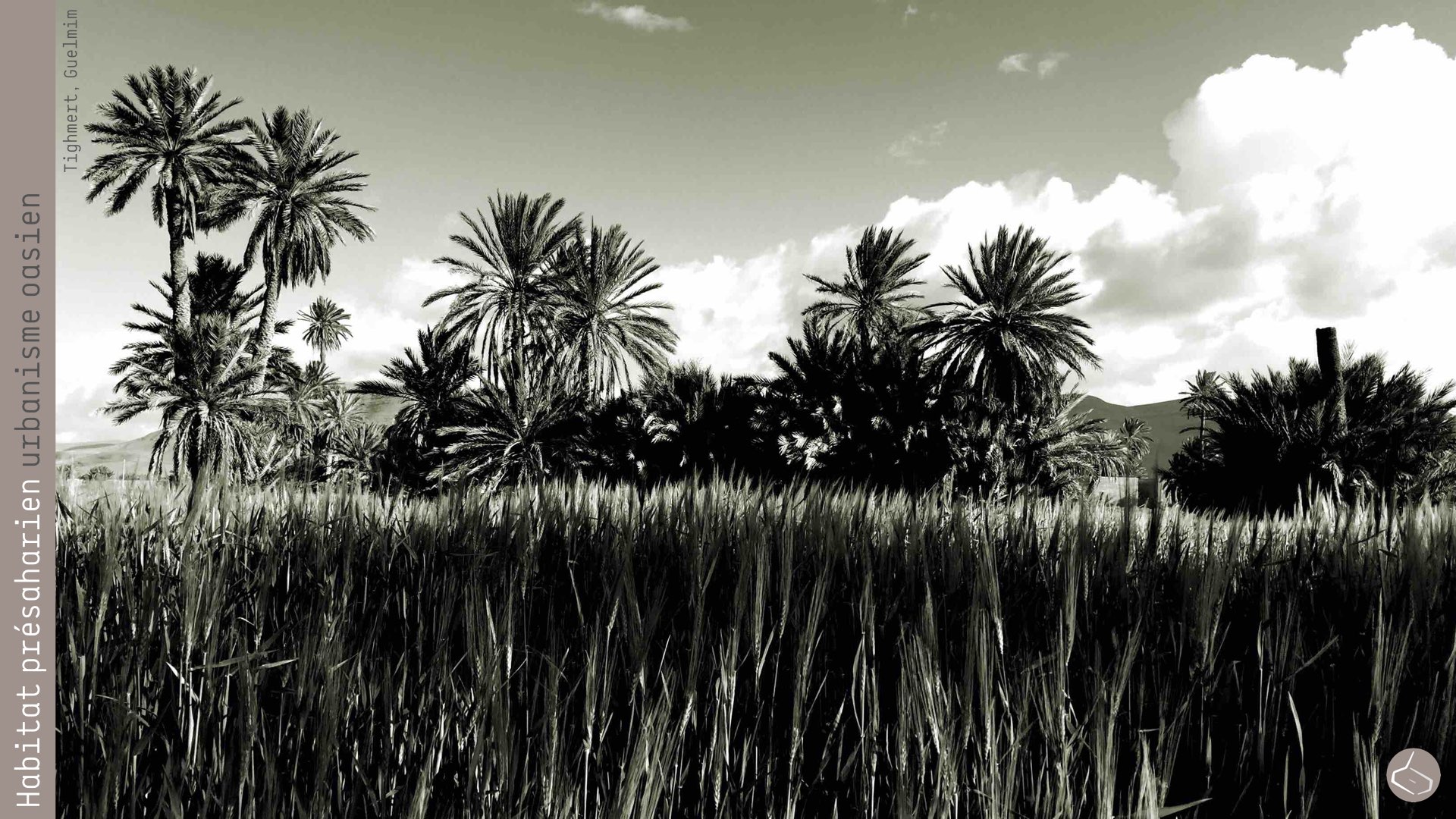 28. Cette typologie permet vraiment d'avoir l'impression d'être au milieu de la palmeraie, en non pas dans une fortification. D'ailleurs, le rapport avec la terre est encore plus fort car il s'agit de vivre dans une maison construite par se propriétaires et avec la terre de sa propre parcelle…
28. This typology really allows to feel like being in the middle of the palm, and not in a fortification. Moreover, the relationship with the land is even stronger because they are living in a house built by the owners themselves and with the land of their own parcel ...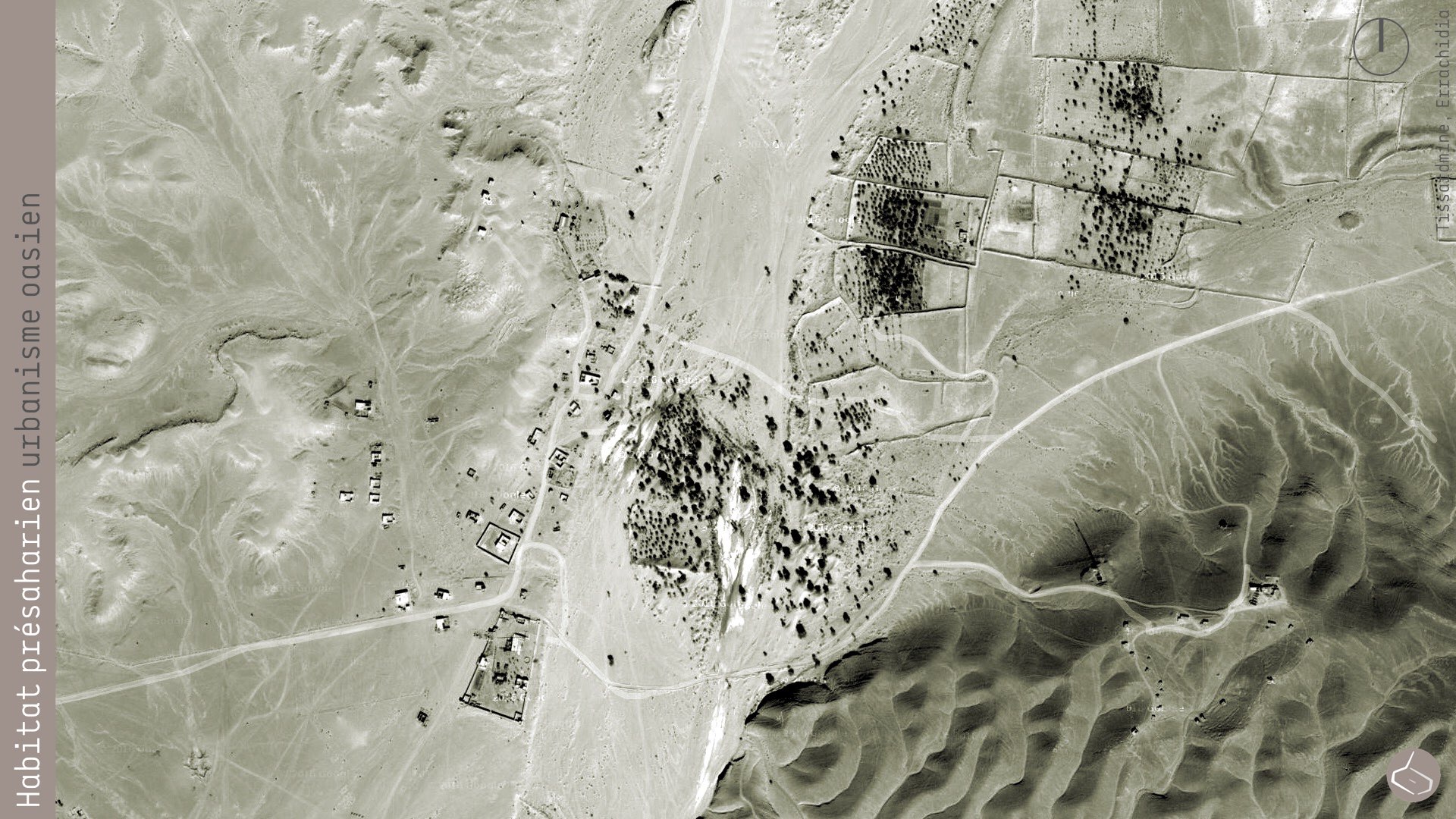 29. Mais tous les tribus nomades n'ont pas eu la possibilité de s'installer dans une palmeraie. Dans la région d'Errachidia, à 17km à l'est de Rissani, près de la frontière avec l'Algérie, il y a un village, Tissardmine…
29. But all the nomad tribes have not been able to settle down in a palm grove. In the region of Errachidia, 17km east of Rissani, near the border with Algeria, there is a village called Tissardmine...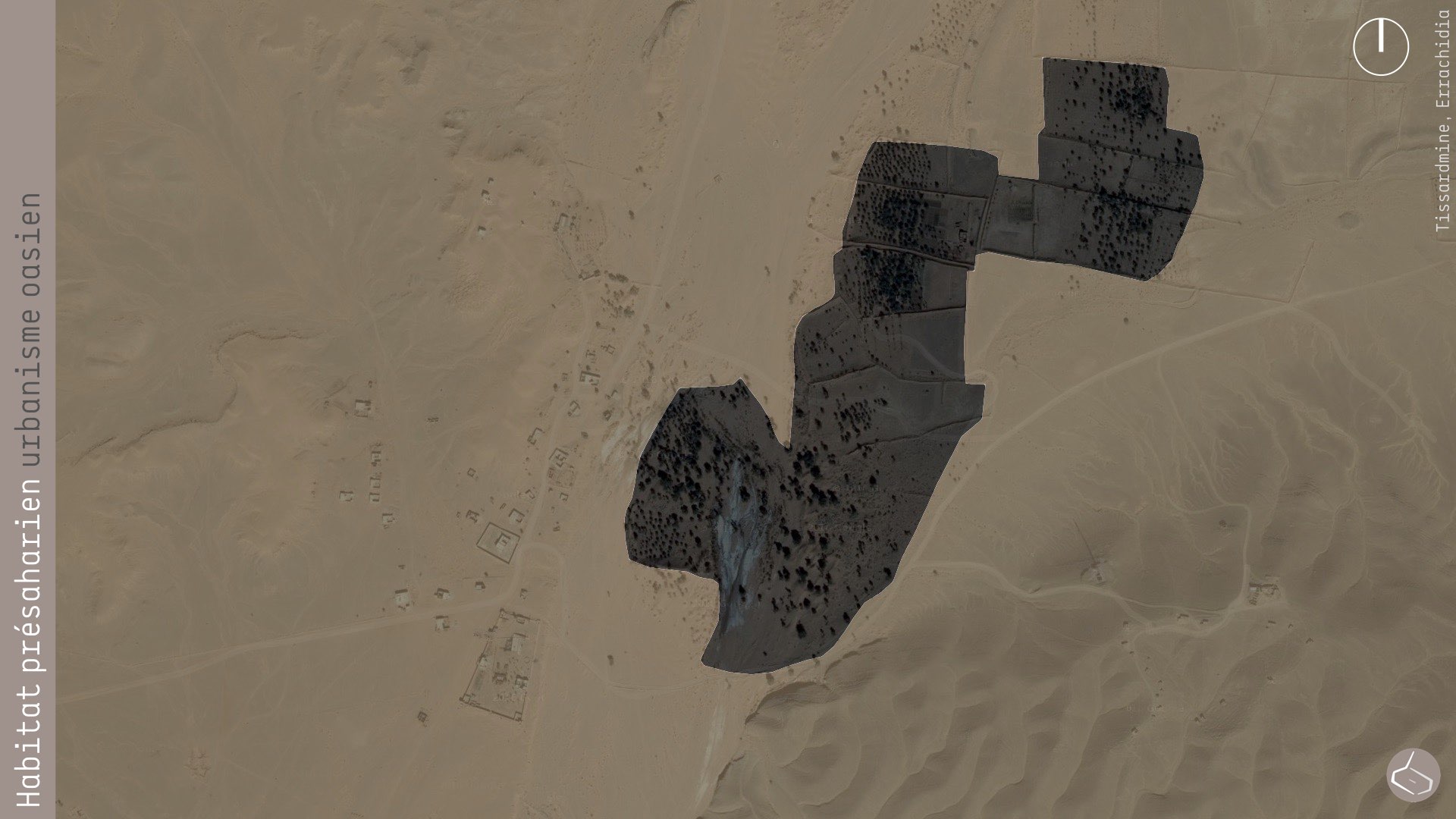 30. Où ses habitants n'ont pas pu construire ses maisons dans la palmeraie parce que celle-ci est pratiquement inexistante.
30. Where its inhabitants could not build houses protected by palm trees because there is palm grove.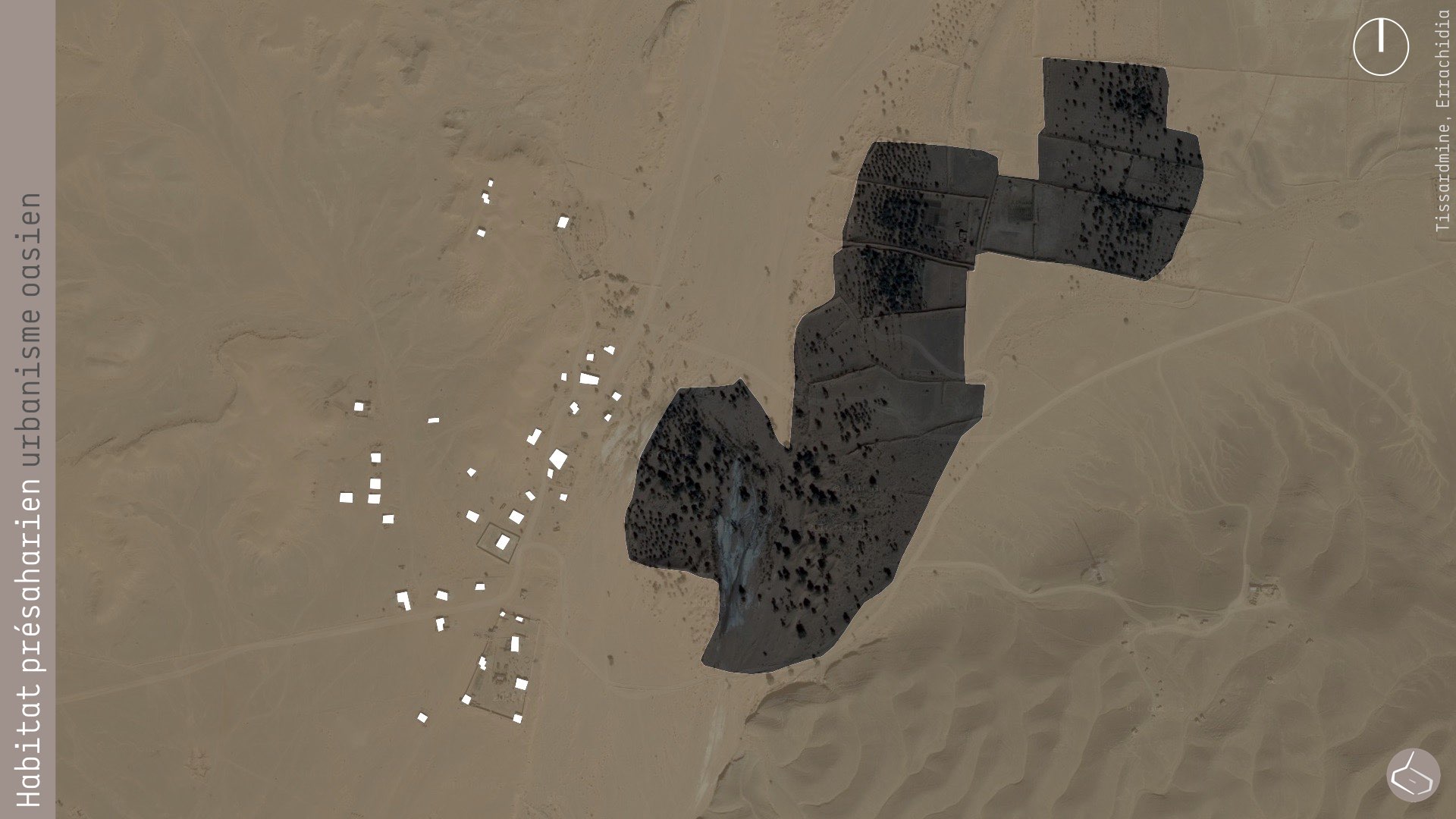 31. Et ils ont dû construire ses maisons individuelles sans aucune protection face au soleil et aux vents.
31. And they had to build their individual houses without any protection against the sun and the wind.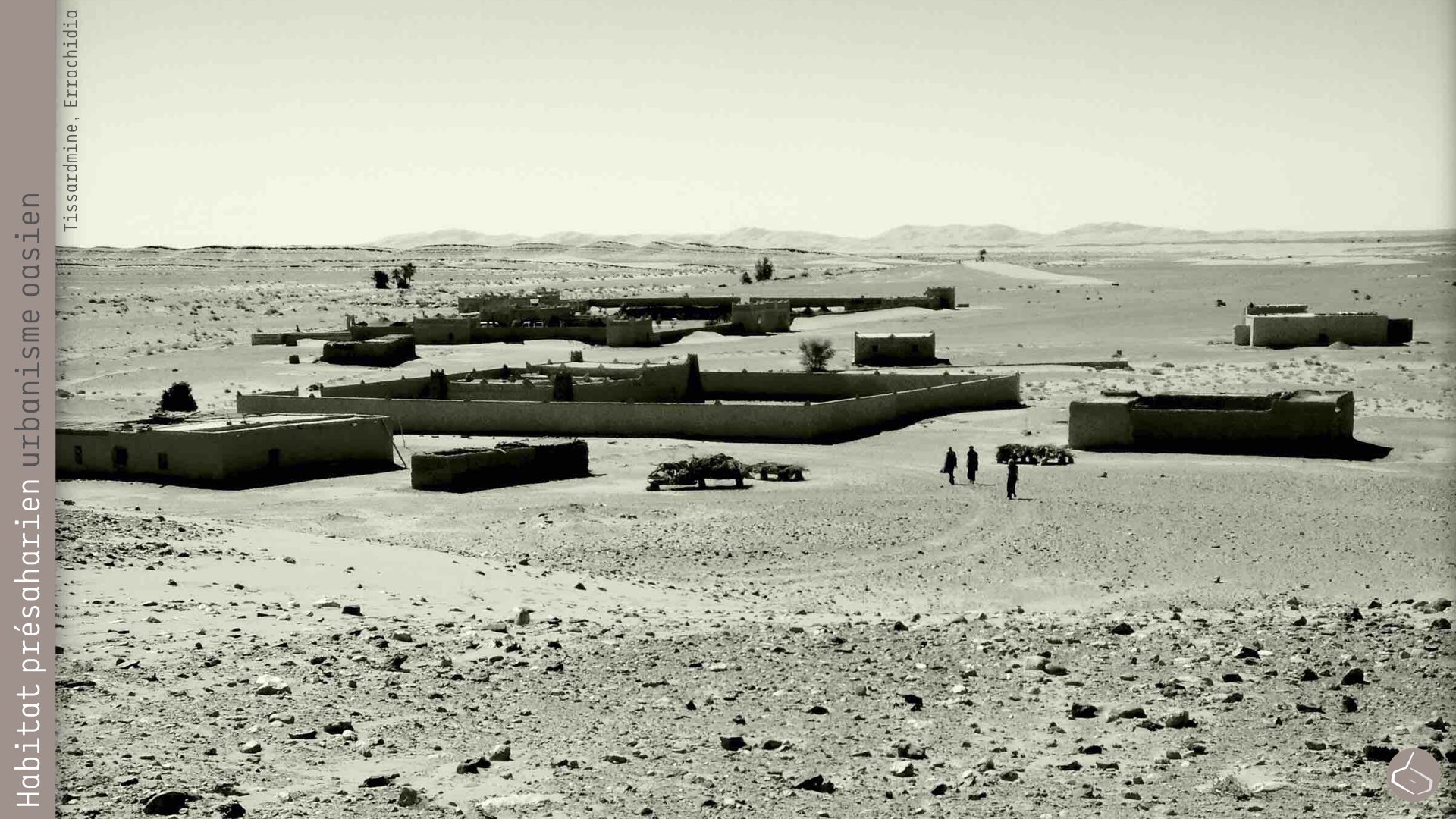 32. Non plus face au sable qui arrive de Merzouga, dans un environnement assez extrême.
32. Neither against the sand approaching from Merzouga, in a quite extreme environment.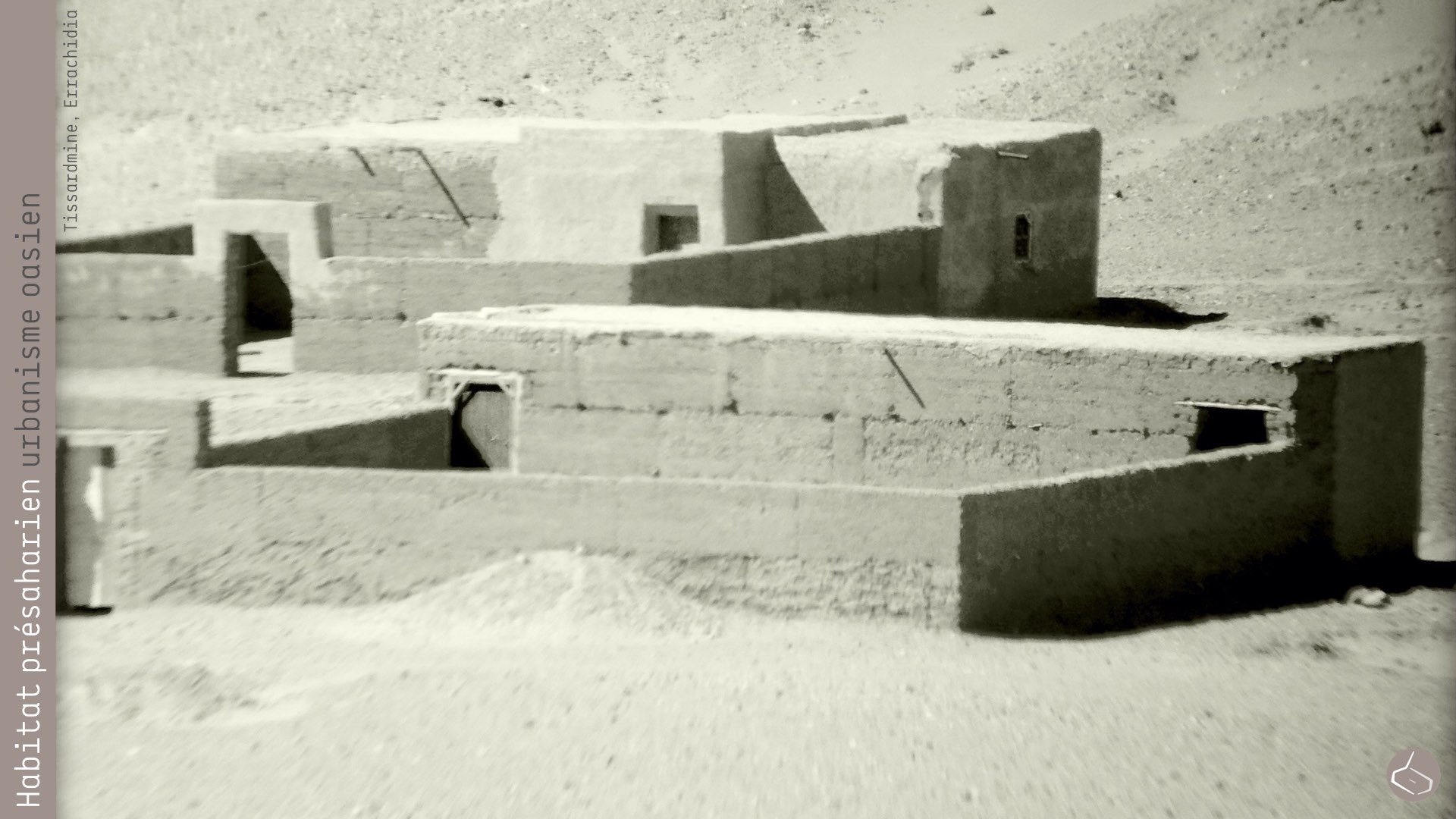 33. D'où l'importance de construire pratiquement des petites fortifications, sans à peine des ouvertures afin de se protéger du sable.
33. Hence the importance of building small fortifications, without hardly openings to keep the sand out.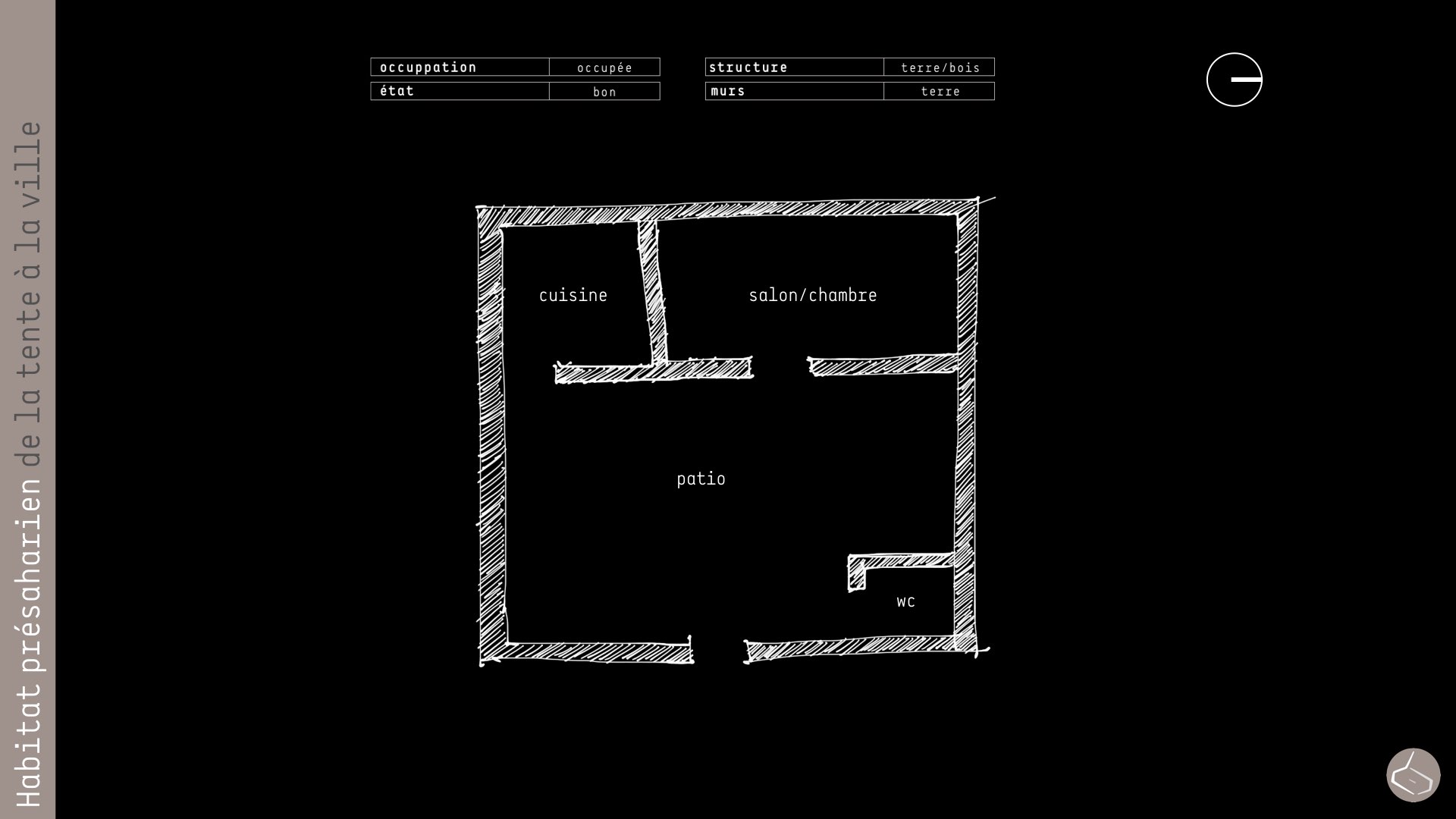 34. Avec des dimensions beaucoup plus modestes, mais toujours avec un patio et quelques chambres sur un des côtés.
34. With much more modest dimensions, but always with a patio and some rooms on one side.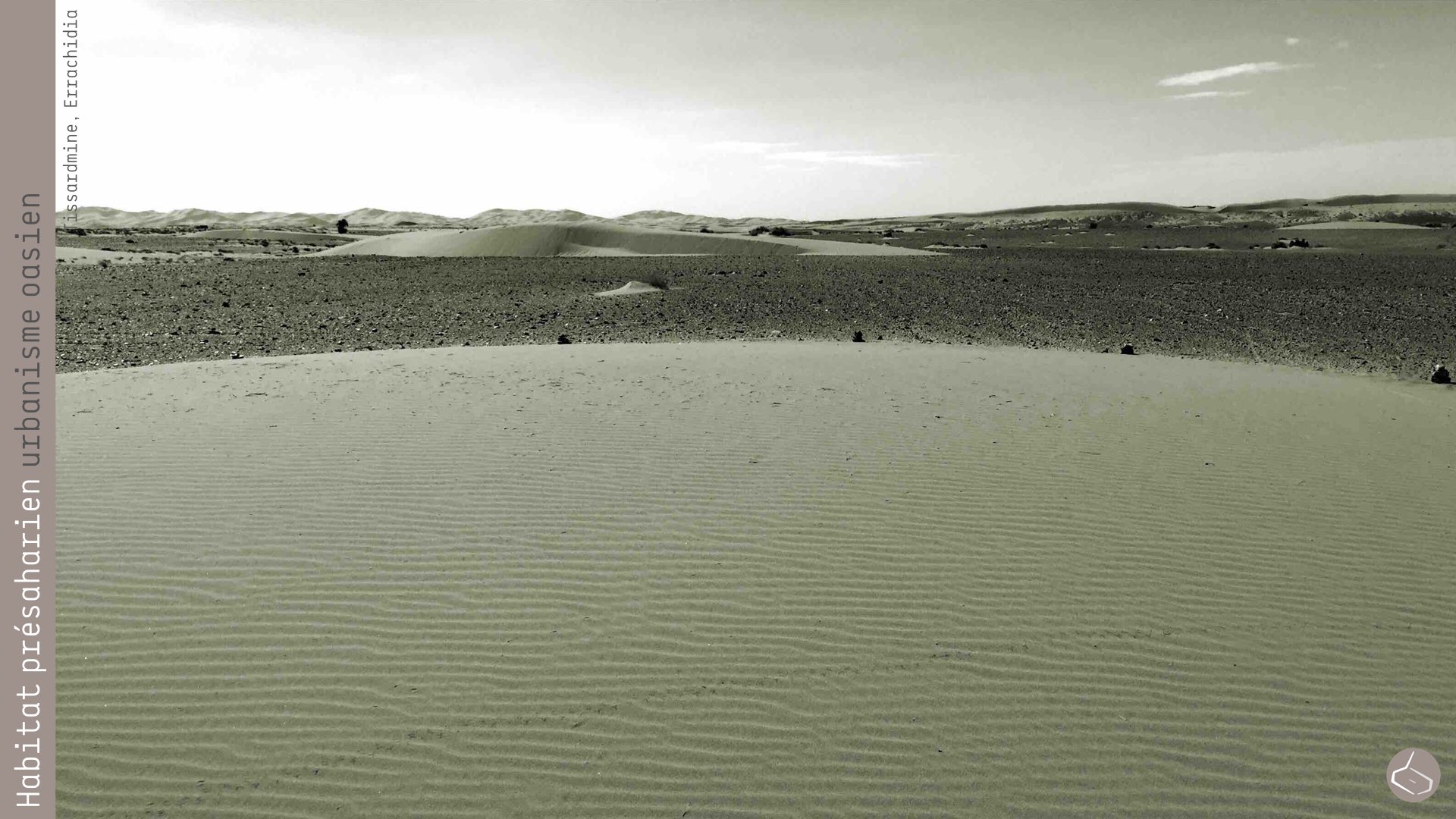 35. Quand on parle d'habitat dans le désert (dans un sens architectural), on pense toujours à des maisons construites en terre, mais il y a un autre type d'habitat qui se construit et se déconstruit tout le temps.
35. When we talk about habitat in the desert (in an architectural sense), we always think on houses built in rammed earth, but there is another type of habitat that is constructed and deconstructed all the time.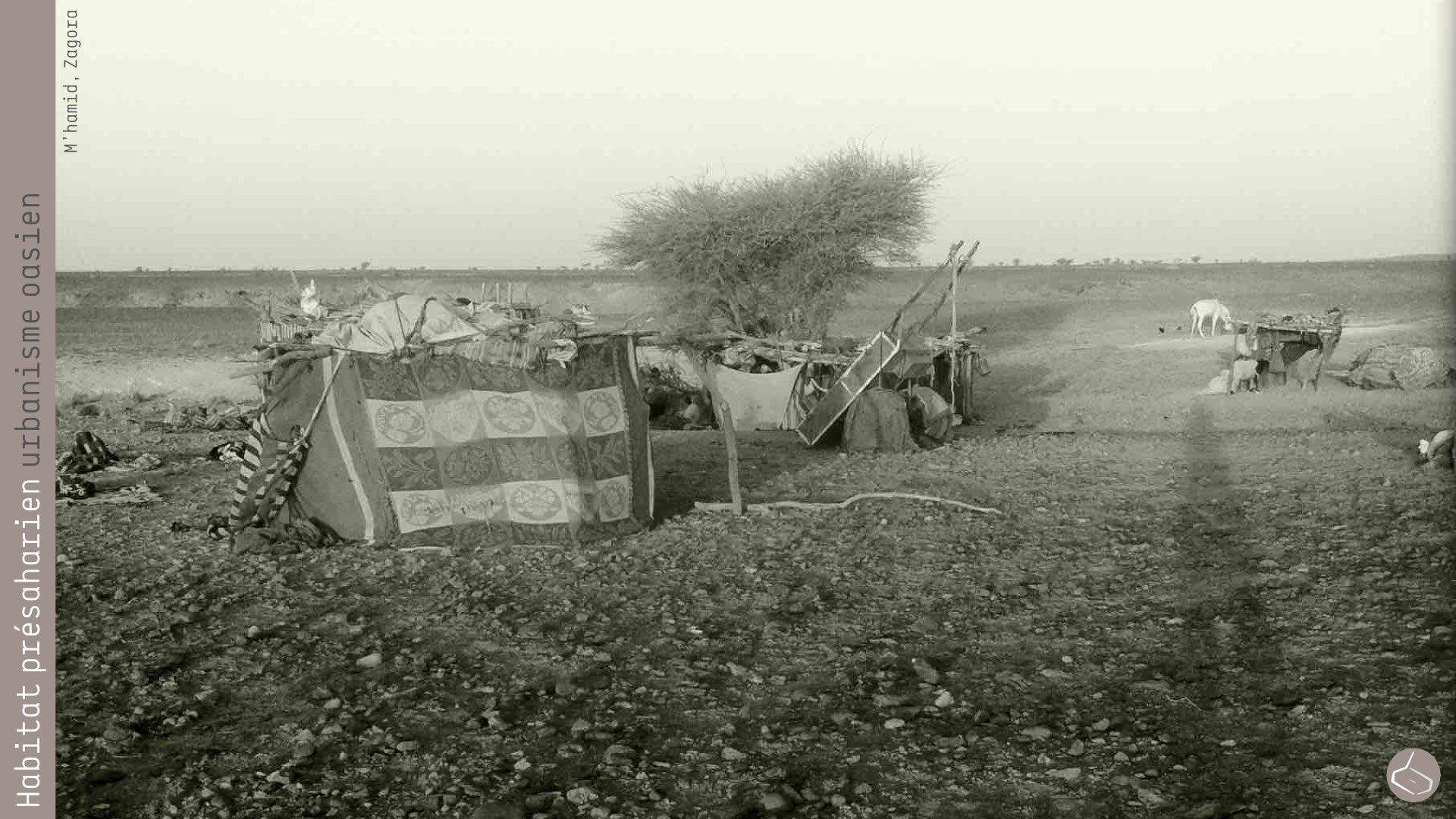 36. C'est le cas des nomades. Même si depuis des années ils ont vu réduite sa mobilité, en raison de la fermeture des frontières (notamment avec l'Algérie), ils continuent à se déplacer avec le bétail et la famille, en petits groupes à pied ou bien en plus grand nombre en 4x4.
36. This is the case of nomads. Although for years they have seen reduced their mobility, due to the closure of borders (especially with Algeria), they continue to move with their livestock and family, in small groups on foot or in greater numbers in all terrain cars.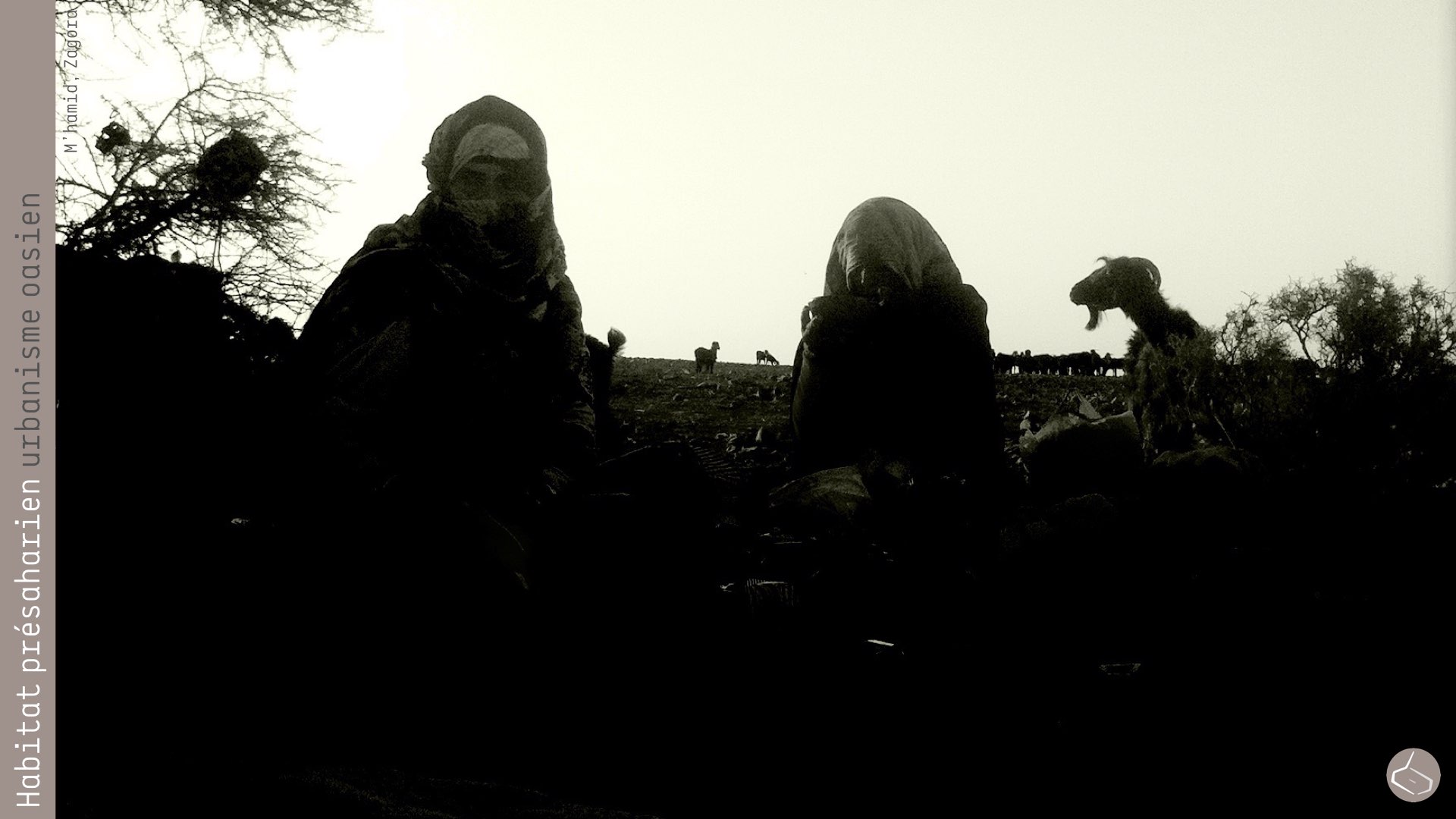 37. En restant normalement trois semaines dans un endroit où il y a de l'eau.
37. normally remaining three weeks in a place where there is water.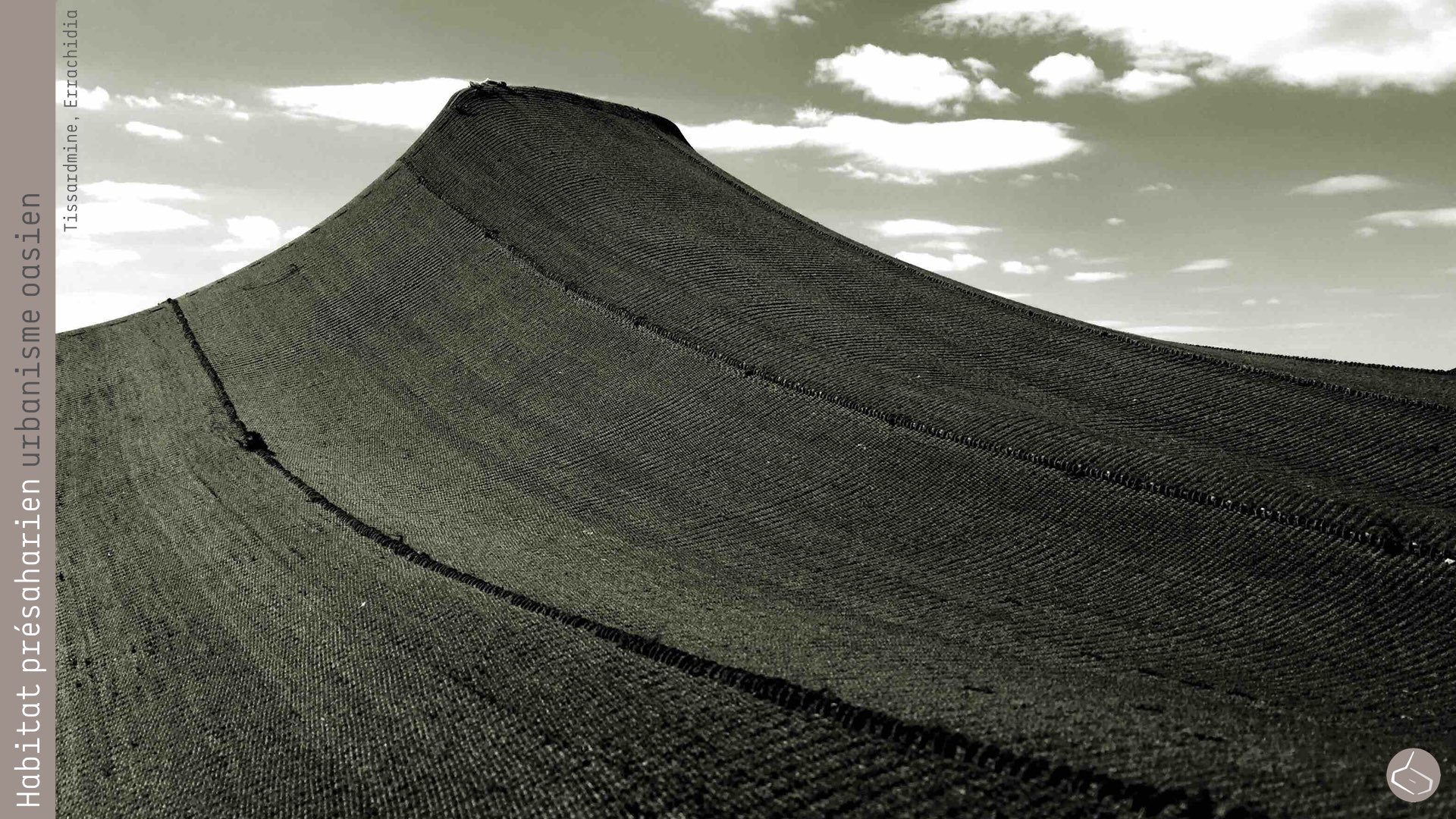 38. Pour rester à l'abri du froid en hiver et des tempêtes de sable en été, ils utilisent les khaïmas, fabriquées avec le poil de chameau et/ou de chèvre, en créant un tissu "intelligent", dans le sens qu'il transpire quand le temps est sec et par contre, il devient étanche avec l'humidité et la pluie, les fibres augmentent de volume et elles se serrent les unes contre les autres en empêchant l'eau de rentrer.
38. To stay away from the cold in winter and sandstorms in summer, they use tents made with camel and / or goat hair, creating a "smart" fabric, in the sense that it transpires when the weather is dry and it becomes waterproof to moisture and rain because the fibers increase in volume and they huddle against each other preventing water to come inside.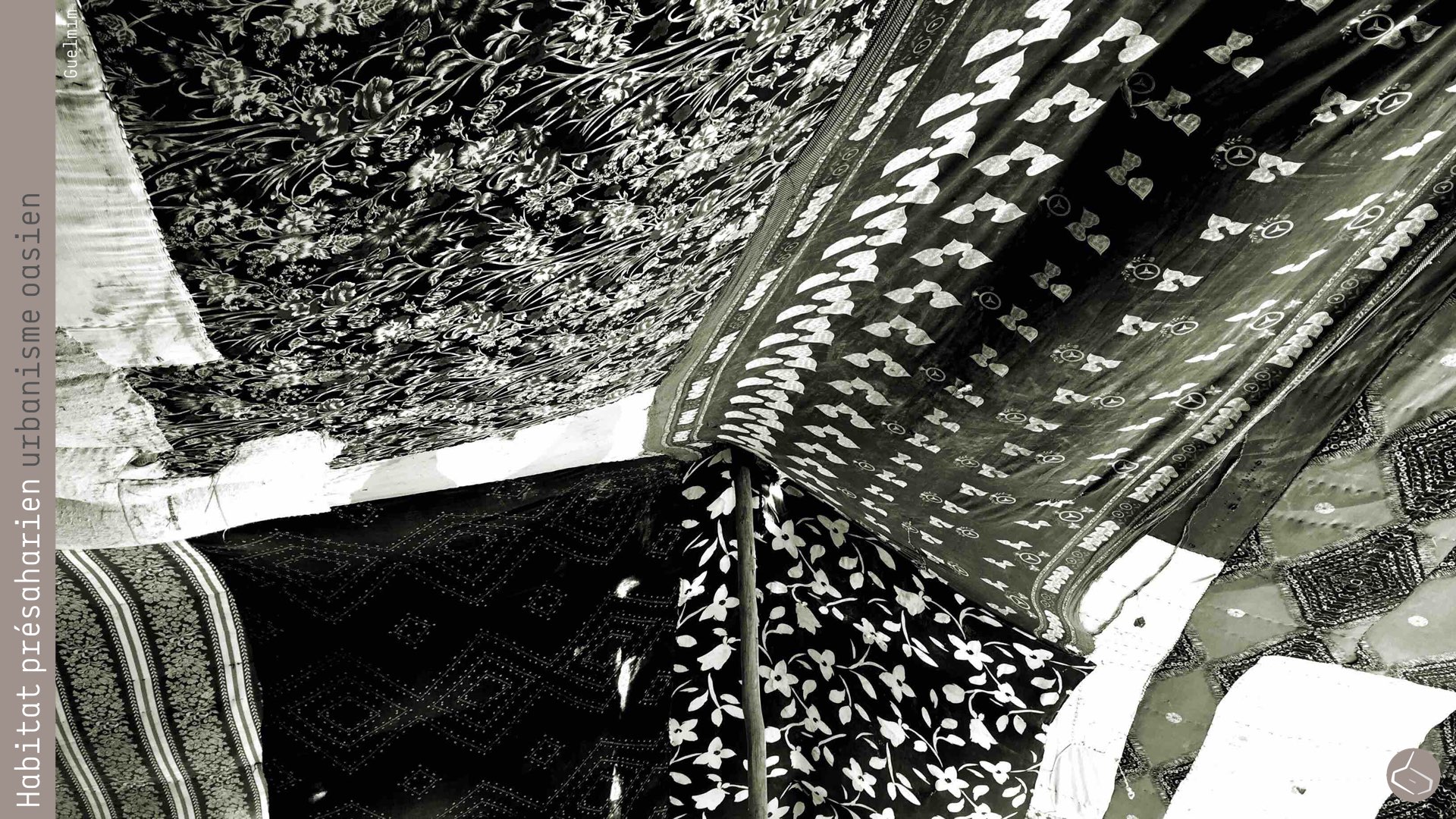 39. Parfois, ils ont besoin de tentes plus légères et faciles à monter et démonter, pour cela ils réutilisent des tissus pour fabriquer des tentes a double, ou même triple, couche, en fonction des performances requises. Ce tissu peut aussi être étanche, en rajoutant une couche en plastique (par exemple avec des grands sacs en plastiques usés dans l'agriculture).
39. Sometimes they need tents more light and easy to assemble and disassemble, for that reason they recycle fabrics to make tents with double or even triple layer, depending on the required performance. This fabric can also be waterproof, by adding a plastic layer (for example, with large bags in plastic used in agriculture).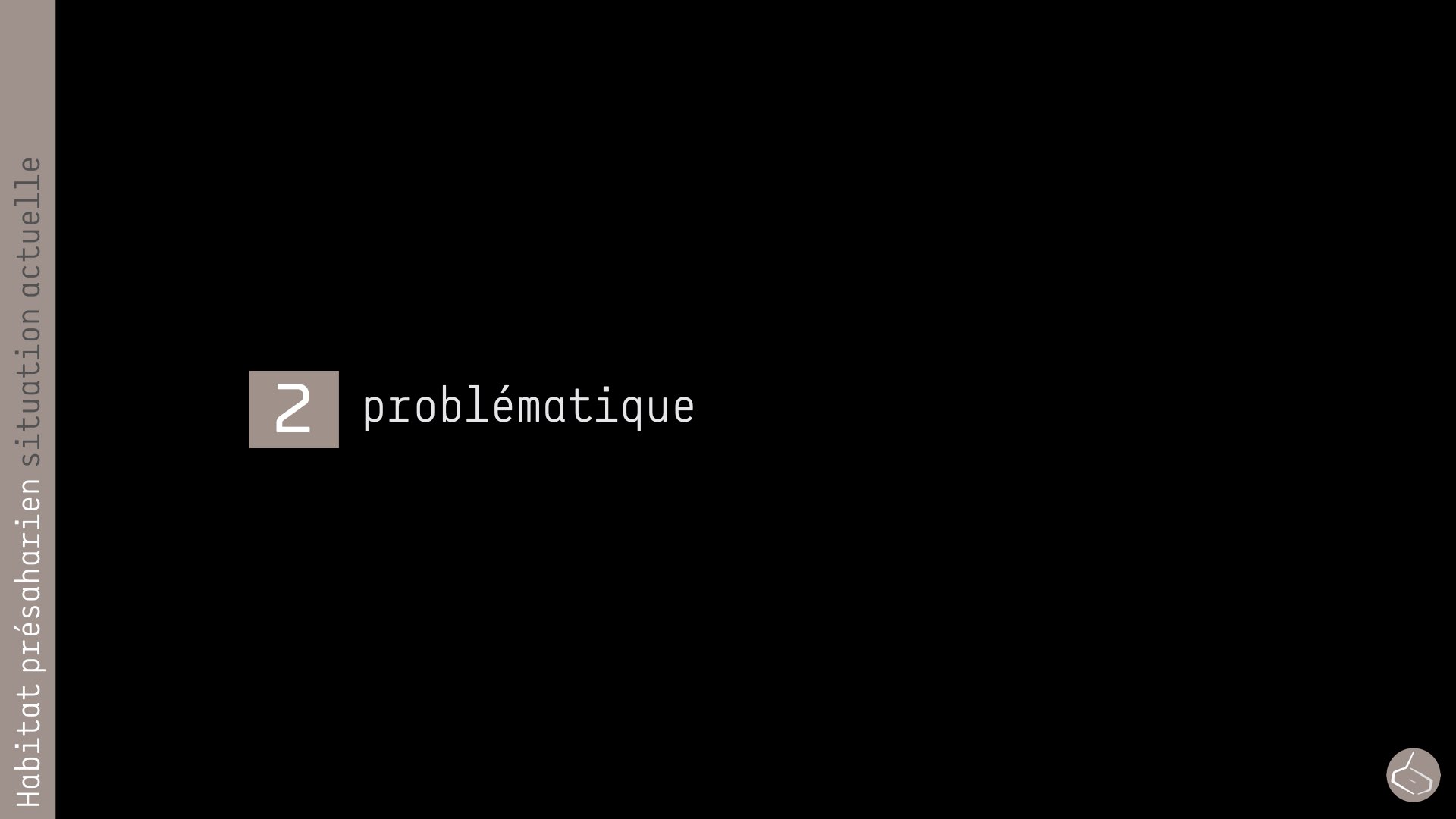 40. Or, ces modes de vie peuvent avoir des problèmes.
40. However, these lifestyles can have problems.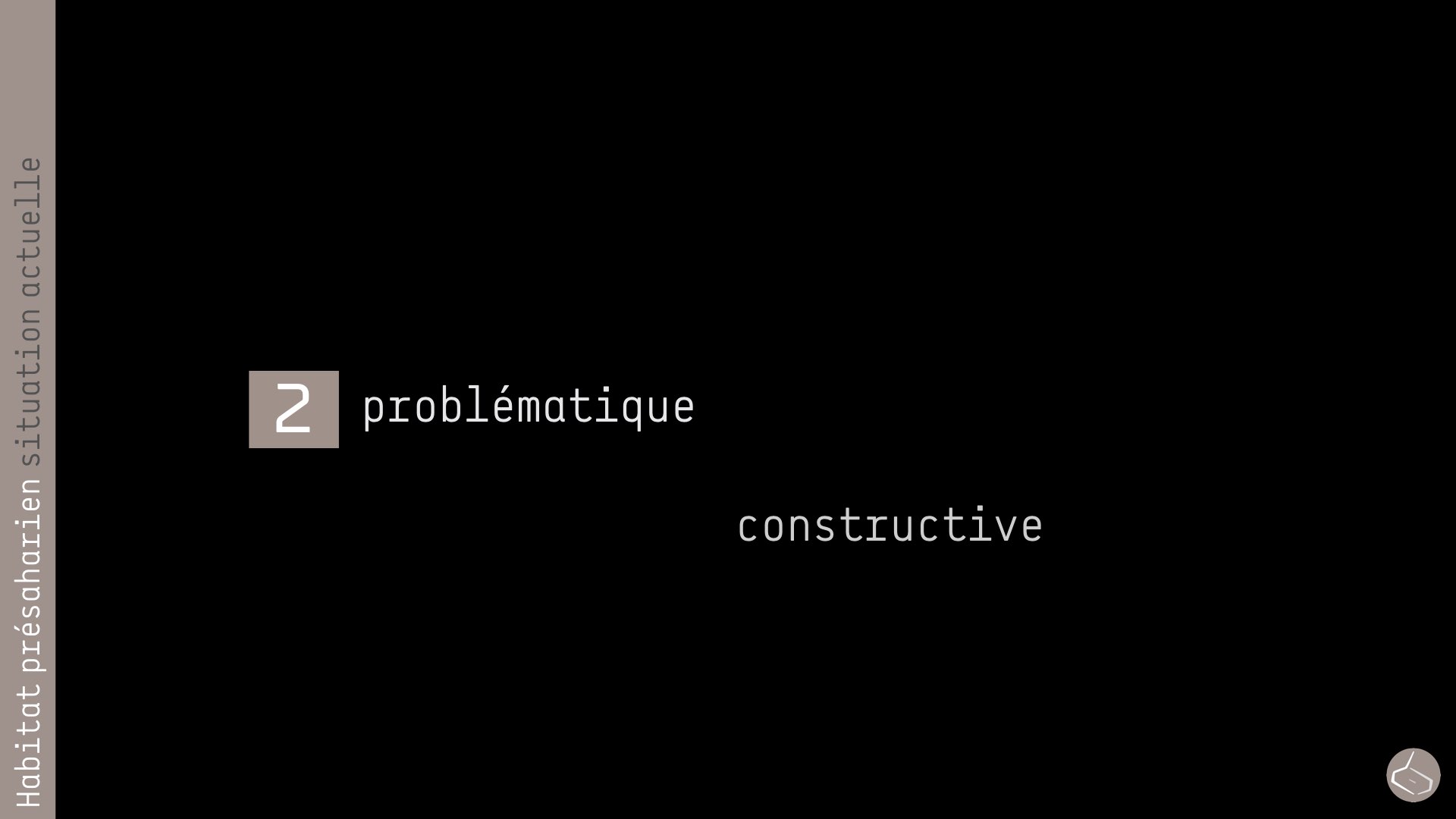 41. À cause des systèmes constructifs.
41. Because of construction systems.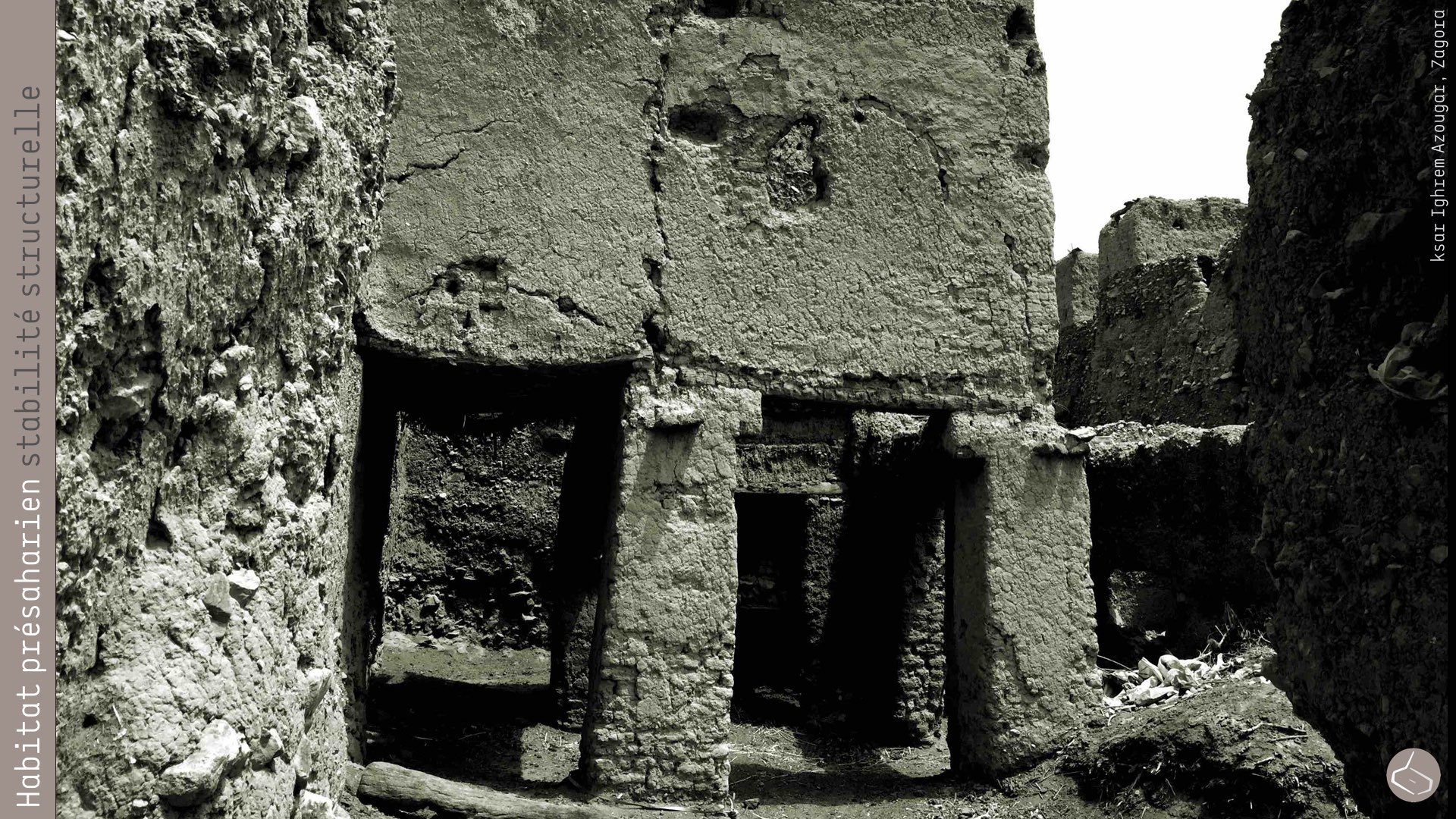 42. Mais ce n'est pas exactement la terre qui pose des problèmes.
42. But it is not just the earth that poses problems.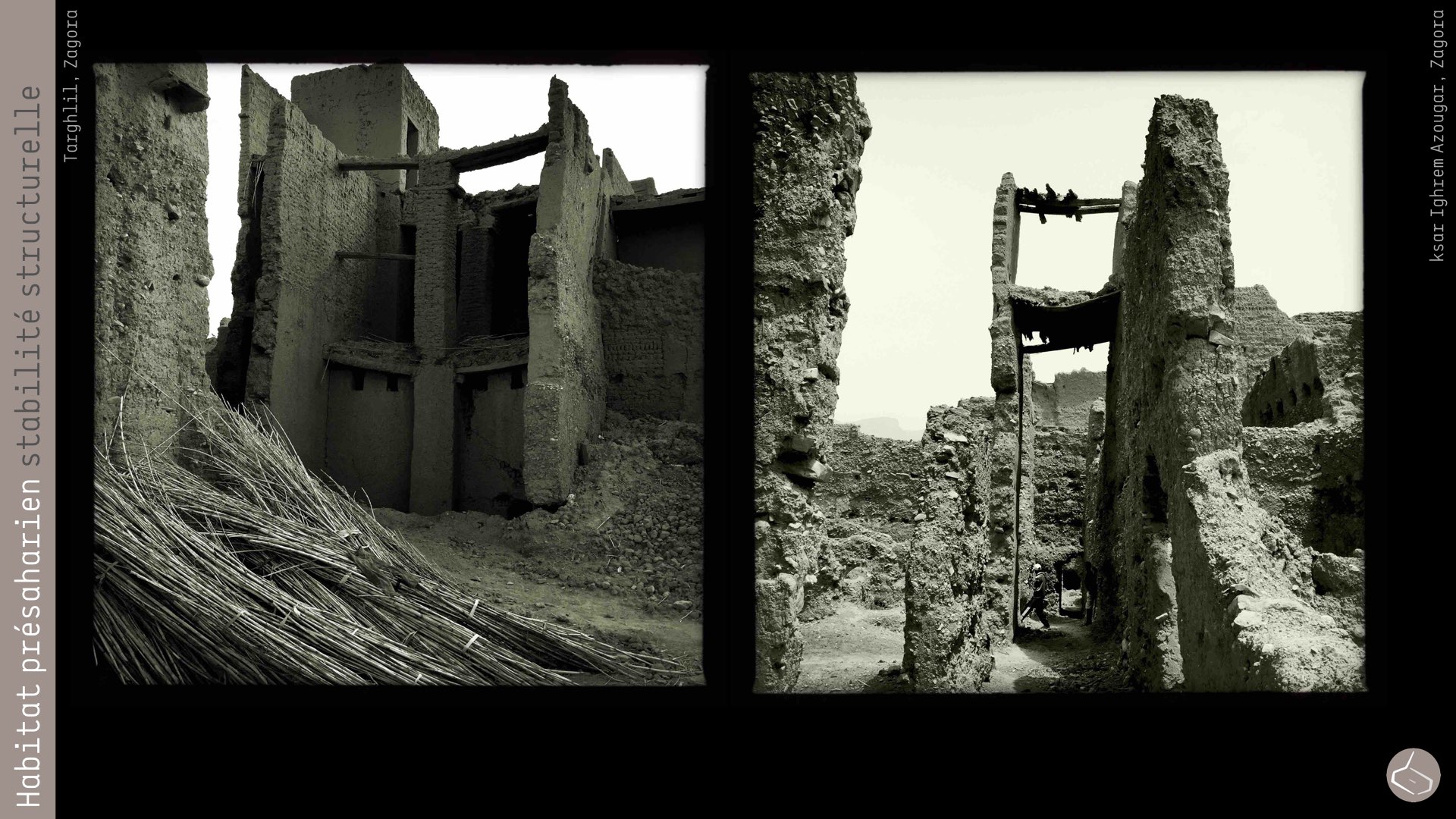 43. La terre est un matériau très résistant, si jamais les murs sont bien exécutés et s'ils ne sont pas affectés par des solicitudes inattendues, ce qui arrive très souvent quand la étanchéité de la toiture n'est pas bonne, l'eau rentre, l'appui des poutres en bois se voit endommagé et commencent à ne pas transmettre les efforts et les poussées en vertical, mais en horizontal, contraintes pour lesquelles les murs en terre ne résistent pas.
43. The earth is a very durable material, if the walls are well executed and they are not affected by unexpected solicitudes, which often happens when the sealing of the roof is not good, the water comes inside, wooden beams are damaged and they begin to do not transmit the efforts and thrusts in vertical, but horizontal, constraints for which the rammed earth walls do not resist.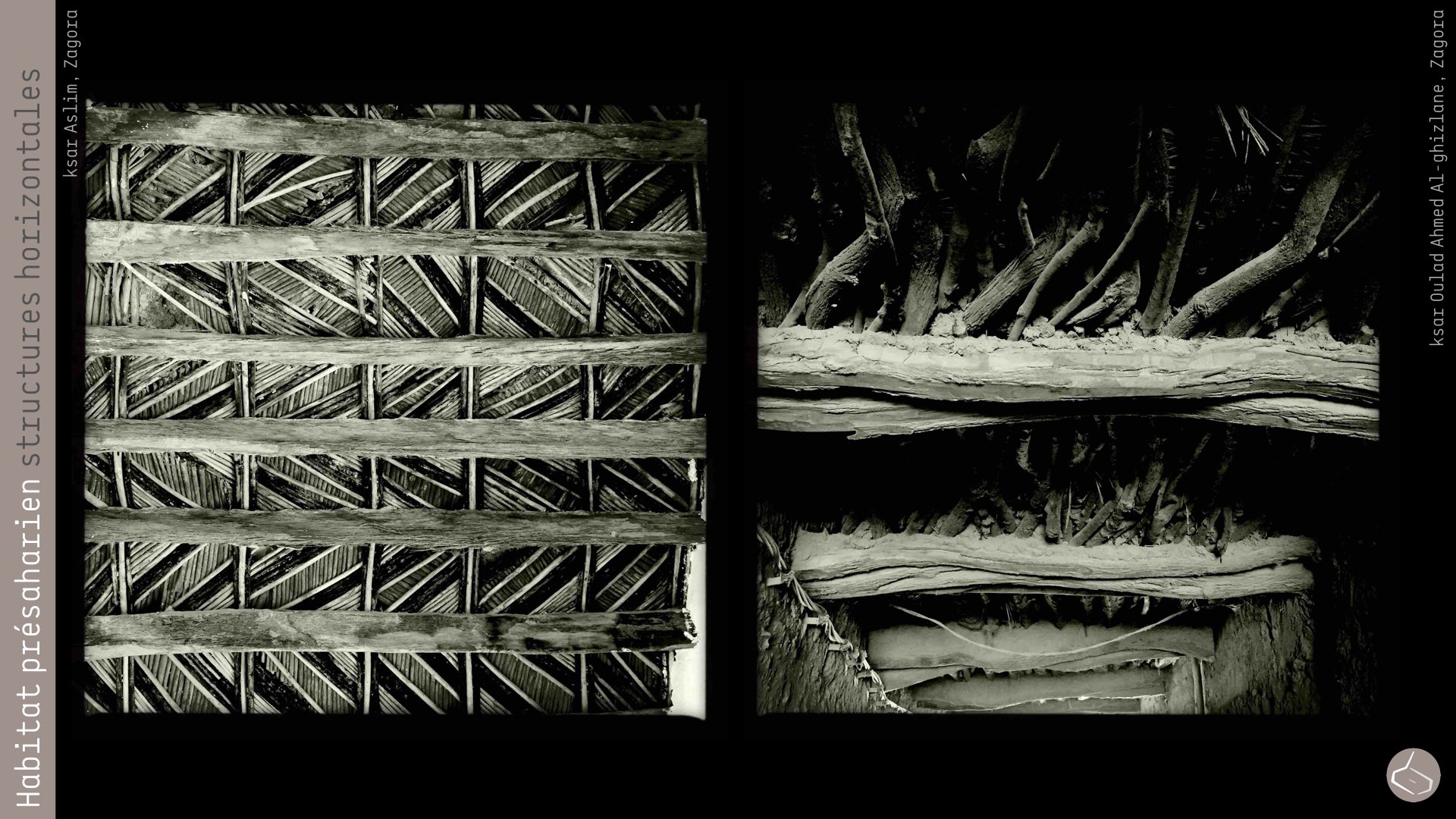 44. Il faut insister, ce n'est pas ni la terre ni le bois les responsables des principales pathologies constructives, mais l'eau. Bien si l'emploi du bois de palmier implique des contraintes spatiales (puisque la portée des poutres se limite à 2,5-3,00m), les pièces restent très petites et pas trop pratiques. Néanmoins, il n'y a que le bois de palmier, il y a des régions ou des oasis comme M'hamid, où les gens construisent avec le bois de tamarix qui est plus résistant.
44. We have to say that it is not the earth or wood the main constructive pathologies, but water. Even if the use of palm wood involves spatial restrictions (the beam spans are limited to 2,5-3,00m), the rooms are very small and comfortless. Nevertheless, it is not just the palm wood people use, there are regions, as M'hamid oasis, where people built with the wood of tamarisk that is more resistant.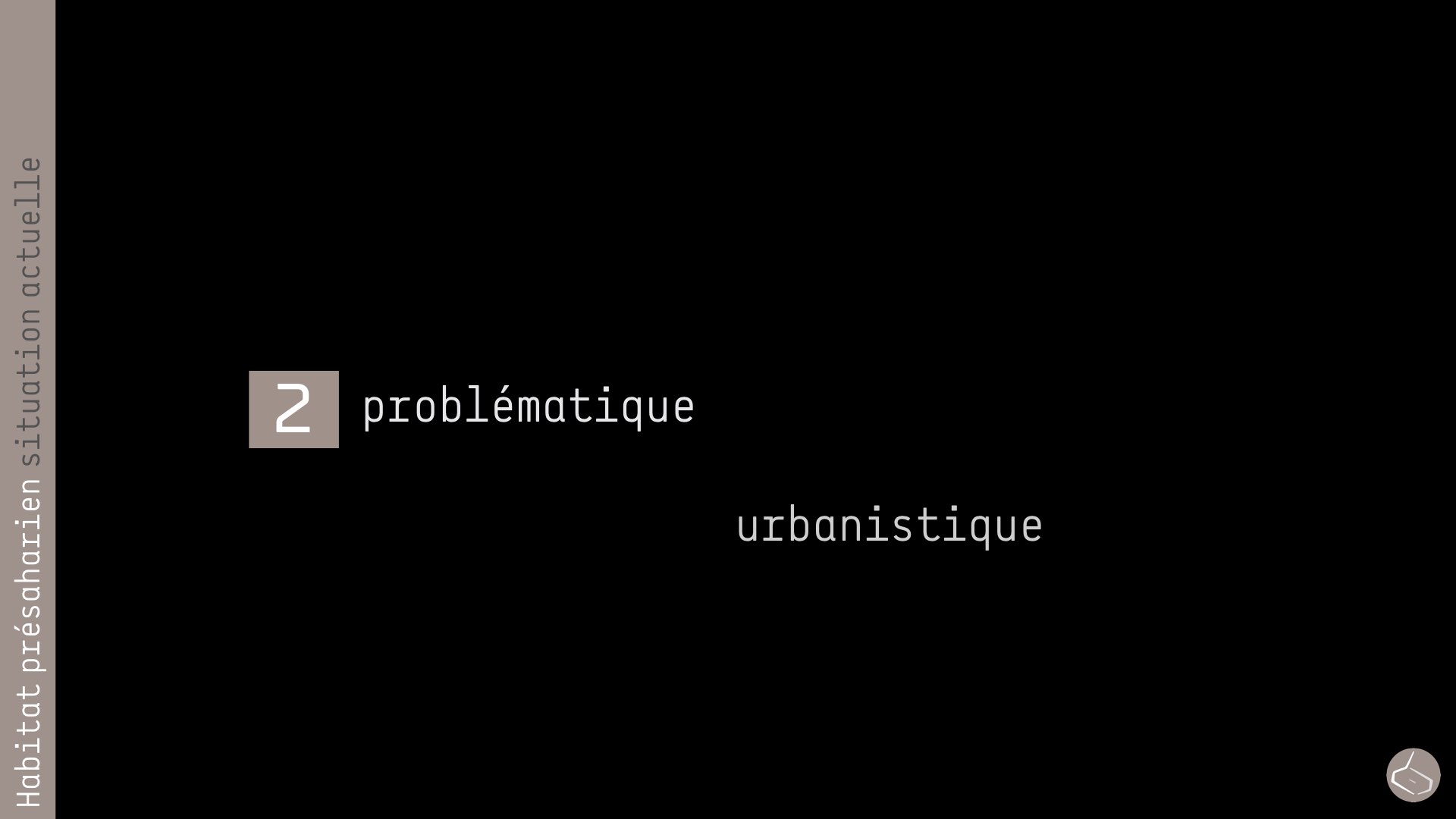 45. Les problèmes peuvent avoir une échelle beaucoup plus large.
45. The problems can have a much broader scale.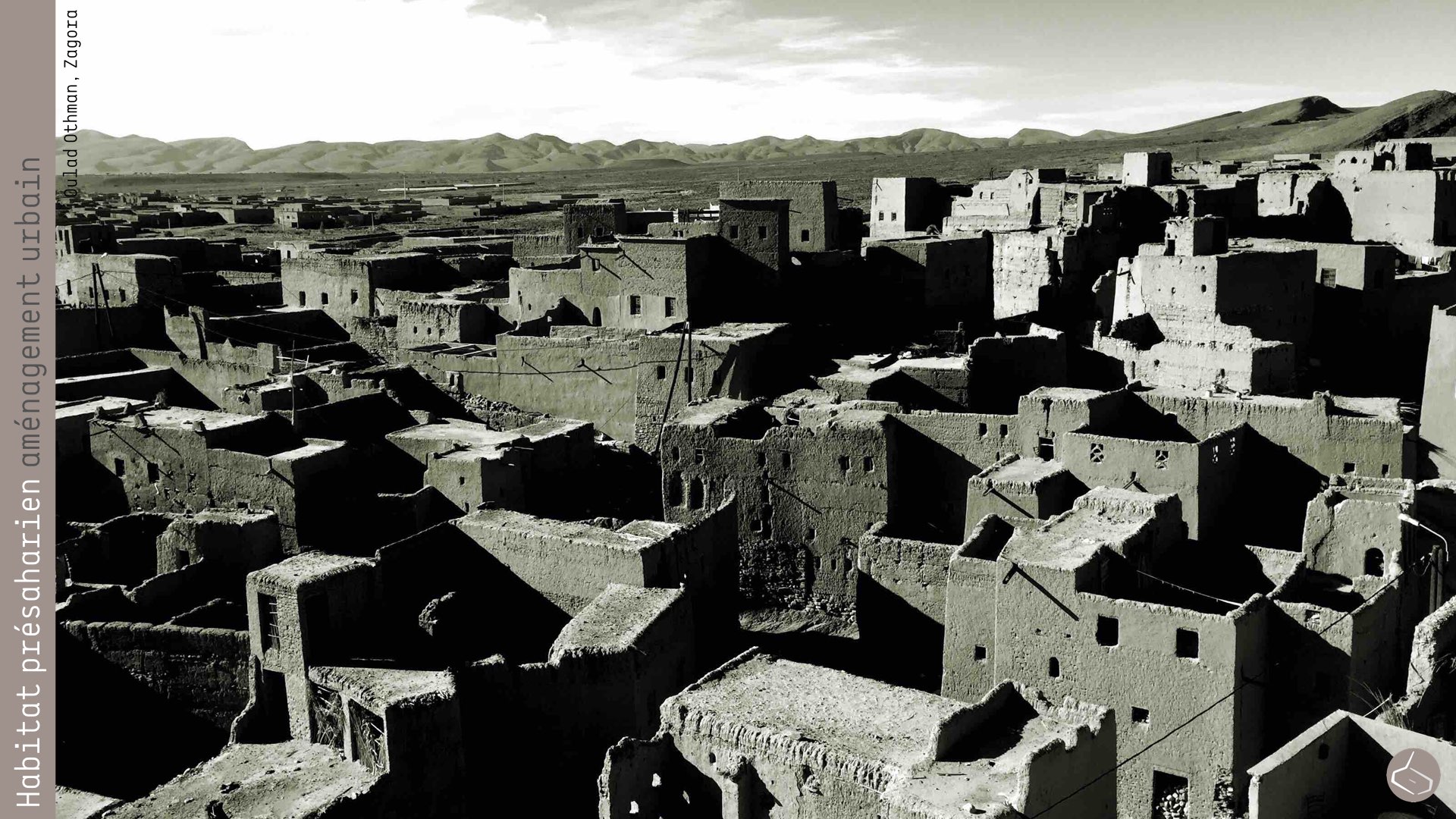 46. Car les contraintes défensives liées aux guerres ne se posent plus, la concentration et densification des maisons…
46. ecause defensive constraints due to wars, are no longer needed, so, concentration and densification of houses ...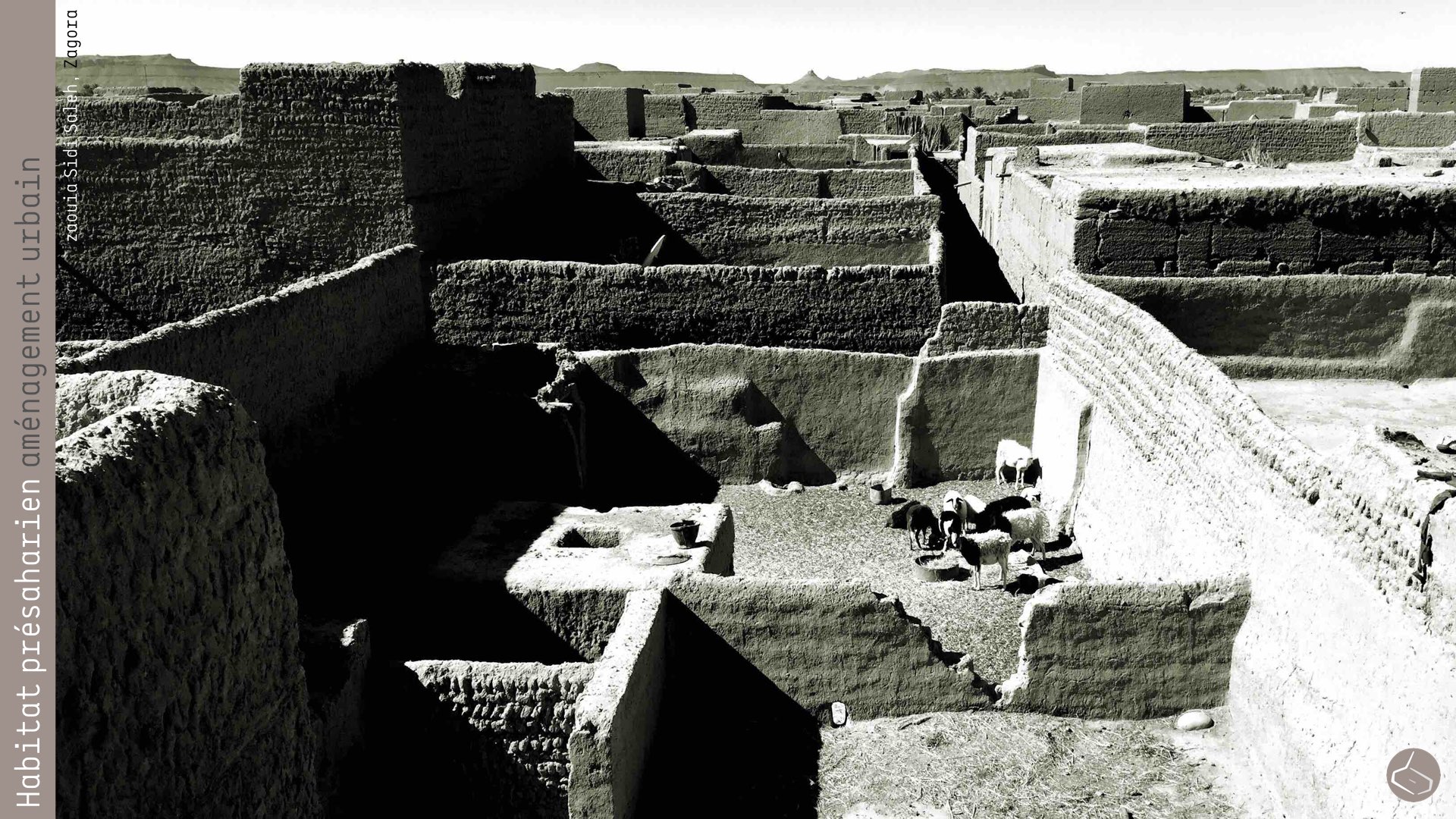 47. et la réduction des espaces ouverts à l'intérieur des noyaux "urbains", ont laissé des spaces assez contraints et inhabitables.
47. And the reduction of open spaces within the "urban" cores, have left rather uninhabitable spaces.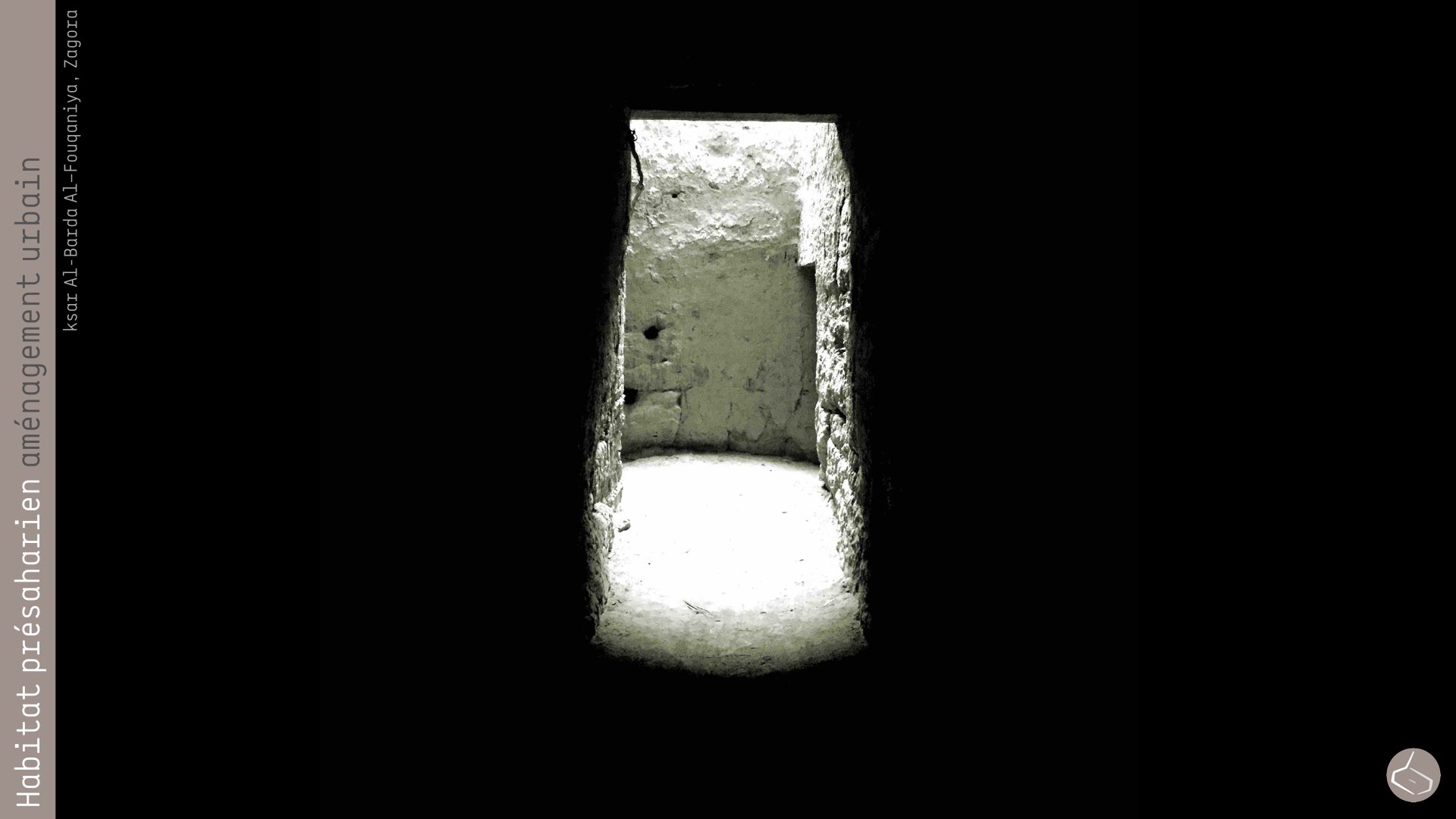 48. Bien si certains espaces sont très utiles face à une climatologie assez extrême en été, on ne peut pas affirmer que cette organisation spatiale soit complètement dépassée.
48. Even if some areas are very helpful facing a pretty extreme summer climate, we can not say that this spatial organisation is completely outdated.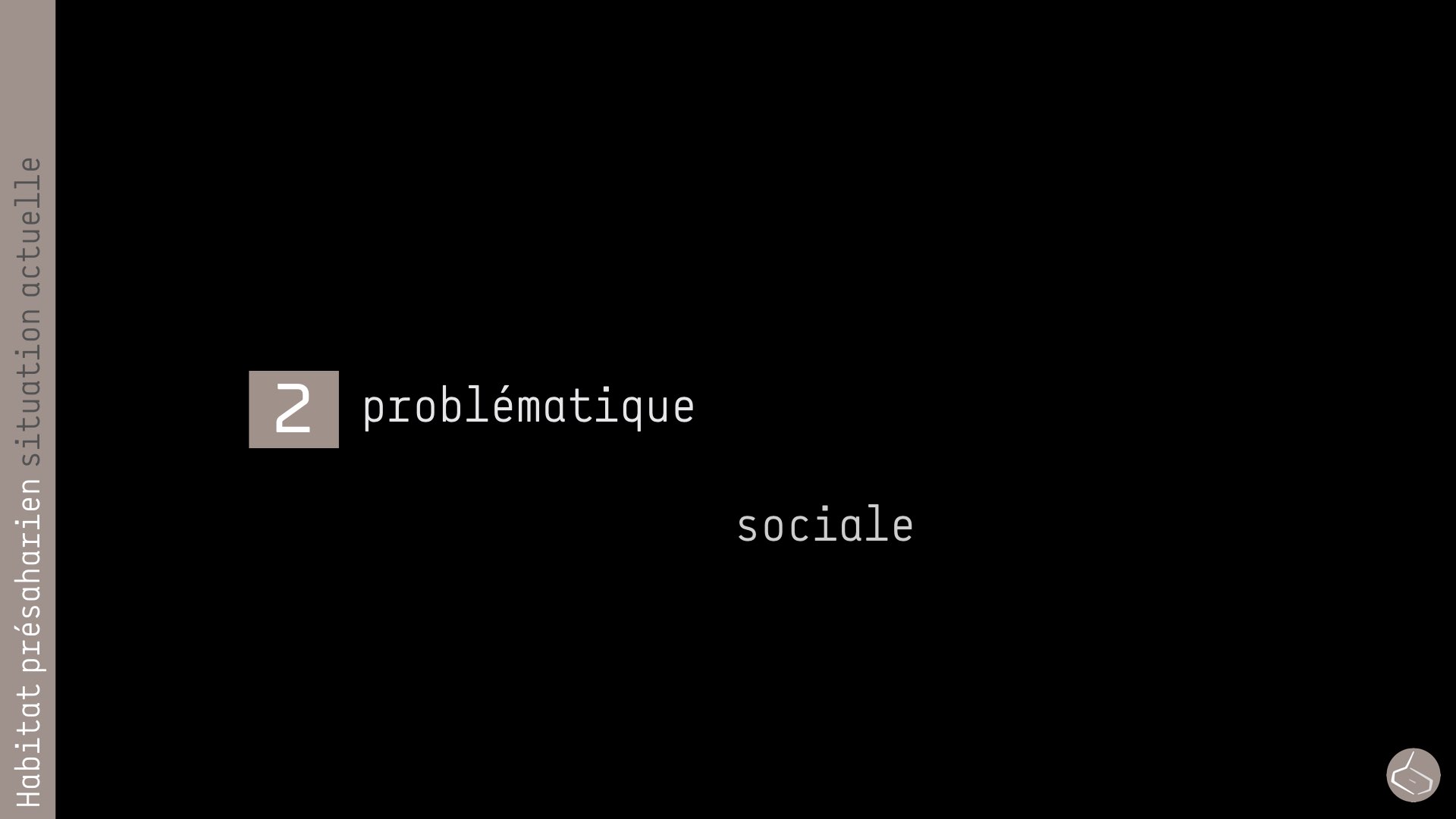 49. Une problématique moins tangible est celle de la sociologie.
49. A less tangible issue is that of sociology.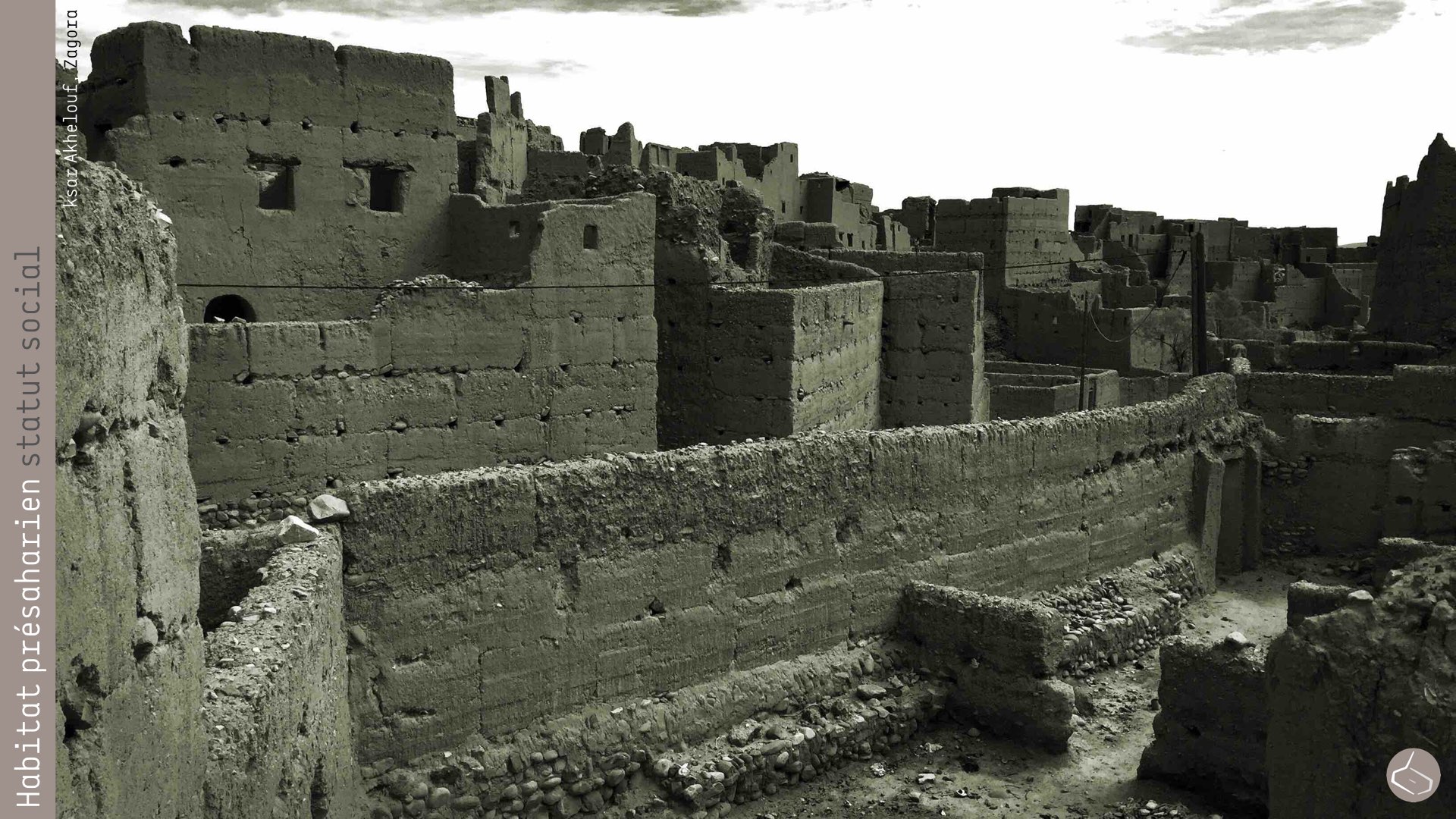 50. D'un côté parce qu'aujourd'hui, dire que l'on habite dans une maison en terre, ou dans un ksar, veut dire que l'on est pauvre. On considère pas l'architecture en terre comme une architecture contemporaine, tout le contraire. Quand une famille a un peu d'argent, ils décident de quitter l'ancienne maison pour se construire une nouvelle, normalement (pas toujours), avec des blocs en béton, tout simplement pour montrer que l'on a de l'argent et que maintenant ils ont un statut social supérieur.
50. On one hand because today if you say that you live in a rammed earth house, or in a ksar, it means you are poor. Earthen architecture is not considered as a contemporary architecture, just the opposite. When a family has a little money, they decided to leave the old house to build a new one, usually (not always) with concrete blocks, just to show that they have money and they have a higher social status.
51. Par ailleurs, la coexistence entre tribus n'est pas tout à fait évident et cela donne lieu à une sectorisation des quartiers, que ce soit dans les nouvelles extensions ou dans les ksour.
51. Furthermore, the coexistence of tribes is not quite clear and it causes a segmentation of neighbourhoods, whether in the new extensions or in the ksour.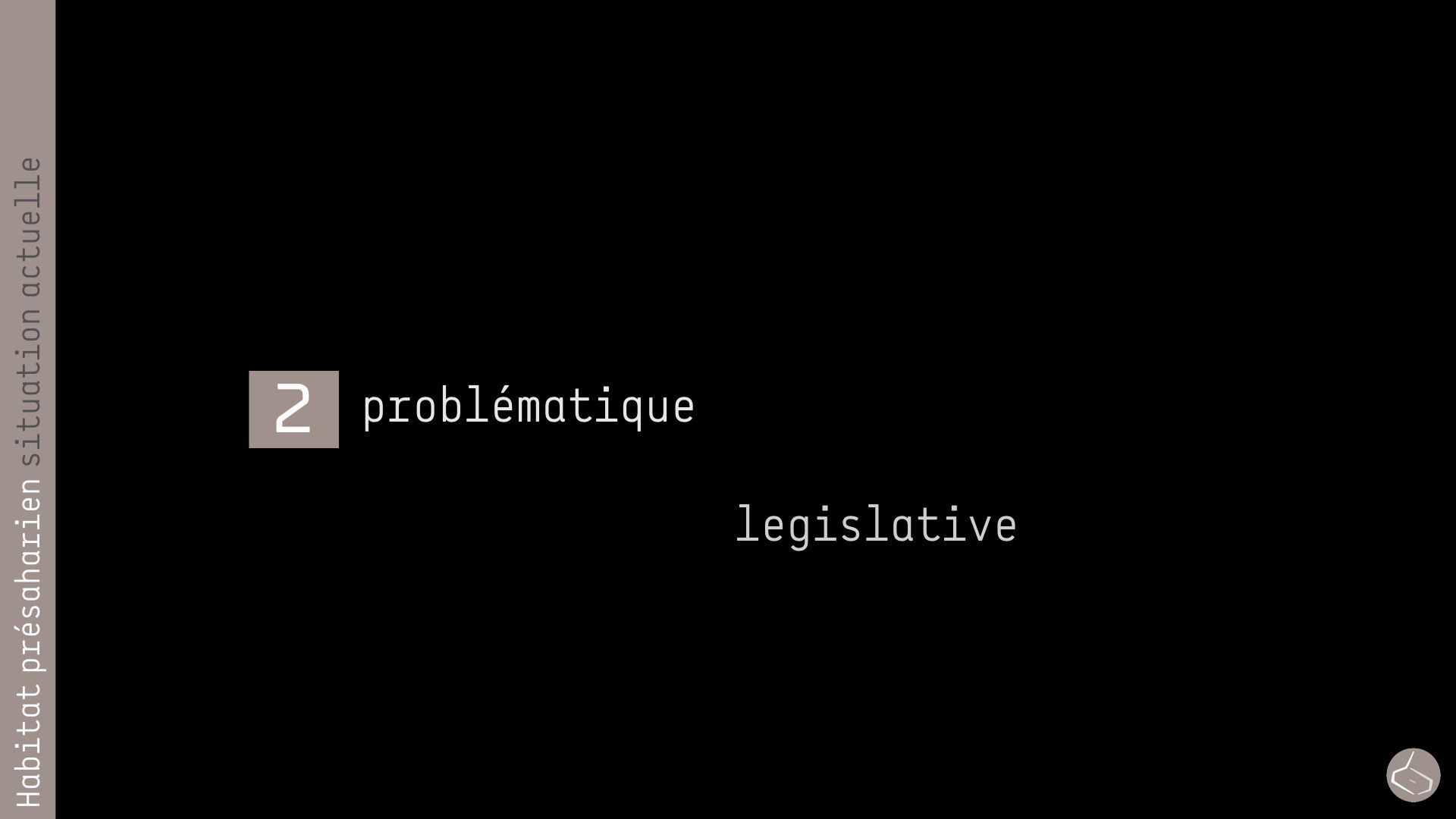 52. Afin de préserver le patrimoine bâti en terre, et pourtant ces types d'habitat, il est fondamental résoudre des questions légales.
52. To preserve the earthen architectural heritage, therefore these habitat types, it is essential to resolve the legal issues.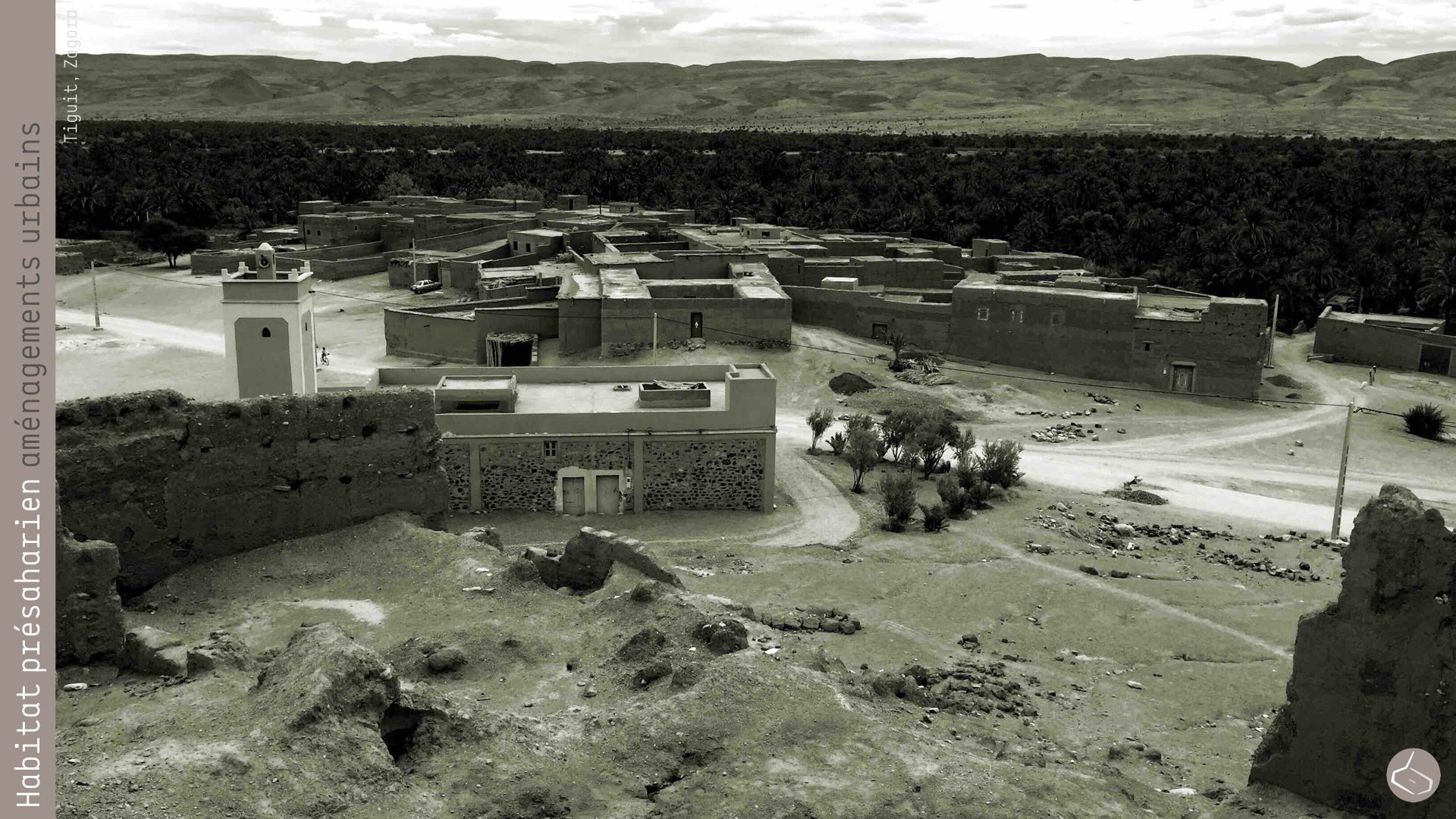 53. Jusqu'à 2013 il était interdit de construire en terre, puisque le règlement parasismique n'était pas adapté à ce système constructif. D'un point de vue de la protection du patrimoine, seulement le site de Ait Ben Haddou est "protégé", grâce au classement comme patrimoine de l'humanité, mais pour le reste, tout est susceptible d'être démoli. Il n'y a pas des projets d'aménagement avec un contrôle réel de son exécution, en faisant des extensions de manière chaotique dans la plupart des cas.
53. Until 2013 it was forbidden to build in rammed earth, since the earthquake regulations were not suitable for this construction system. Concerning heritage protection, only the site of Ait Ben Haddou is "protected" as World Heritage by UNESCO, but for the rest, everything can be demolished without any permission. The development of urban plans have no control of theirs executions, making extensions chaotically in most cases.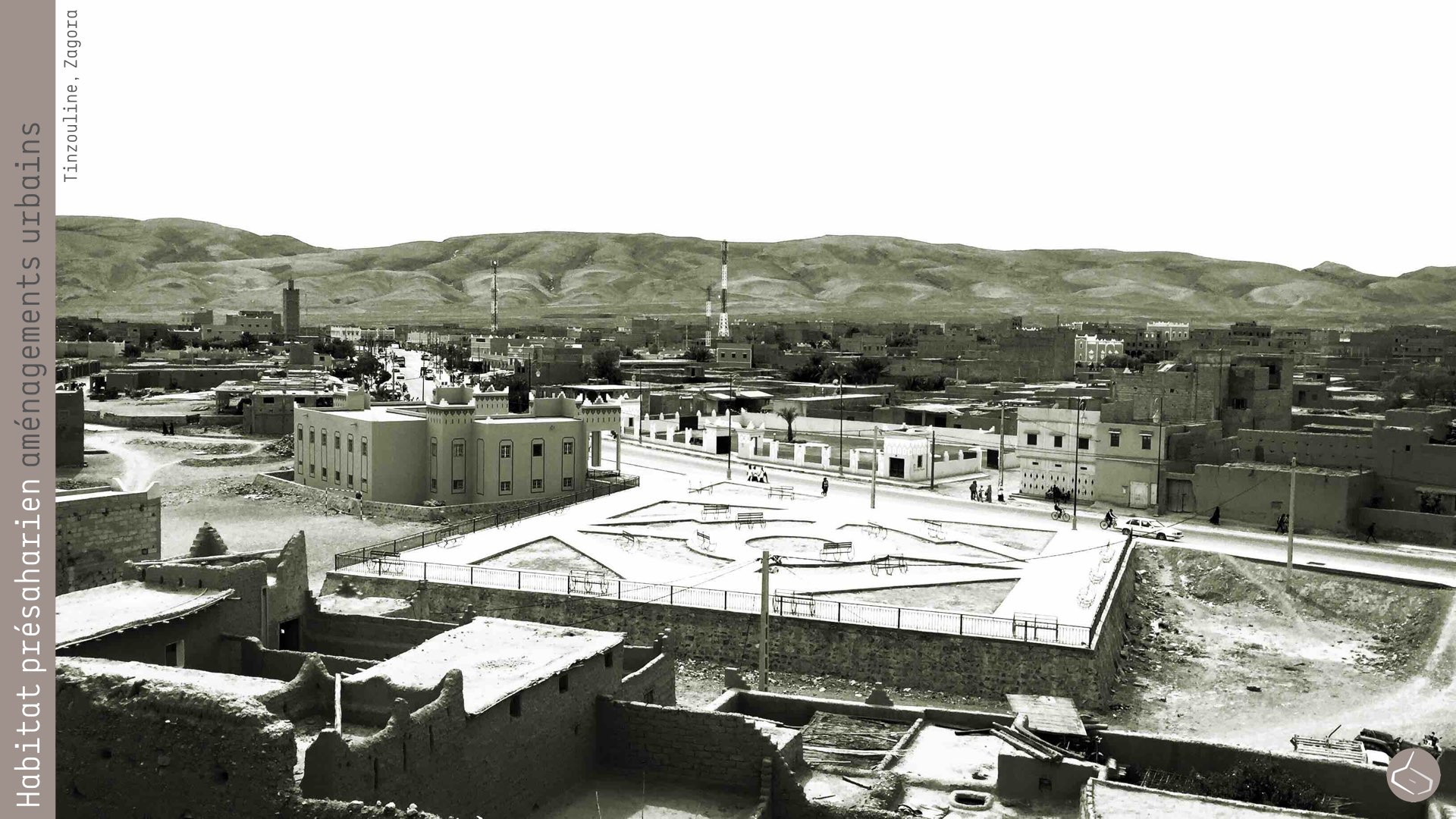 54. Et quand il y en a, cela peut être encore pire.
54. And when there is, it can be even worse.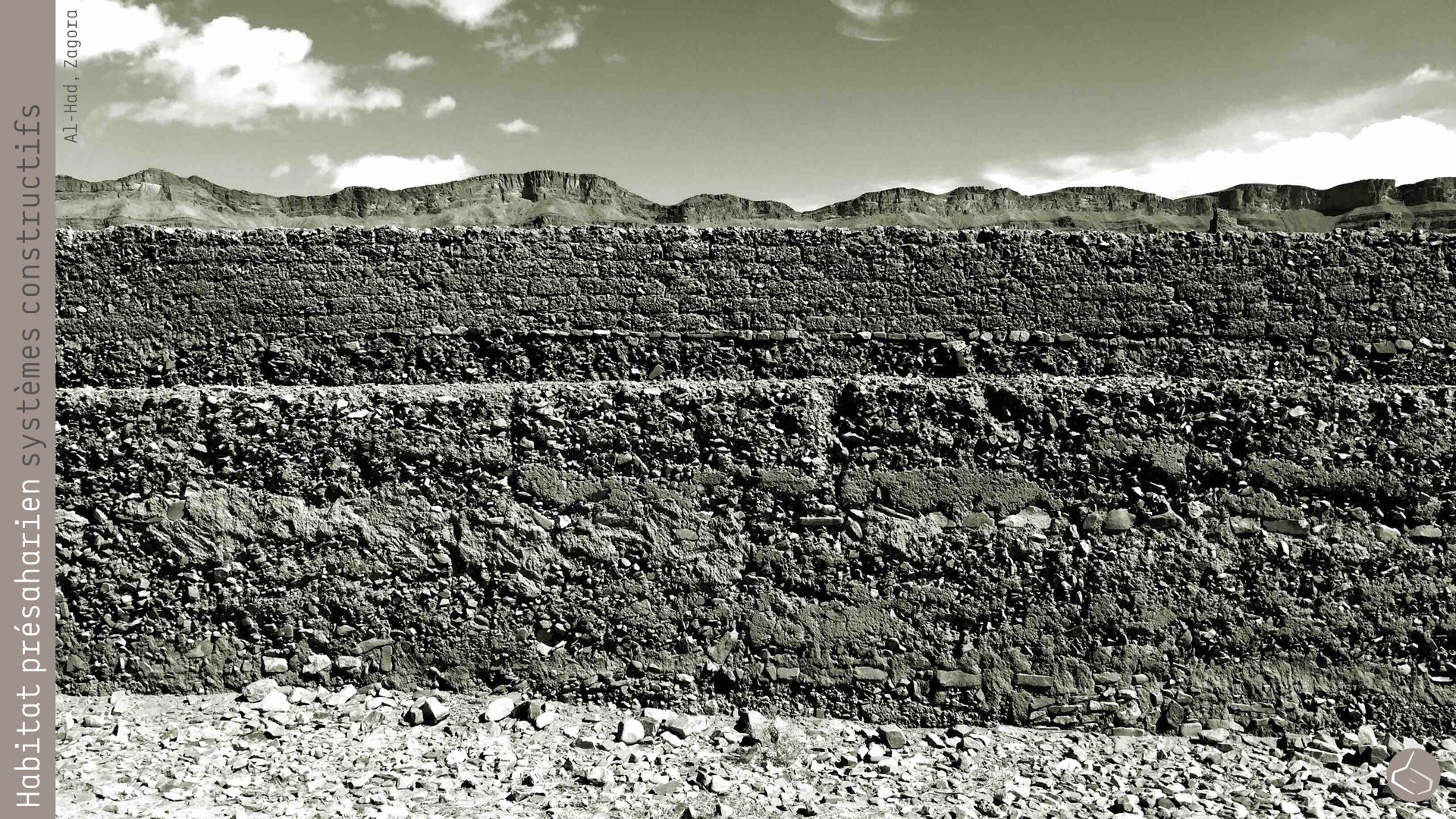 55. Sauf le règlement parasismique il n'y a pas d'autres règlements qui puissent aider à mieux construire ou réhabiliter en terre.
55. Unless the seismic regulation, there are no other regulations that can help better build or rehabilitate in rammed earth.
56. De telle sorte que même les logements sociaux ne peuvent pas être construits en terre puisque le règlement ne mentionne pas ce matériau, seulement les blocs en béton et le murs en béton.
56. So, even social housing can not be built in rammed earth since regulations do not mention this material, only concrete blocks and concrete walls.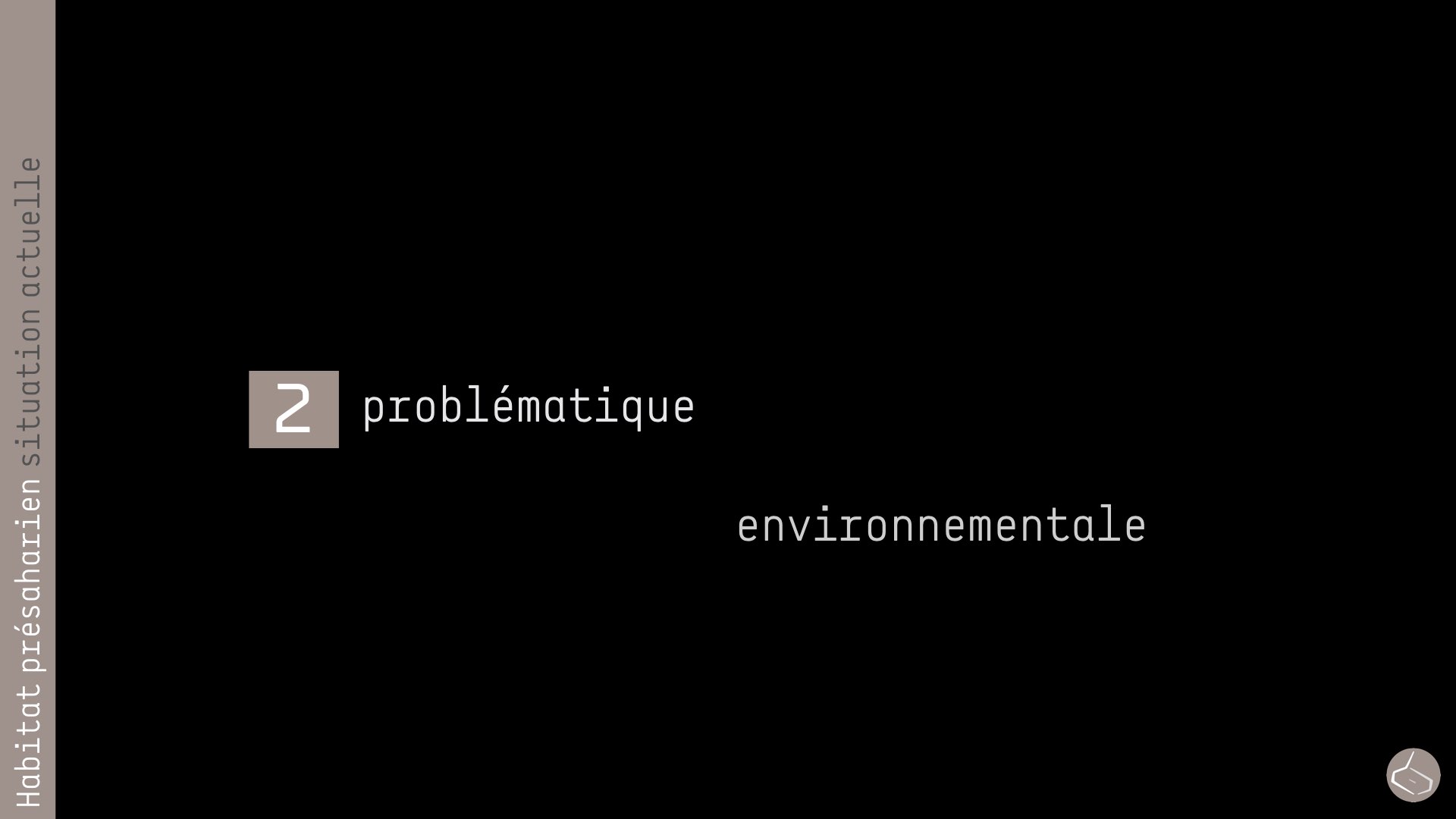 57. On peut penser, que le changement climatique est un sujet abstrait, mais dans les régions avec une climatologie extrême, on peut constater ses effets.
57. We can think that climate change is an abstract subject, but in regions with extreme climate, we can see its effects.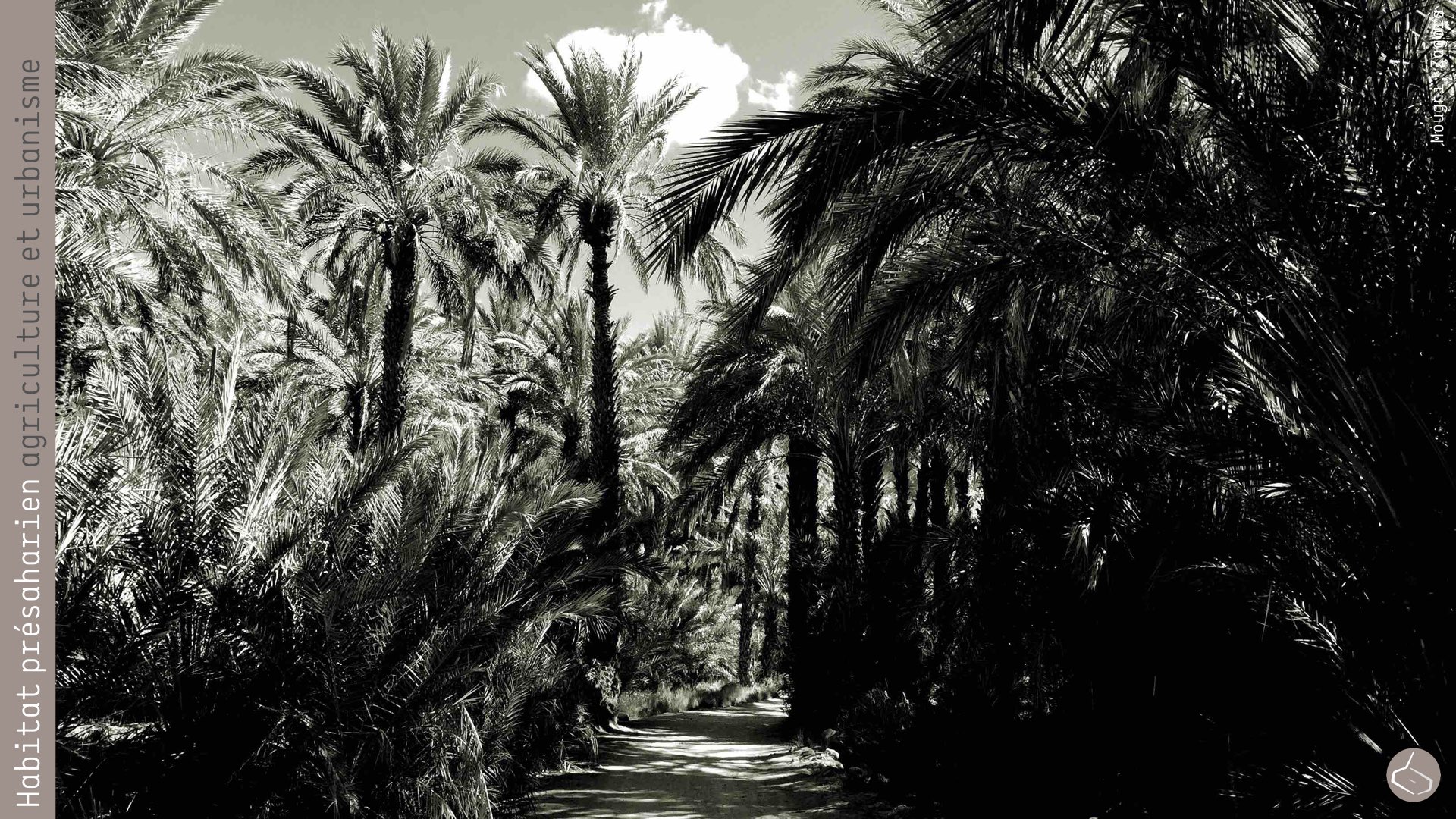 58. Ainsi, la source de vie que constituent les palmeraies, sont menacées par la sécheresse (il y a d'autres facteurs, comme l'économique, sociologique, culturel…) et elles sont en train de disparaître.
58. Thus, the source of life that are the palm groves are threatened by drought (there are other factors, such as economic, sociological, cultural ...), and they are disappearing.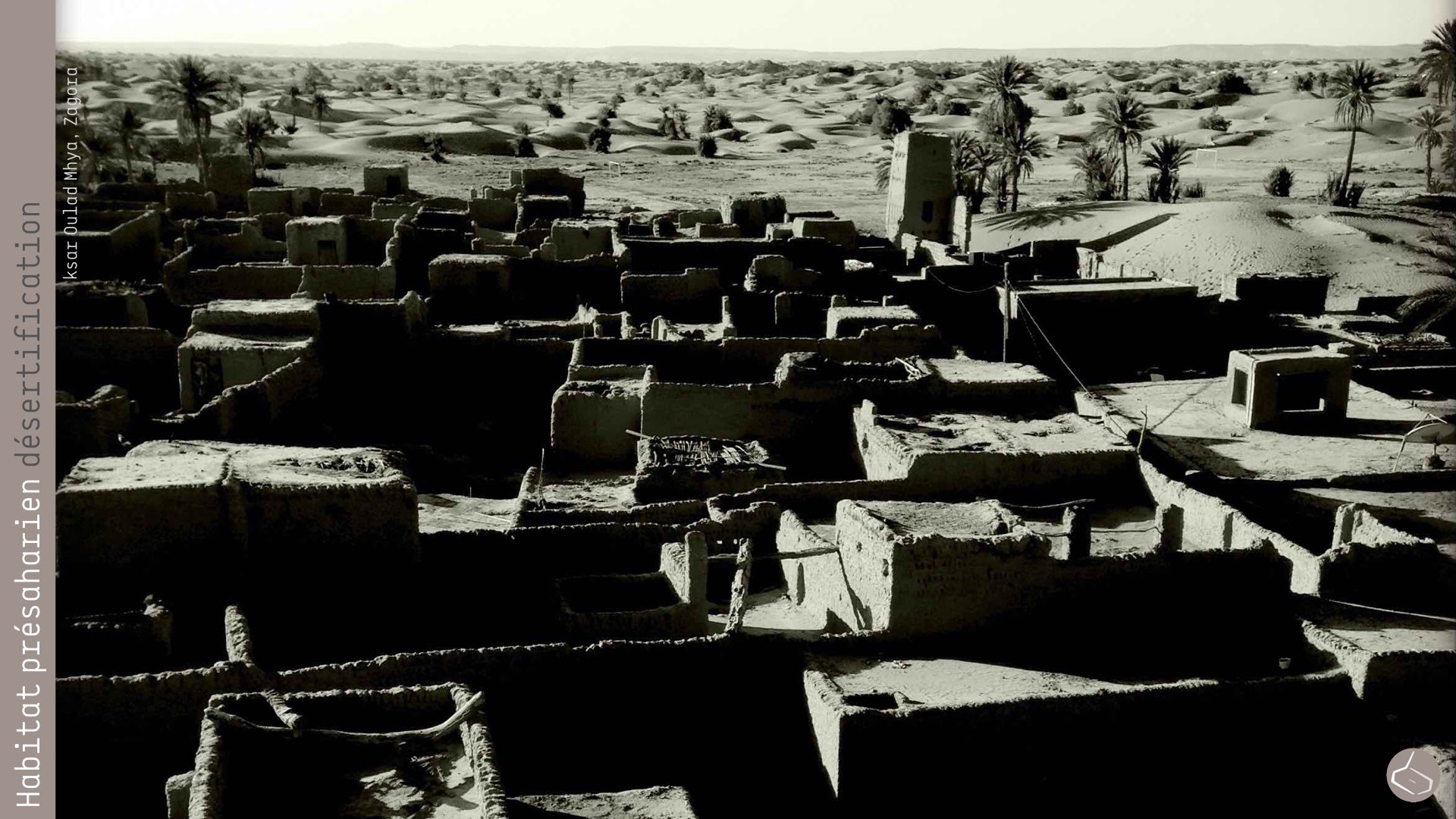 59. La disparition de la surface occupé par la palmeraie met en péril la vie des habitants, car leurs villes sont directement menacées par l'arrivée du sable, auparavant arrêté par la meilleur barrière que l'on pouvait avoir, la palmeraie.
59. The disappearance of the surface occupied by the palm grove endangers people's lives, because their cities are directly threatened by the arrival of the sand, previously stopped by the best barrier sand, the palm grove.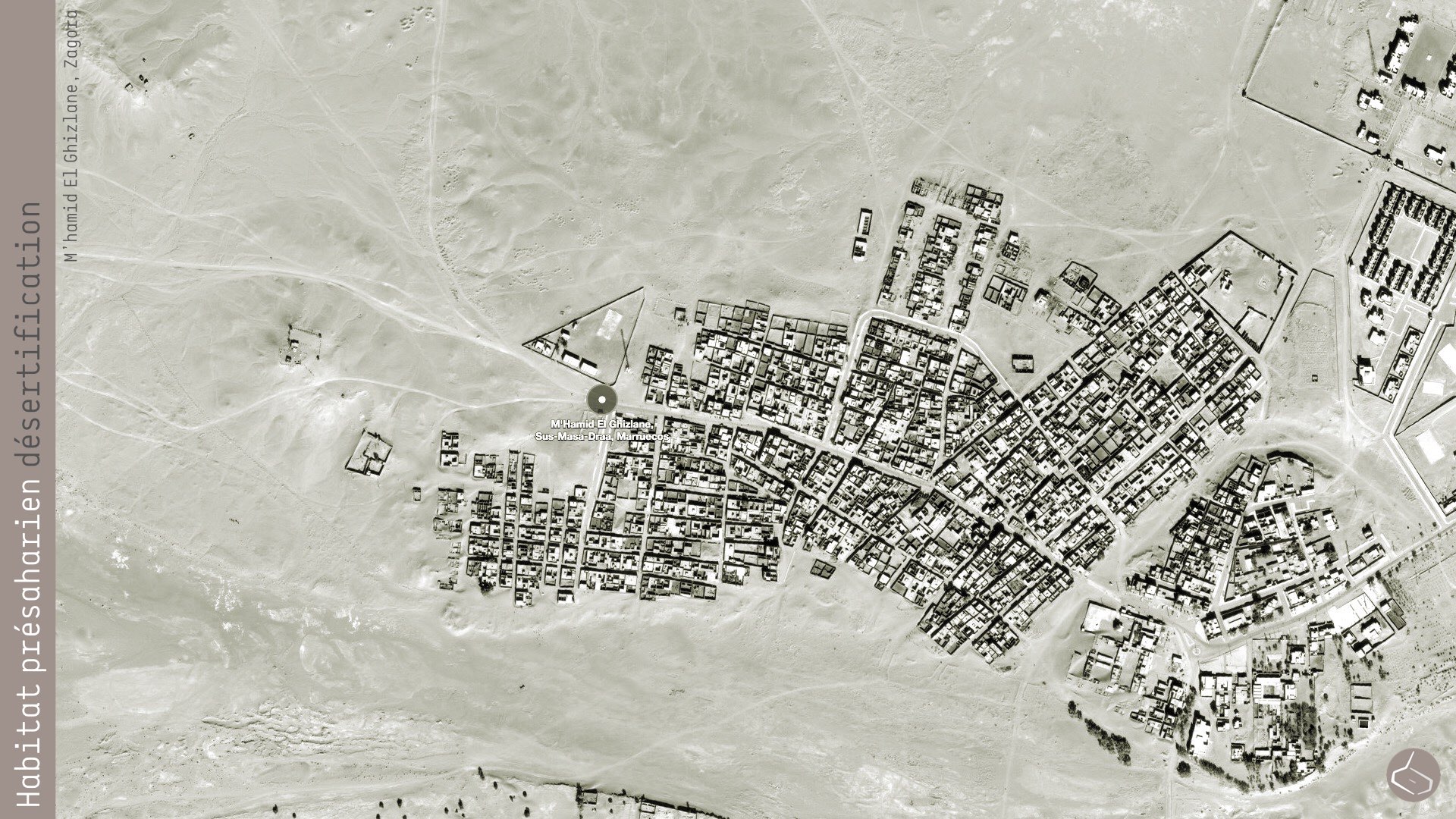 60. Au fait, il y a des villes, comme celle de M'hamid El Ghizlane,
60. In fact, there are cities like M'hamid El Ghizlane,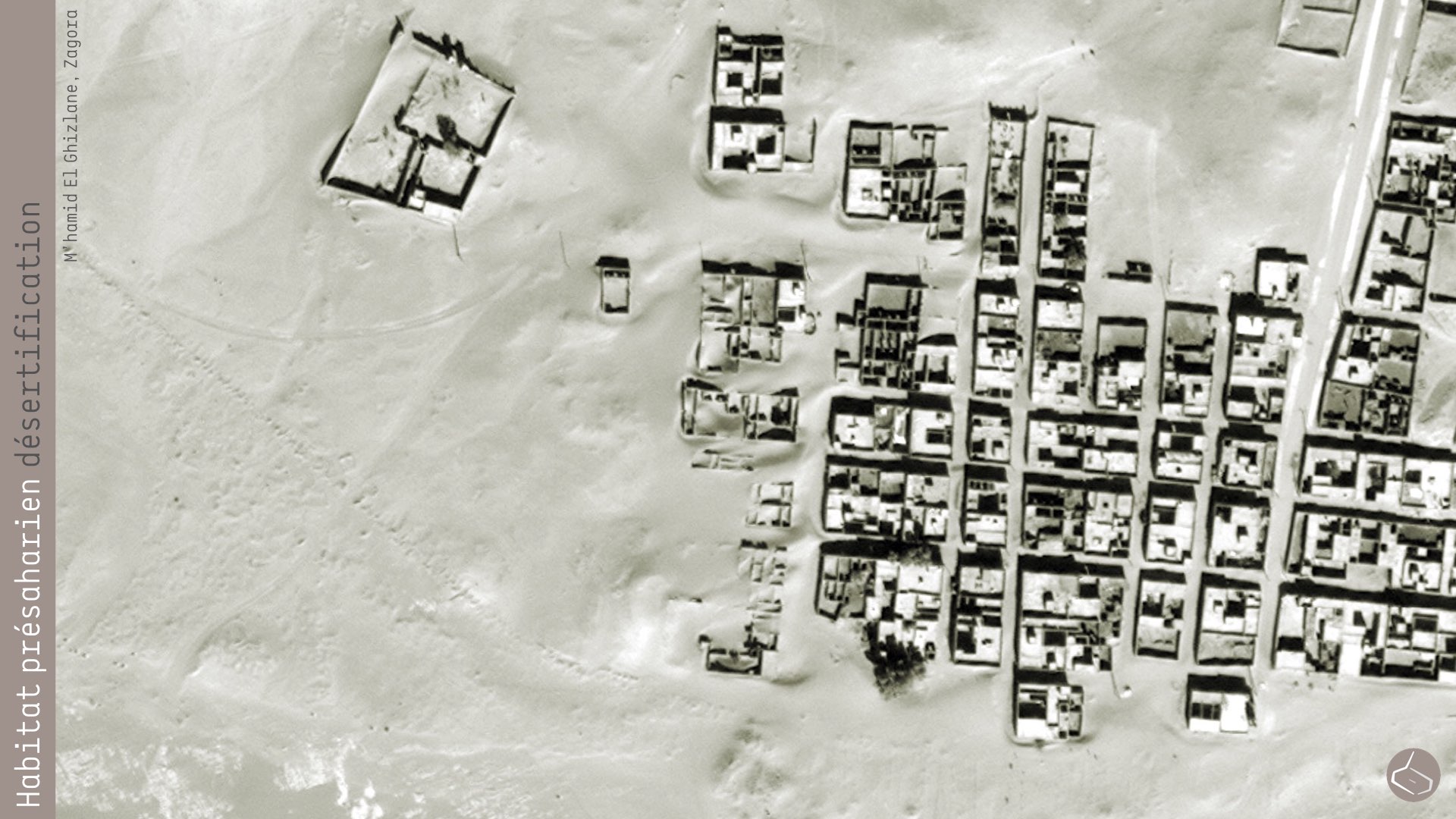 61. Où le sable se comporte comme une vague géante qui est en train de noyer des quartiers entiers.
61. Where the sand behaves like a giant wave that is flooding entire districts.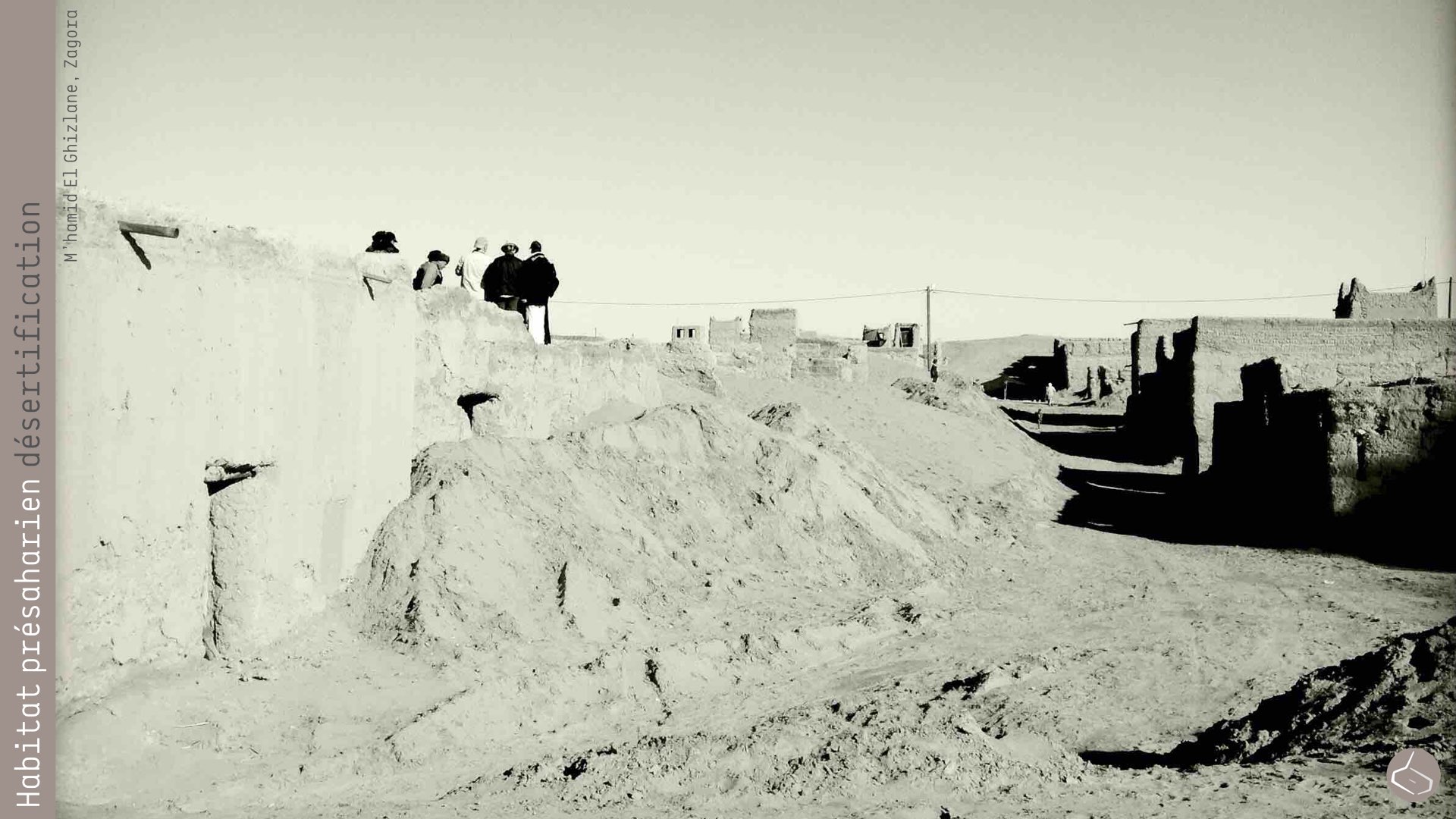 62. Et cette vague ne s'arrête pas et personne dans l'administration essaye de l'arrêter. On a rencontré des habitants qui ont dû déménager deux fois parce que les maisons précédentes ont été "envahies" par le sable.
62. And this wave did not stop and no one in the administration tries to stop it. We met people who had to move twice because previous homes were "invaded" by sand.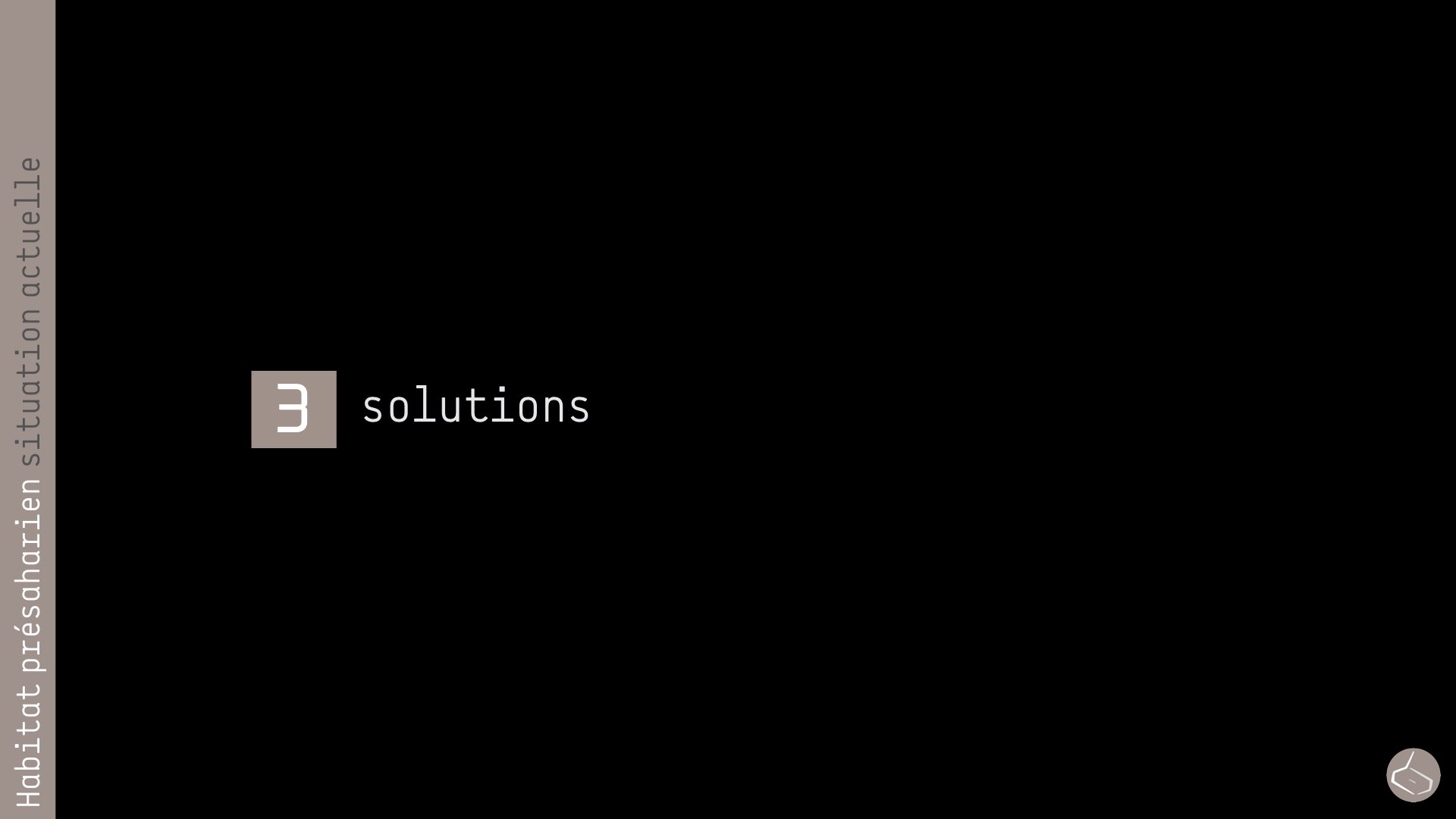 63. Face à tous ces problèmes, il y a des personnes, des associations, qui essayent de les résoudre, dans la mesure de ses possibilités.
63. Faced with these problems, there are people and associations trying to resolve them as hard as they can.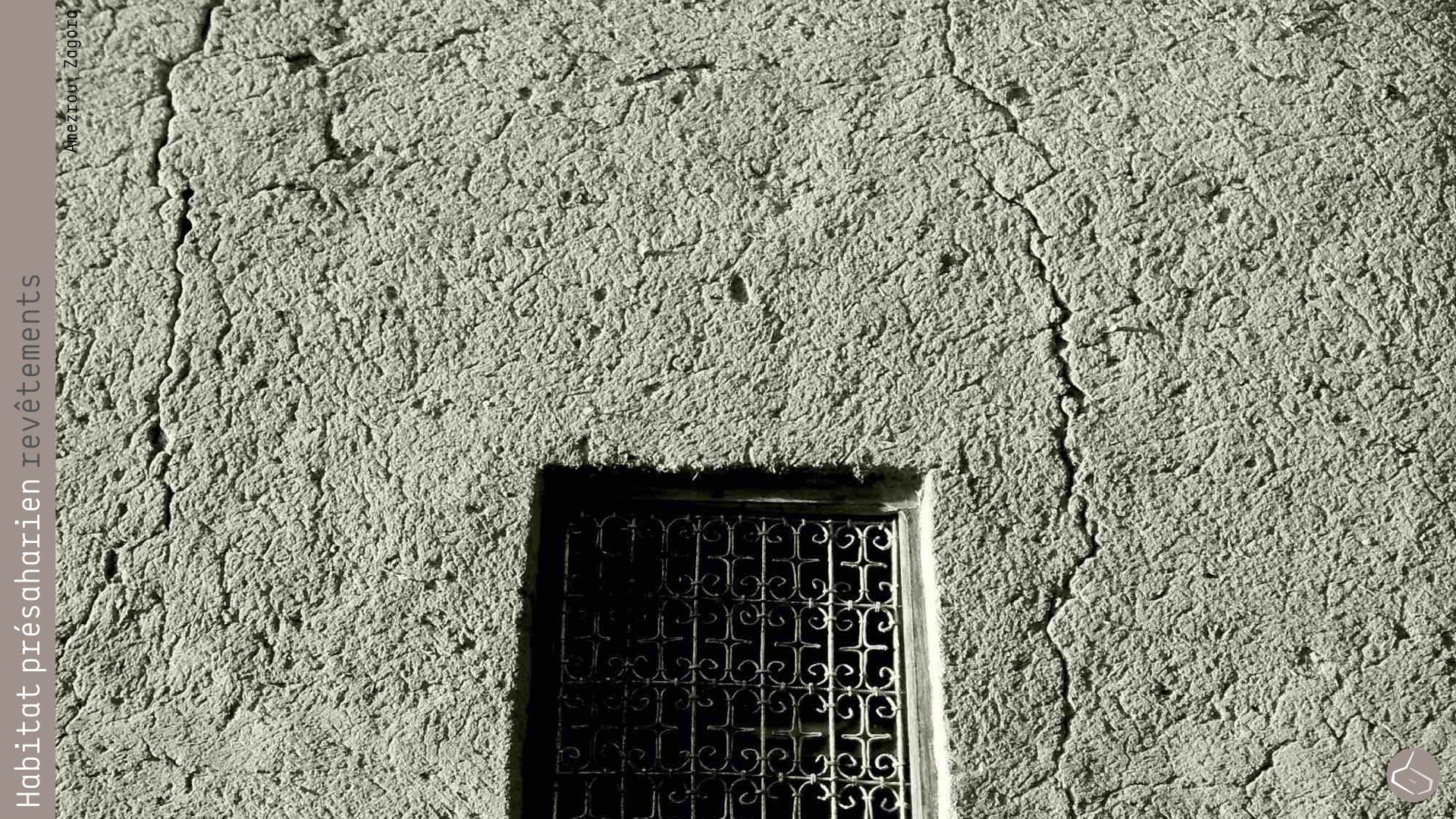 64. Ainsi, il y a ceux qui cherchent une solution contre la dégradation des revêtements (horizontaux et verticaux), qui sont la première barrière contre l'eau, et pourtant du commencement de toute ruine architecturale.
64. Thus, there are those who seek a solution against degradation of coatings (horizontal and vertical), which are the first barrier against water, the beginning of most of architectural ruins.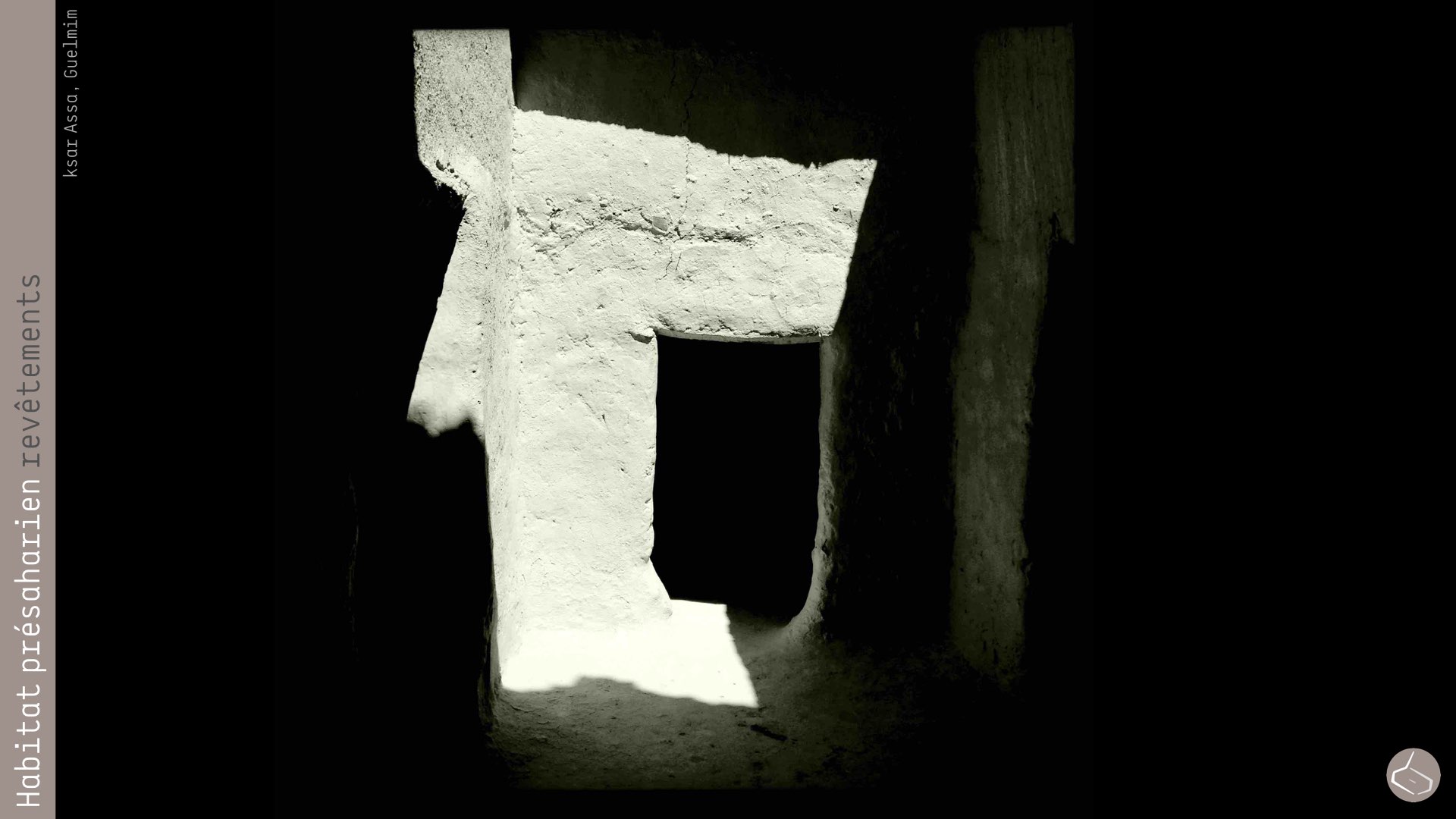 65. De fois, ils rajoutent une couche finale à base de colle à bois, qui permet de respirer le mur et empêche la décomposition du torchis. En tout cas, le meilleur revêtement pour les murs en terre reste l'enduit de chaux et sable. Malheureusement l'absence historique des fours à chaux a fait que ce matériel n'ait pas été très utilisé. On l'a vu au ksar d'Assa (Guelmim) et dans la casbah Al-Alouj de M'hamid (Zagora).
65. Sometimes, they add a final layer based wood glue, which let the wall breathe and prevents the decomposition of mud. Anyway, the best coating for earthen walls remains a coating of lime and sand. Unfortunately, the historical lack of lime kilns made this material not widely used. We just saw it in the ksar of Assa (Guelmim) and the kasbah Al-Alouj M'hamid (Zagora).
Ksar Assa: https://www.facebook.com/media/set/?set=a.10151844072978844.1073741843.667383843&type=3
Casbah Al-alouj: https://goo.gl/photos/T8rdTyPuEsQ9ch2p8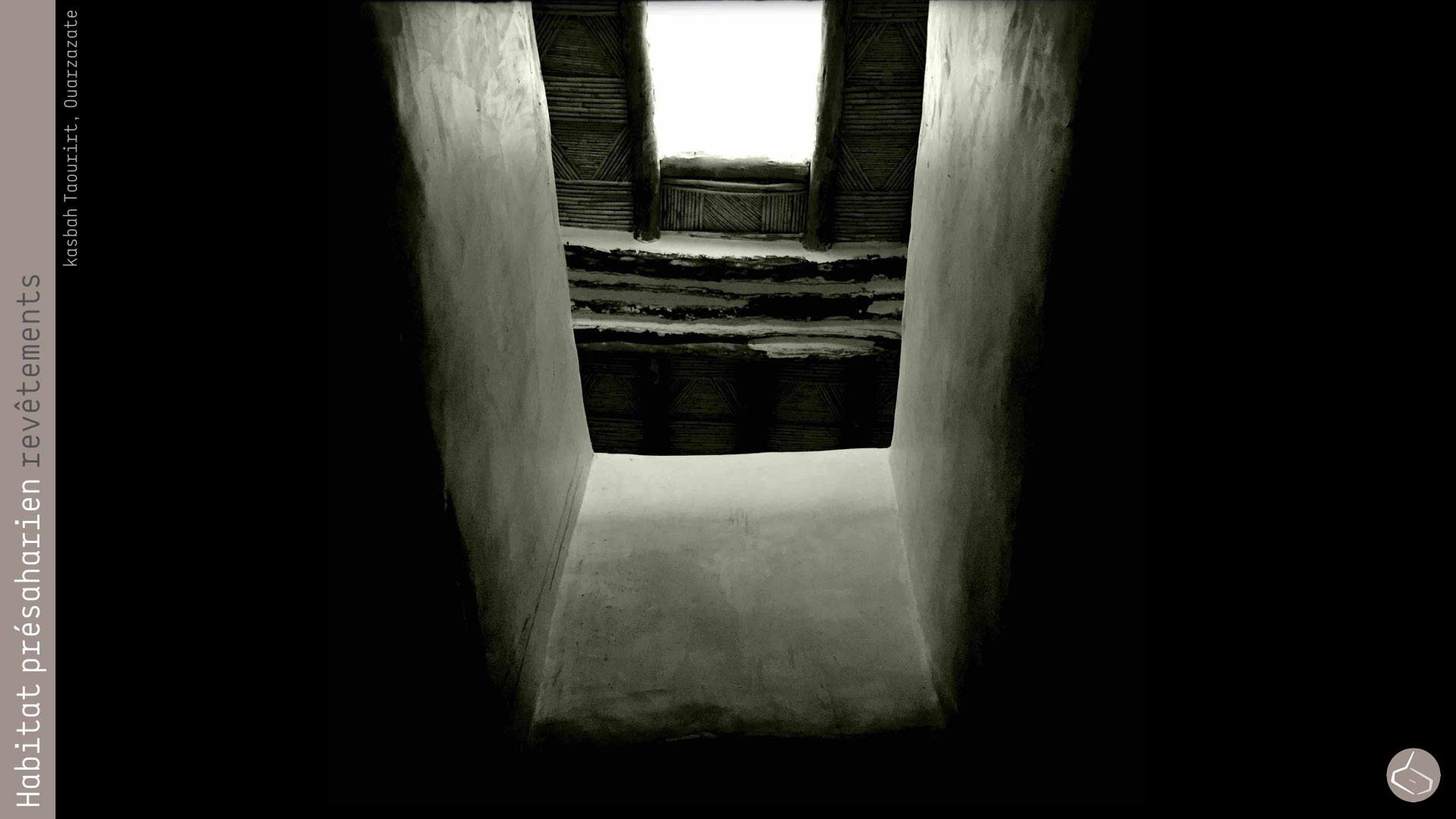 66. Actuellement il est utilisé, avec des résultats magnifiques, dans la restauration de la casbah Taourirt (Ouarzazate), menée par le CERKAS et l'Institut Getty de Los Angeles.
66. Nowadays it is used, with great results, in the restoration of the casbah Taourirt (Ouarzazate), led by CERKAS and the Getty Institute of Los Angeles.
Casbah Taourirt, Ouarzazate: https://www.facebook.com/carlosperezmarin/media_set?set=a.10153667415963844.1073741891.667383843&type=3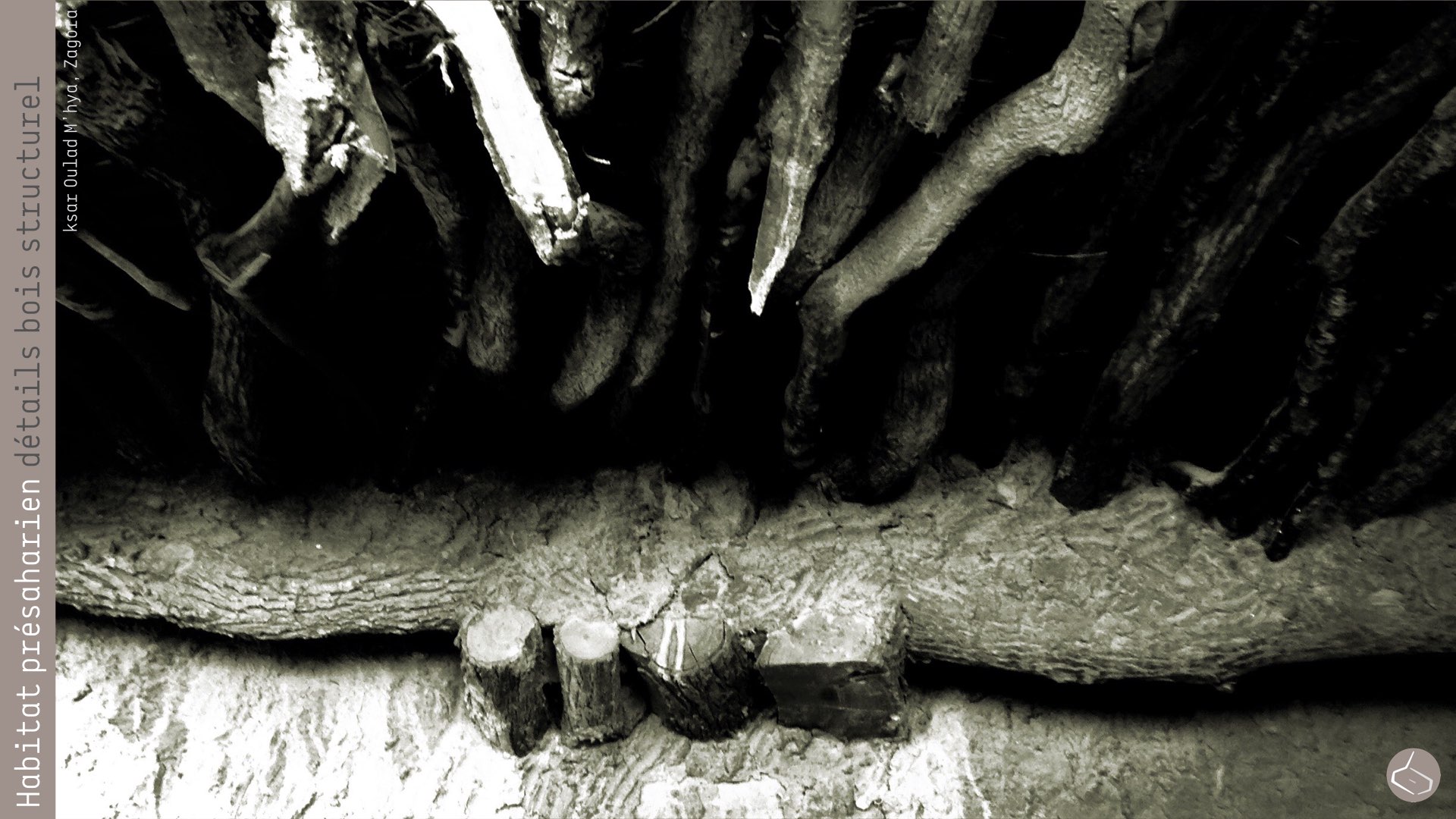 67. La dégradation qui souffrent les murs avec la poussée horizontale transmise par les poutrelles en bois, peut être mitigée si l'on utilise une poutre parallèle au mur, de telle manière que les petits mouvements de la structure horizontale ne se reproduiront sur le mur, une solution que l'on trouve seulement dans l'oasis de M'hamid.
67. The degradation suffered by walls with the horizontal thrust transmitted by the wooden beams, can be mitigated if there is a beam parallel to the wall, so that the small movements of the horizontal structure will not be transmitted directly on the wall, a solution we just saw in the oasis of M'hamid.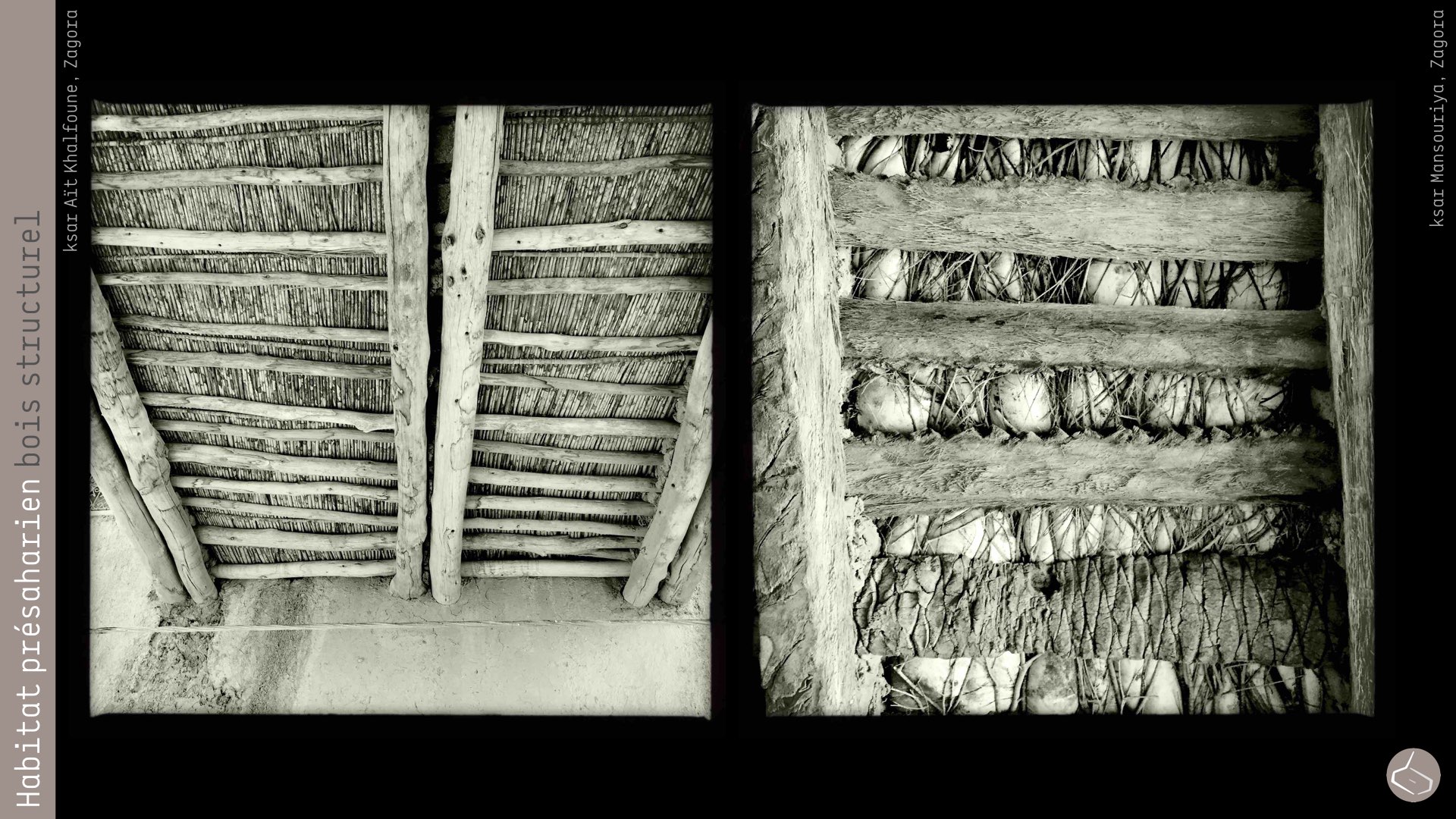 68. Le bois de palmier ne reste pas le seul dans la construction actuelle, d'autres comme l'eucalyptus et le peuplier permettent une plus grande longueur et pourtant des pièces plus larges.
68. The palm wood is not the only used in the current building, others such as eucalyptus and populus allow greater length and larger rooms.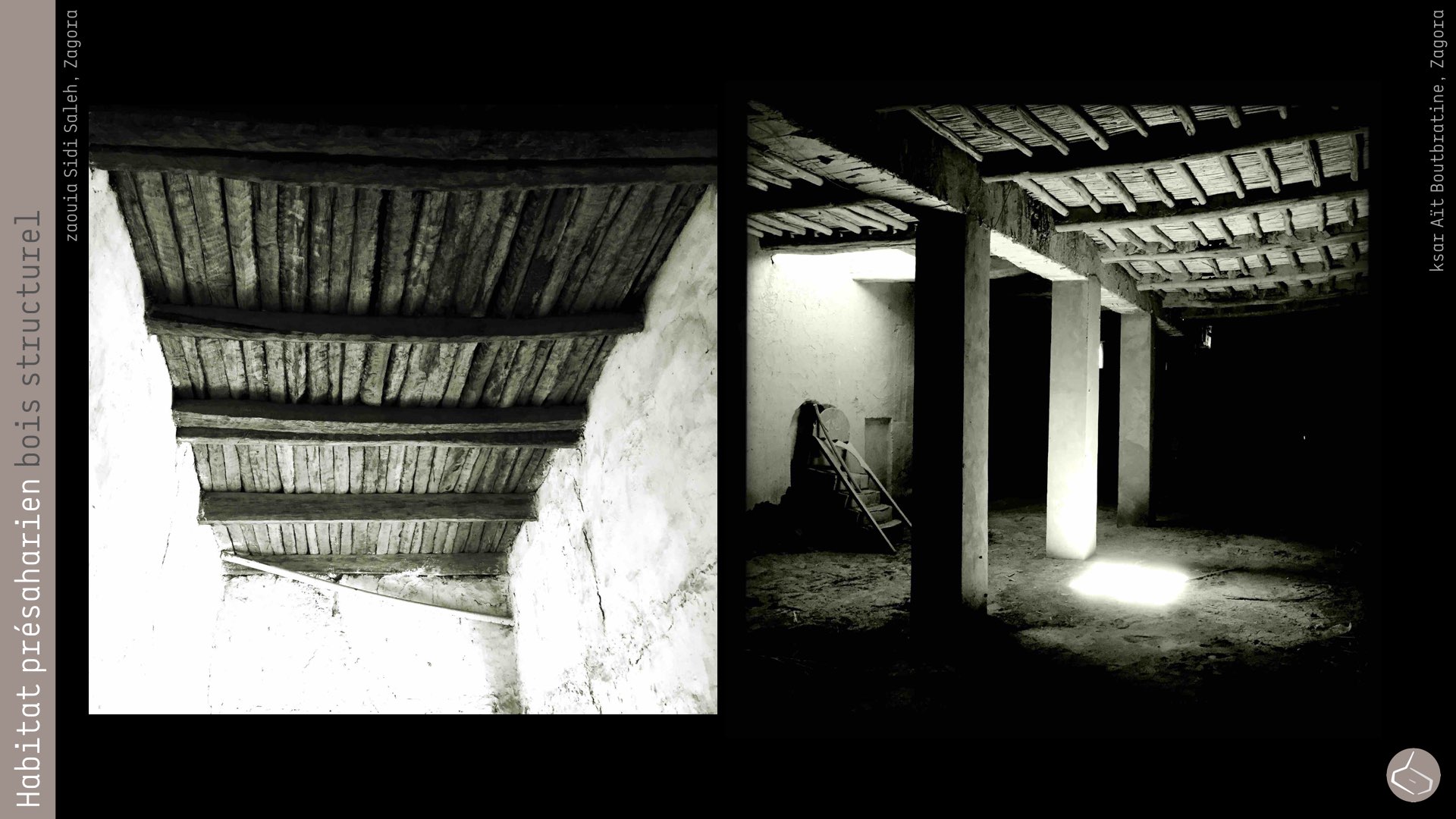 69. Pour éviter que la terre de la dalle tombe, on arrive à construire pratiquement une dalle entièrement en bois, ce qui donne aussi plus de stabilité. Et si jamais on a besoin de plus d'espace, on construit une poutre en béton sur laquelle on appuie une dalle en bois et terre.
69. To prevent the earth coating of the slab falls, there are people that build a slab entirely of wood, which also gives more stability. And if you need more space, they build a concrete beam on which rests a wooden slab.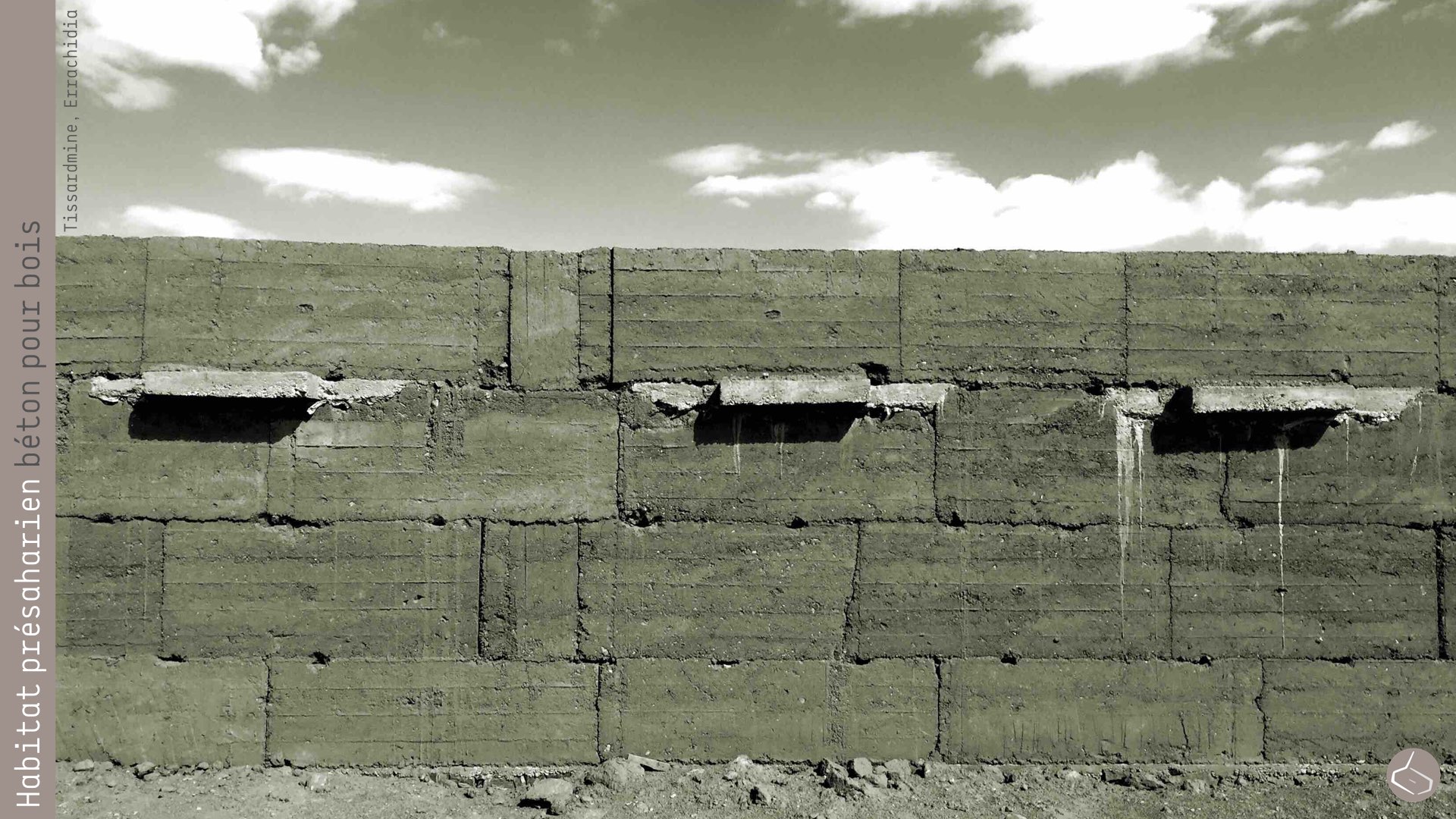 70. Il est vrai que de plus en plus, on voit que des construction en béton, mais il est aussi vraie que de fois, les gens ne trouvent pas le bois nécessaire, ou bien il est très cher et ils doivent utiliser le béton dans des éléments ponctuels, comme ces lintaux à Tissardmine (Errachidia).
70. It is true that more and more, we see concrete construction everywhere, but it is also true that sometimes, people do not find the necessary timber, or it is very expensive, so they must use concrete in specific elements, such as these lintels in Tissardmine (Errachidia).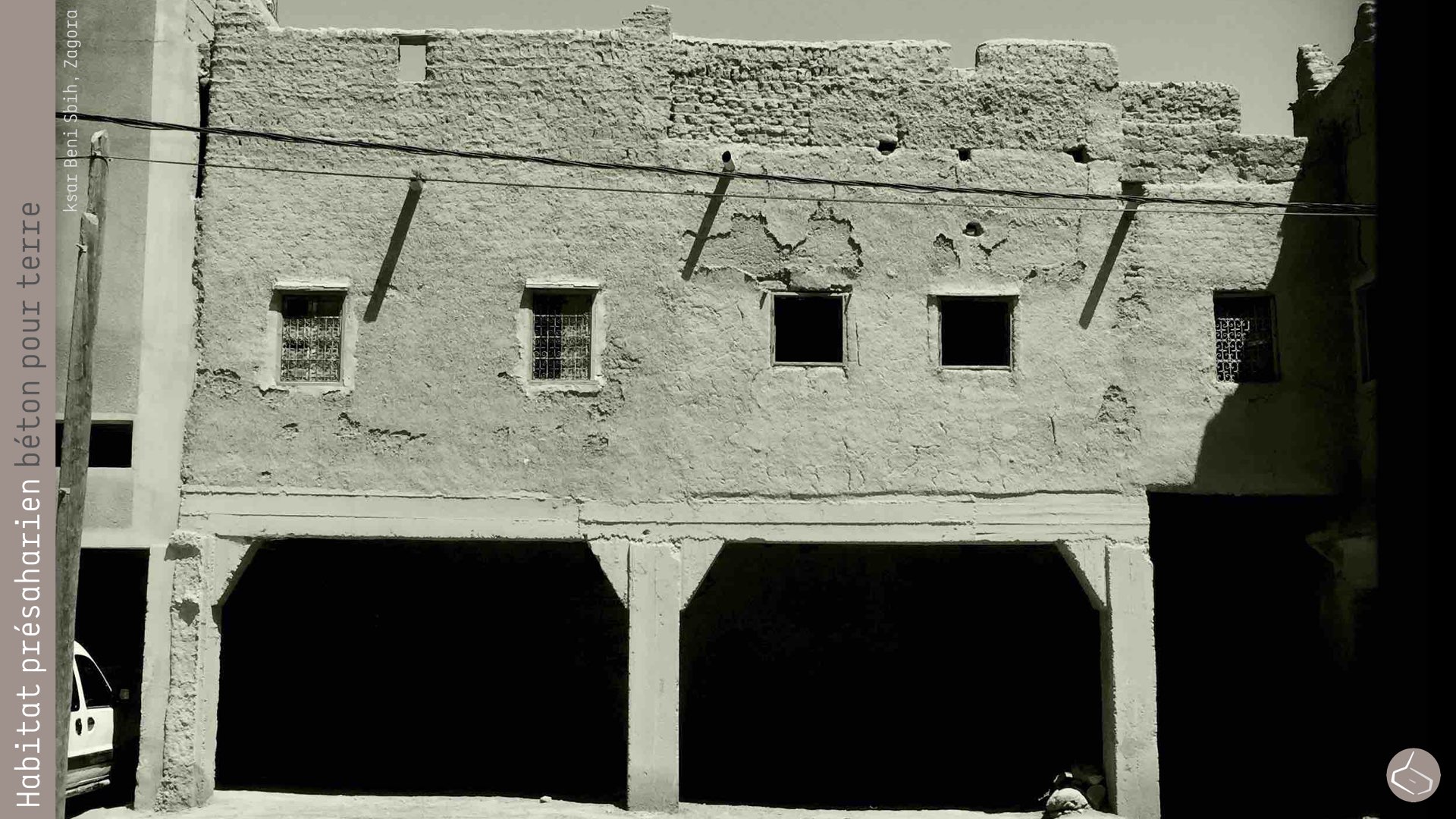 71. Si la fonctionnalité du bâtiment l'exige, ils feront compatible, par superposition, les structures en béton classiques avec la structure en terre.
71. If the building functionality required, they will make compatible, overlay, conventional concrete structures with earthen structures.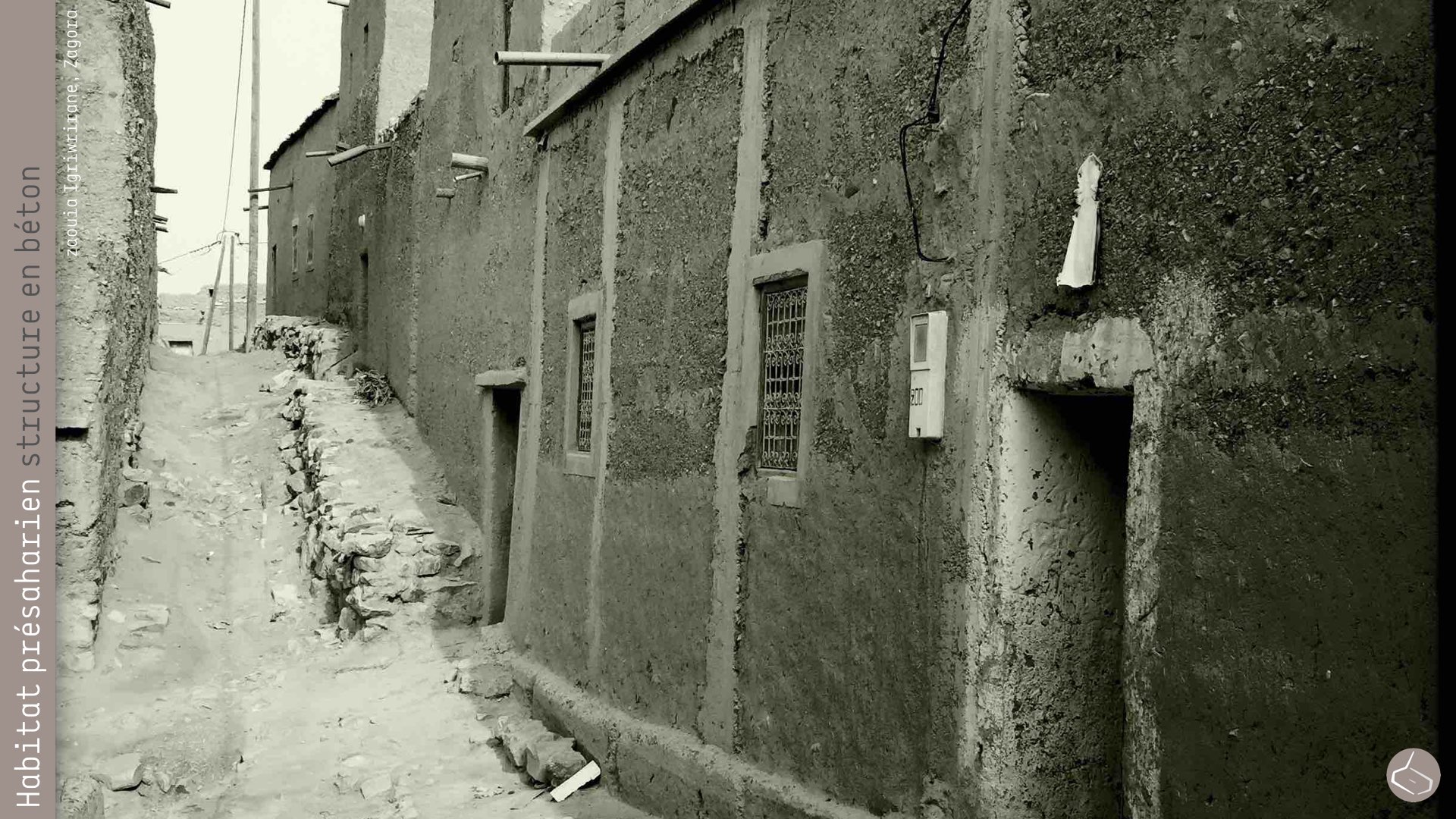 72. Mais ils peuvent aussi utiliser la structure en béton avec un remplissage en terre.
72. But they can also use concrete structures with a earth filler.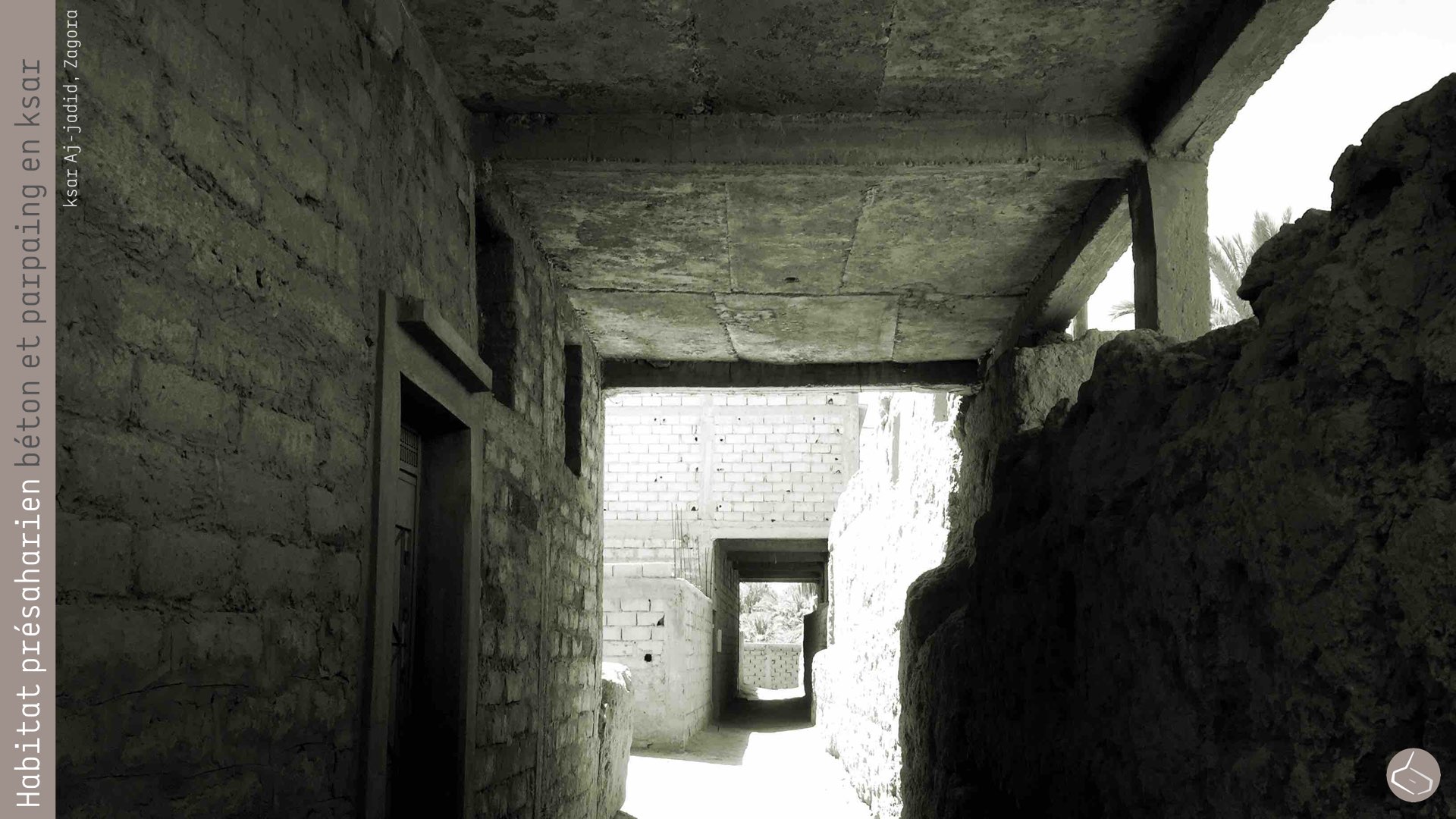 73. Ou bien, tout faire en béton en gardant la configuration volumétrique et spatiale du ksar.
73. Or they can build everything in concrete keeping the volumetric and spatial configuration of the ksar.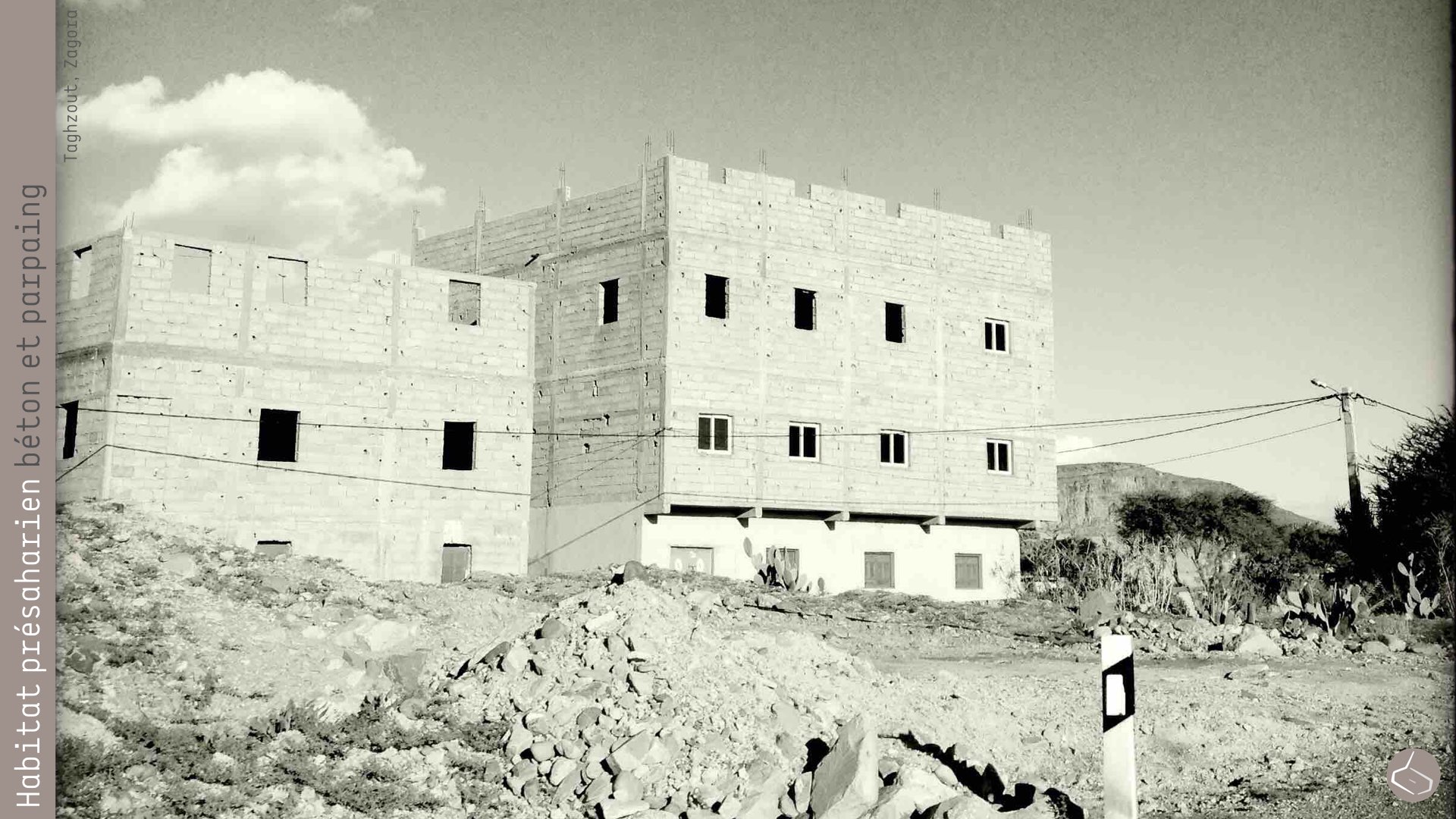 74. Malheureusement, de plus en plus, tous les nouveaux bâtiments se font déjà entièrement en béton, malgré l'inefficacité de ce système face aux contraintes climatologiques de ces régions.
74. Unfortunately, almost all new buildings are already entirely made of concrete, despite the inefficiency of this system against climatic conditions in these regions.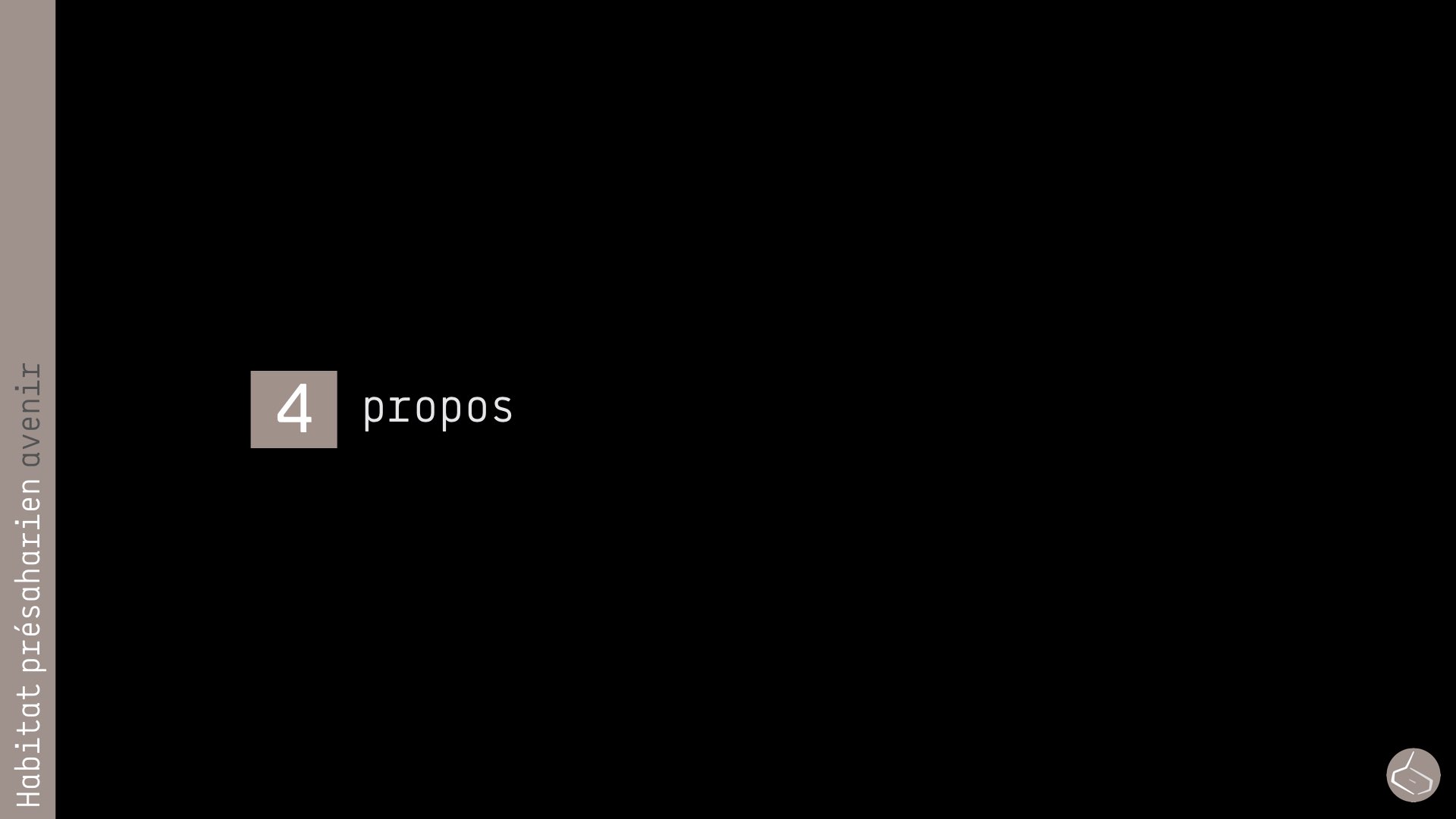 75. On a montré différents facteurs qui font évoluer le type d'habitat, certains provoquent une diminution de la qualité de vie des ses habitants (la plus part), mais on pourrait mettre en pratique certains propos pour les améliorer.
75. We have shown how different factors are changing the type of habitat, some cause a decrease in the quality of life of its inhabitants (most of), but we could propose some ideas to improve it.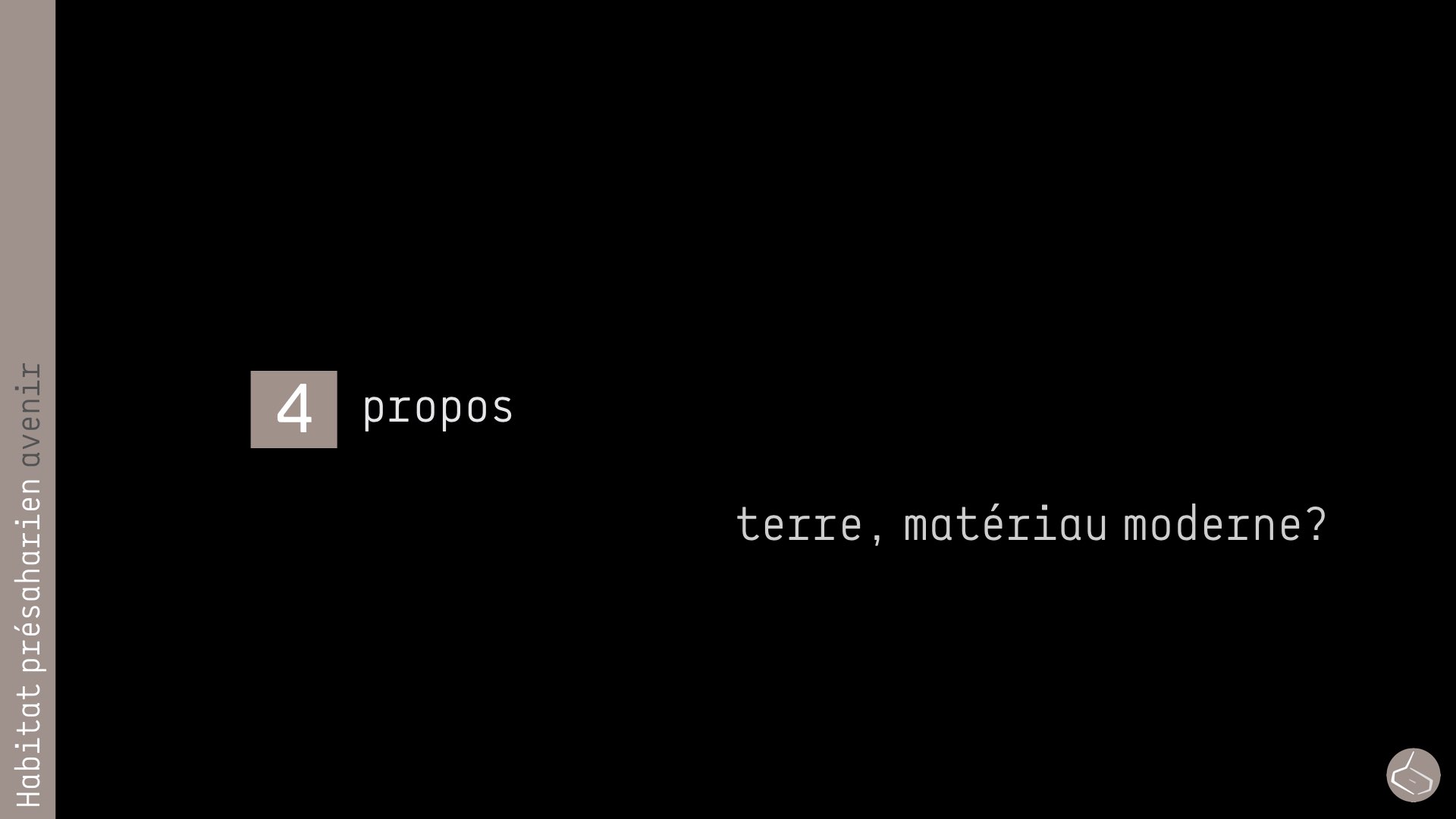 76. Il s'agit pas de préserver à tout prix la terre comme matériau de construction, mais il est vrai que ce matériau s'adapte mieux à la climatologie (chaleur en été et froid en hiver). Or, il faut toujours construire de la même façon, avec la même typologie, ou bien il est possible de faire de l'architecture "contemporaine" avec?
76. This is not a question to preserve at all costs the earth as a building material, but it is true that this material is better suited to the climate (heat in summer and cold in winter). However, is it an imperative to build always the same way? With the same kind of house? Or can you make "contemporary" architecture with the same materials and others new?
77. On associe le pisé et l'adobe à une architecture monolithique, avec des volumes assez carrées, à une architecture très "lourde".
77. We associate the rammed earth to a monolithic architecture with square volumes, a very "heavy" architecture.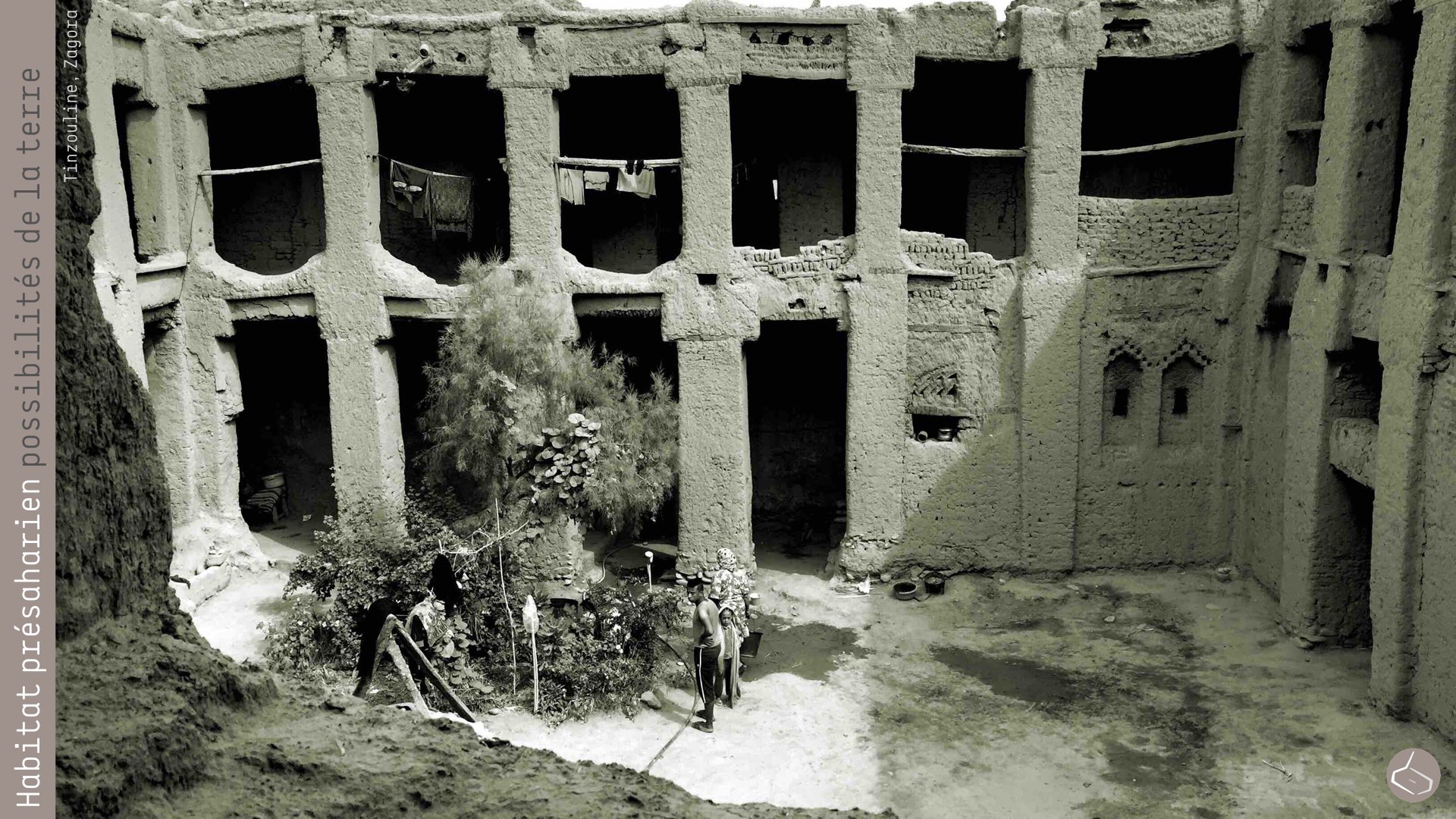 78. Néanmoins, les murs avec des petites ouvertures, pourraient donner lieu à façades où le vide prévaut sur la masse, tel que cette cours dans la casbah du ksar de Tinzouline (Zagora).
78. Nevertheless, the walls with small openings could change, making facades where the vacuum prevail on massive areas, as this courtyard in the casbah of Tinzouline ksar (Zagora).
Tinzouline: https://goo.gl/photos/jEw1G4qtz5yp6iaQ6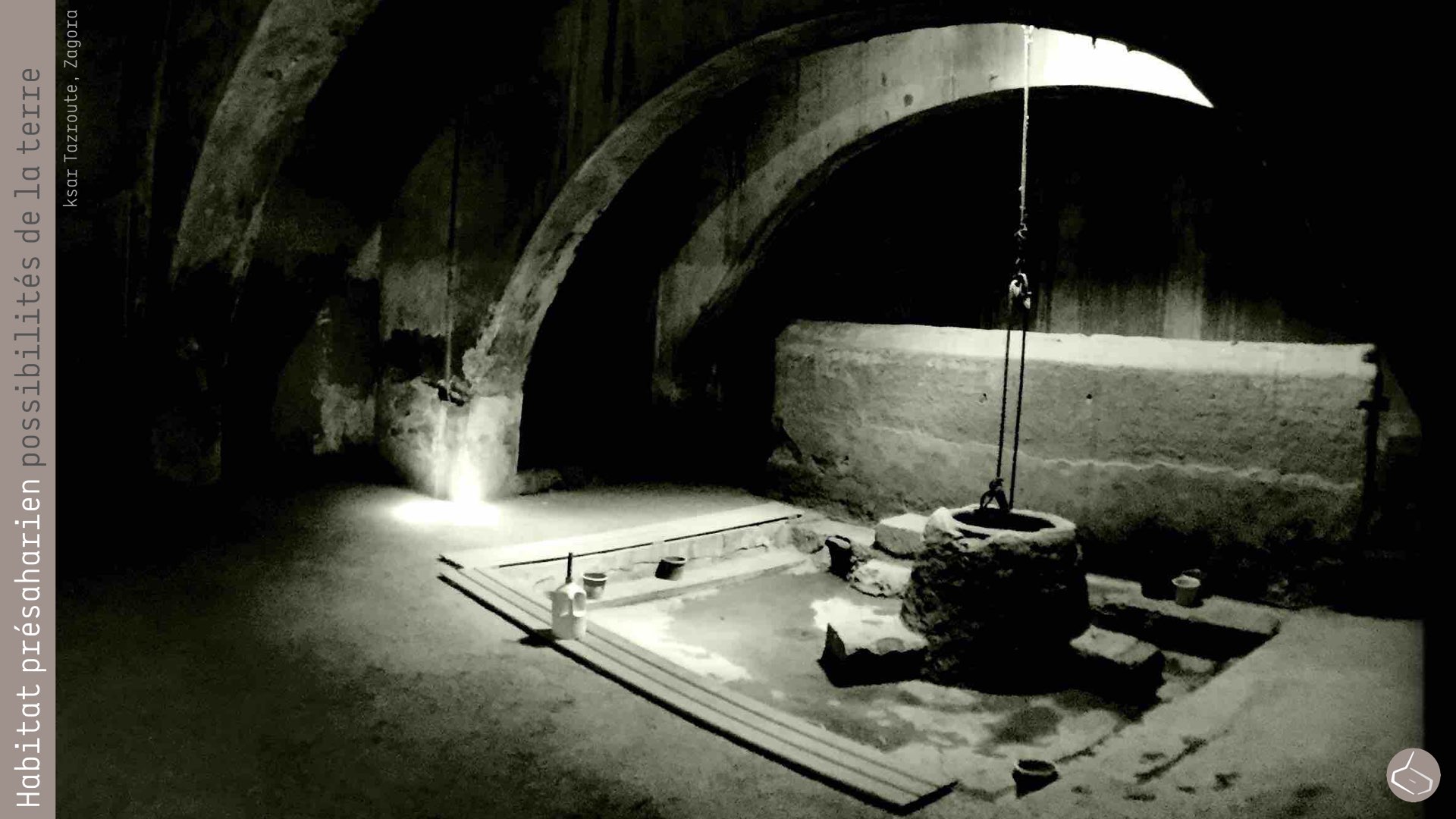 79. Par ailleurs, on n'est pas toujours obligé de construire les étages avec une structure entièrement en bois (avec des portées plus réduites), on pourrait utiliser les arcs en brique comme ceux de la mosquée de Tazroute (Zagora).
79. Moreover, it is not always needed to build the slabs with a completely wooden structure (with a smaller span), it could be used brick arches like those of the mosque of Tazroute (Zagora).
Tazroute: https://goo.gl/photos/FjaCaK6B4qGbkQQC8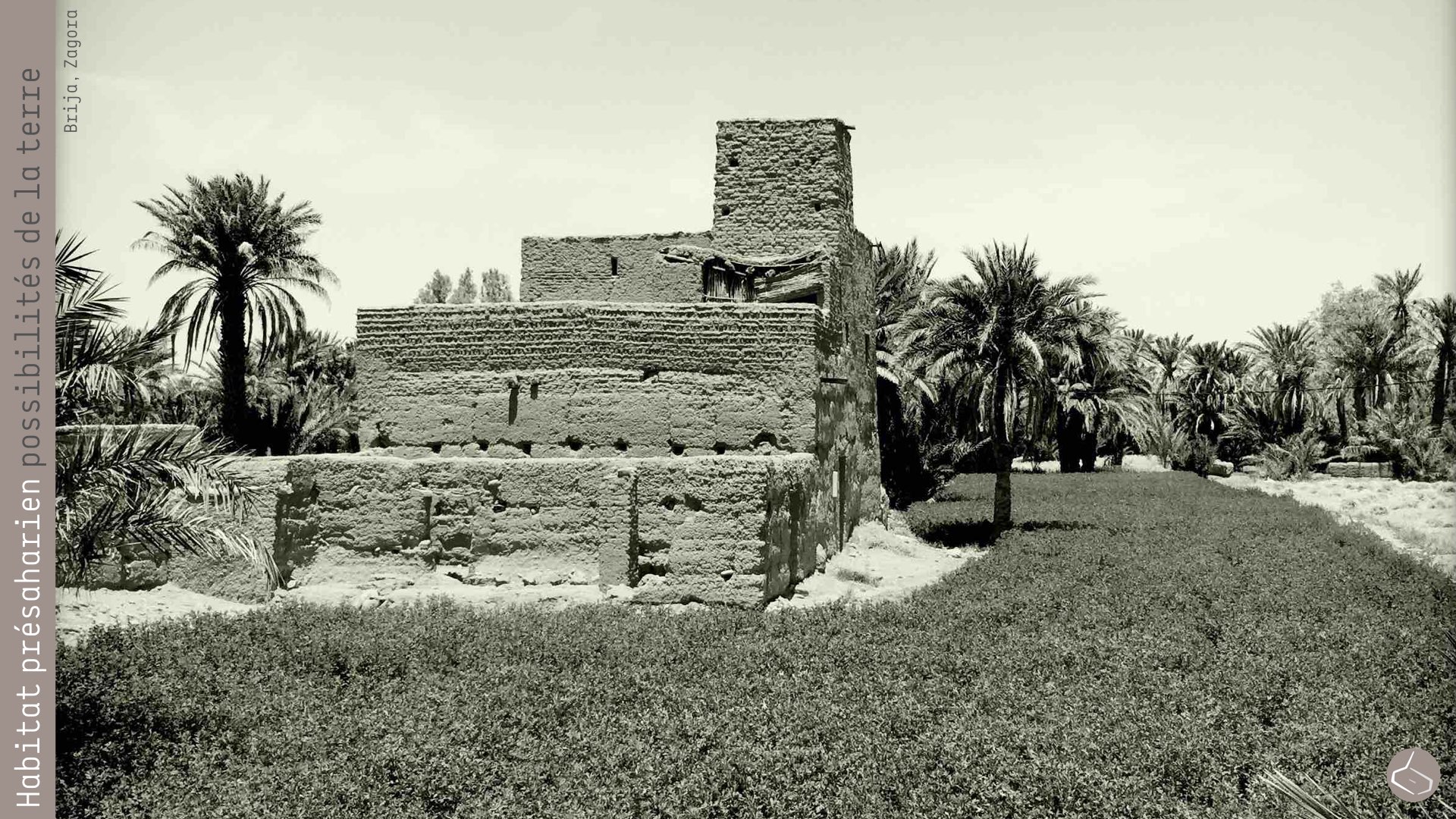 80. La volumétrie des édifications, même avec les contraintes structurelles de la terre, peut se débarrasser de l'image "monobloc".
80. The volume of constructions, even with the structural constraints of the earth, can get rid of the "monobloc" image.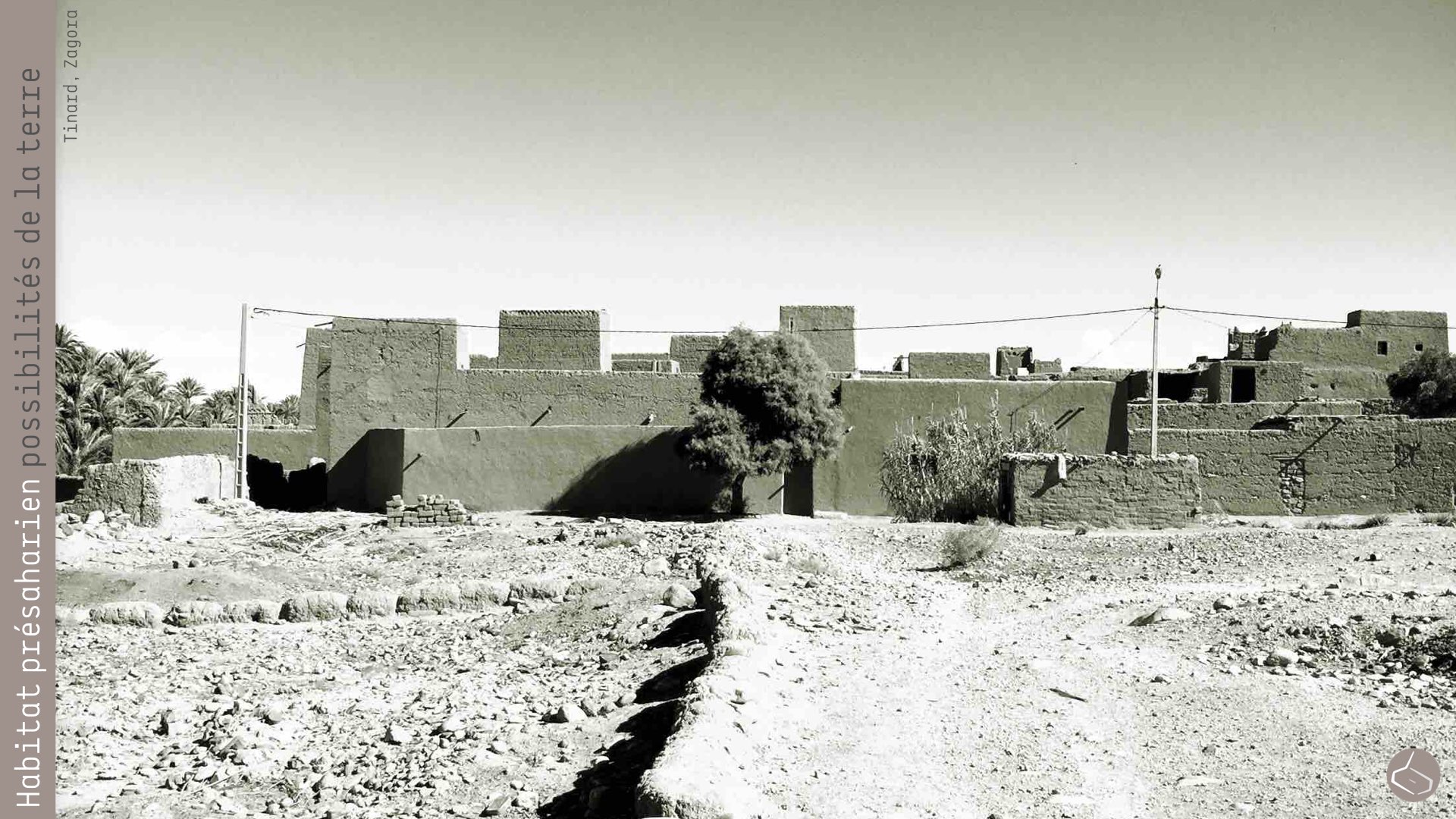 81. Ou de celle des ksour.
81. Or those of ksour.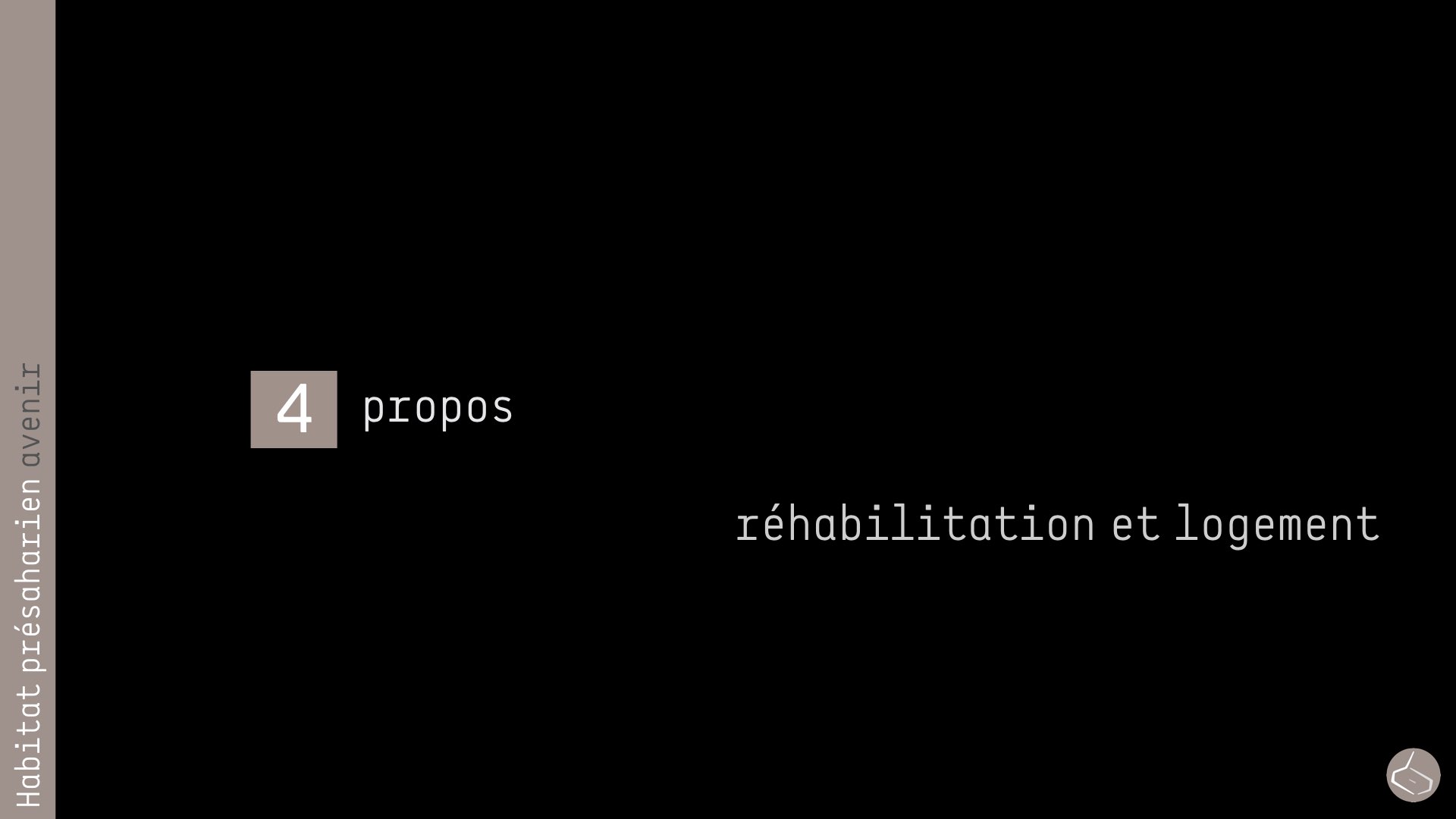 82. Il est impérative d'établir une stratégie qui permette la réhabilitation des ksour.
82. It is imperative to establish a strategy for the rehabilitation of ksour.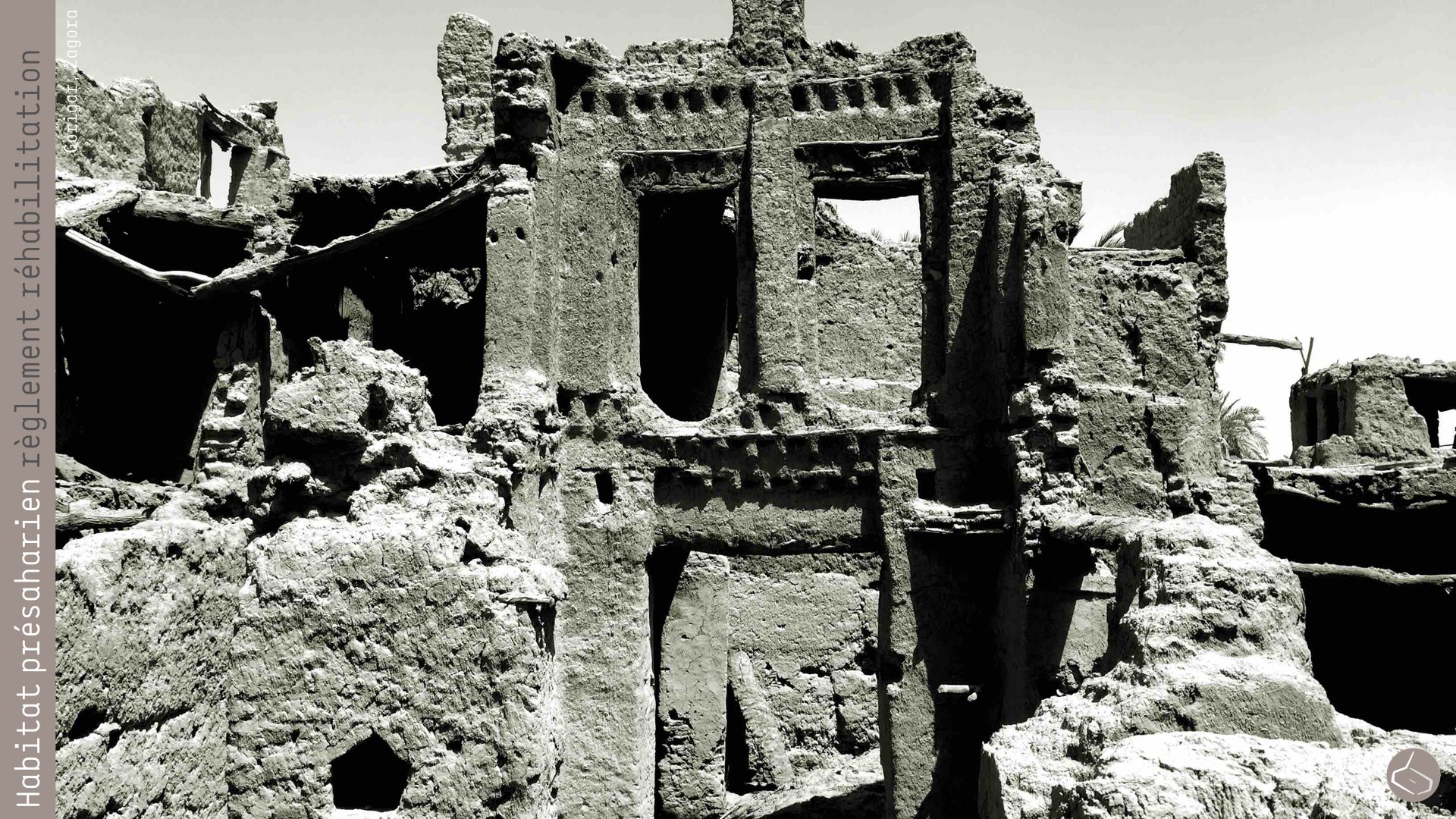 83. Or, il faut étudier cas par cas et ne pas établir que des mesures de restauration. Il s'agit de ré-habiliter les constructions qui ont été abandonnées (parfois parce qu'elles n'étaient plus fonctionnelles, parfois parce qu'elles tiennent plus). Il faudra voir quels ksour et quelles maisons méritent d'être restaurés, et laisser plus de liberté aux propriétaires pour réutiliser leurs parcelles à l'intérieur des ksour.
83. However, we must study each case and to do not establish just restoration measures. It is a question how buildings that have been abandoned (sometimes because they were no longer functional, sometimes because they are in ruins) can be reused. We'll see which ksour and houses are worth to be restored. And regulations should allow more freedom to the owners to reuse their plots within the ksour.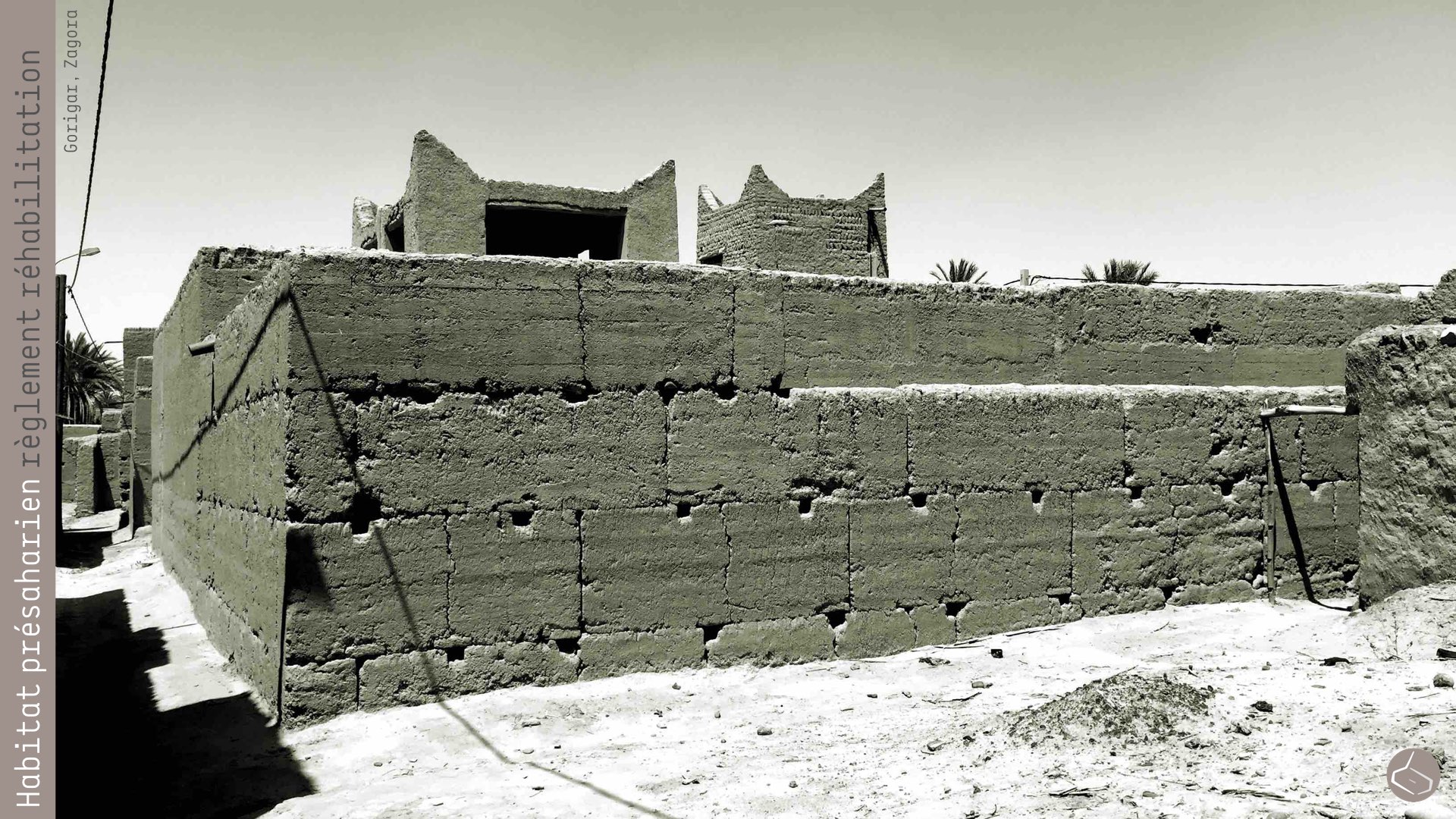 84. Tel que cette famille a fait à Gorigar (Zagora). Ils ont démoli la maison familiale en terre, pour construire une autre, toute nouvelle, en terre aussi, mais avec un cahier de charge contemporain qui a donné lieu à un autre type de maison.
84. As this family did in Gorigar (Zagora). They demolished the old house and they built a new one, in rammed earth too, but with a contemporary specifications that gave rise to another type of house.
Gorigar: https://goo.gl/photos/amWrpScuxY9hD1v5A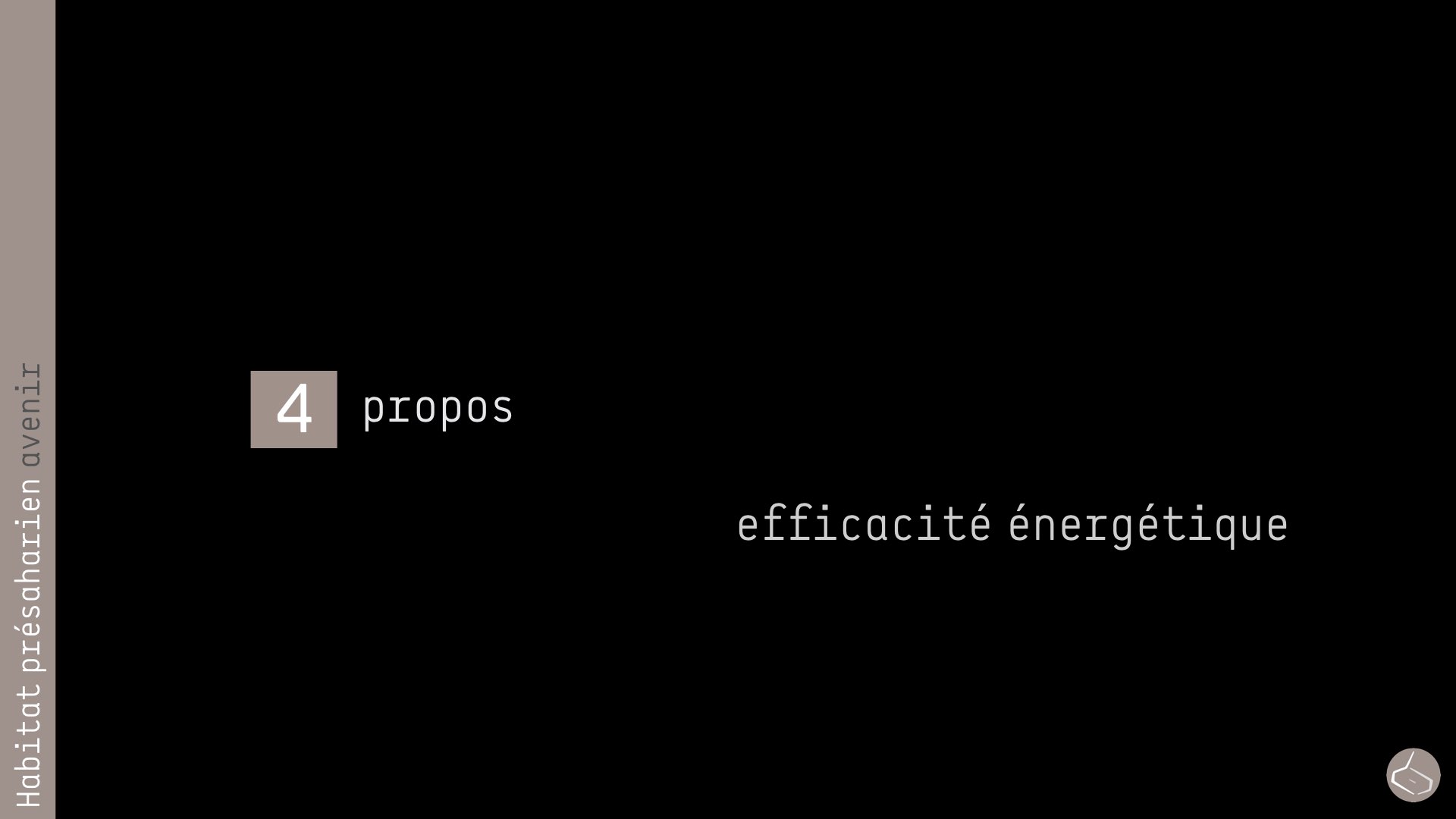 85. Tout le monde accepte les avantages de la terre en tant que matériau isolant, mais avec quelques petits changements, on pourrait améliorer encore plus l'efficacité énergétique des maisons et des ksour (et aussi des quartiers et villes). Un savoir-faire qui pourrait s'appliquer dans les régions du nord du Maroc et même ailleurs.
85. Everyone accepts the benefits of the earth as insulating material, but with some small changes, the energy efficiency of housings and ksour could be improved (and so districts and cities). A know-how that could be applied in northern Morocco and beyond.
86. S'il y a des constructions en terre et aussi des tours, pourquoi on ne pourrait pas avoir des tours à vent comme celles qui existent en Iran? Il s'agit des tours avec un système de ventilation naturelle qui fait descendre la température intérieur en 10ºC, selon les vents et l'humidité.
86. If there are earthen structures and also towers, why we could not have wind towers such as those existing in Iran? They have a natural ventilation system that lowers the indoor temperature in 10ºC, depending on wind and humidity.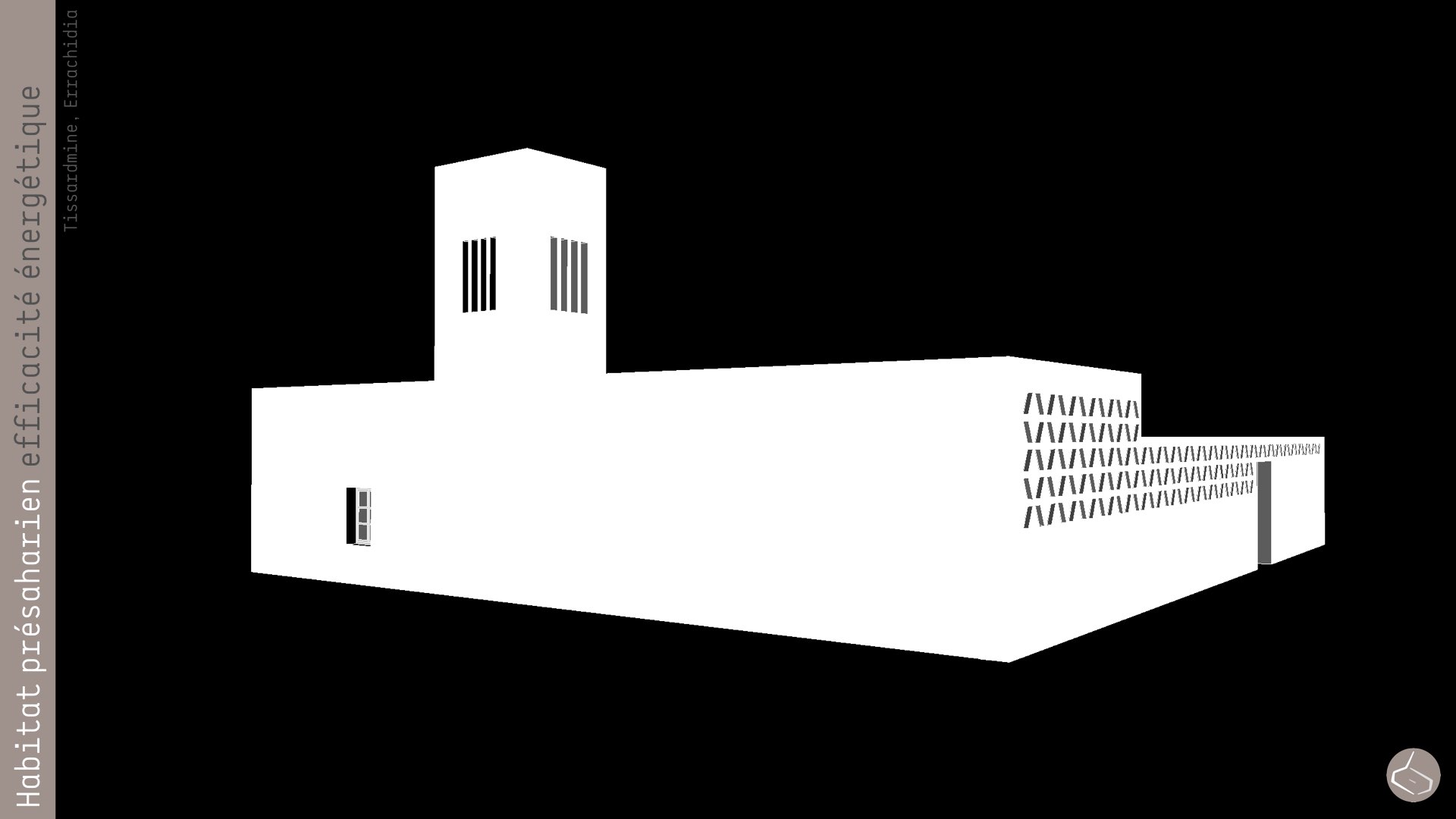 87. Nous sommes en train de construire un centre communautaire à Tissardmine (Errachidia) avec une tour de ce type et qui pourrait être appliqué facilement dans les anciennes, et les nouvelles, maisons en terre.
87. We are now building a community centre in Tissardmine (Errachidia) with a tower of this type. It could be easily applied in old and new mud houses.
https://www.facebook.com/marsaddraa/photos/?tab=album&album_id=1558420807712021
88. On devrait aussi explorer les possibilités d'autres matériaux qui non seulement se trouvent facilement dans certaines régions, si non qu'en plus, créent pas mal de problèmes. Et si l'on construisait avec un matériau qui a, pratiquement, le même coefficient de transmission thermique que la terre? Et si l'on construisait en sable? Café Tissardmine est en train de faire des murs avec des bouteilles en plastique remplies avec du sable. Le défi que nous voulons mener serait de construire des murs en terre et sable…
88. It should also be explored the possibility of using other materials that are readily available in some areas and create a lot of problems. And what if we could build with a material that has practically the same heat transfer coefficient than earth? And if we could build with sand? Café Tissardmine is doing walls with plastic bottles filled with sand. The challenge we would like to carry out, would be to build walls with rammed earth and sand ...
https://www.facebook.com/marsaddraa/photos/?tab=album&album_id=1403355686551868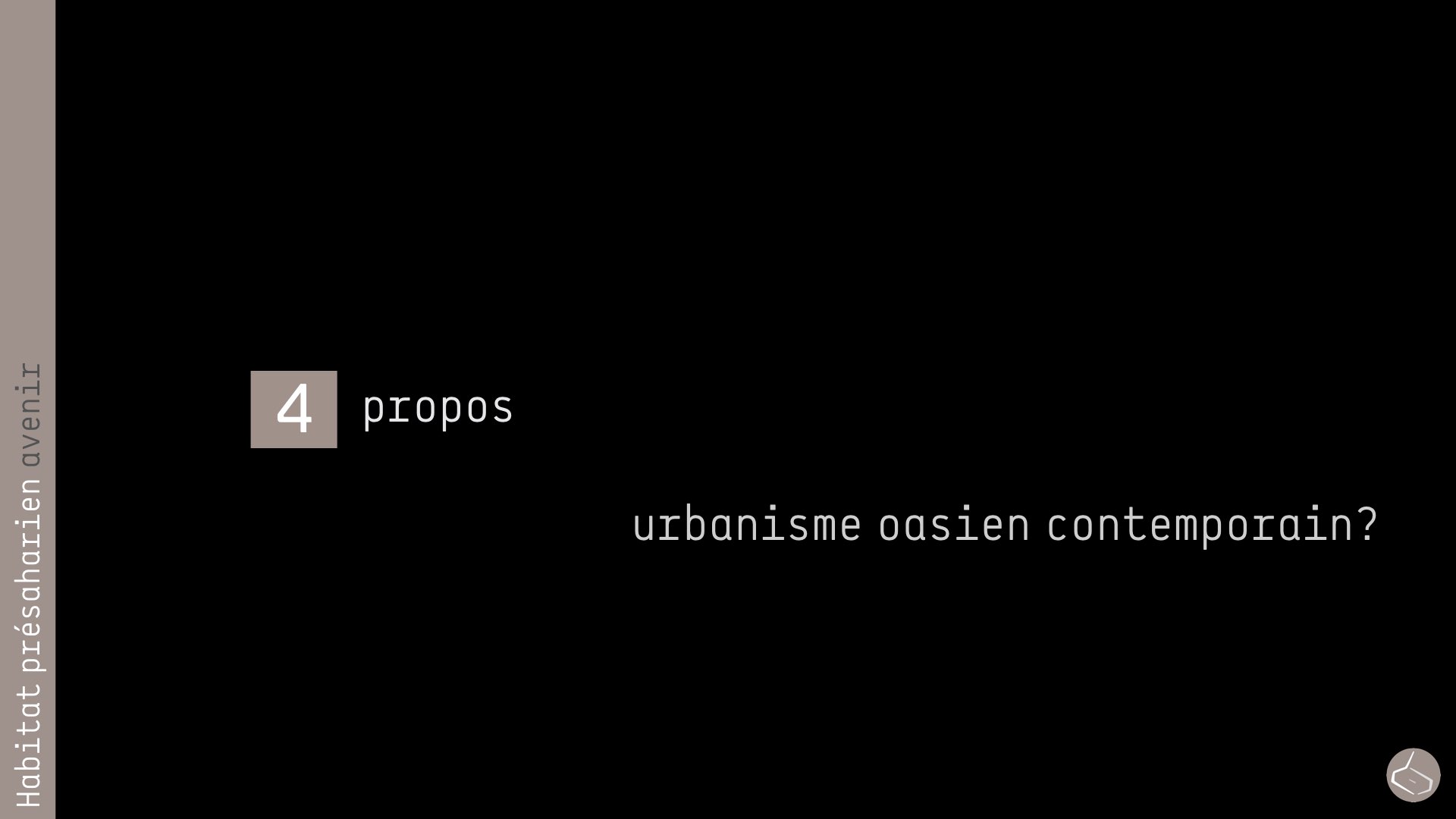 89. On entend souvent parler d'urbanisme oasien comme la principale menace pour les palmeraies.
89. We often hear of the oasis urban planning as the main threat to palm groves.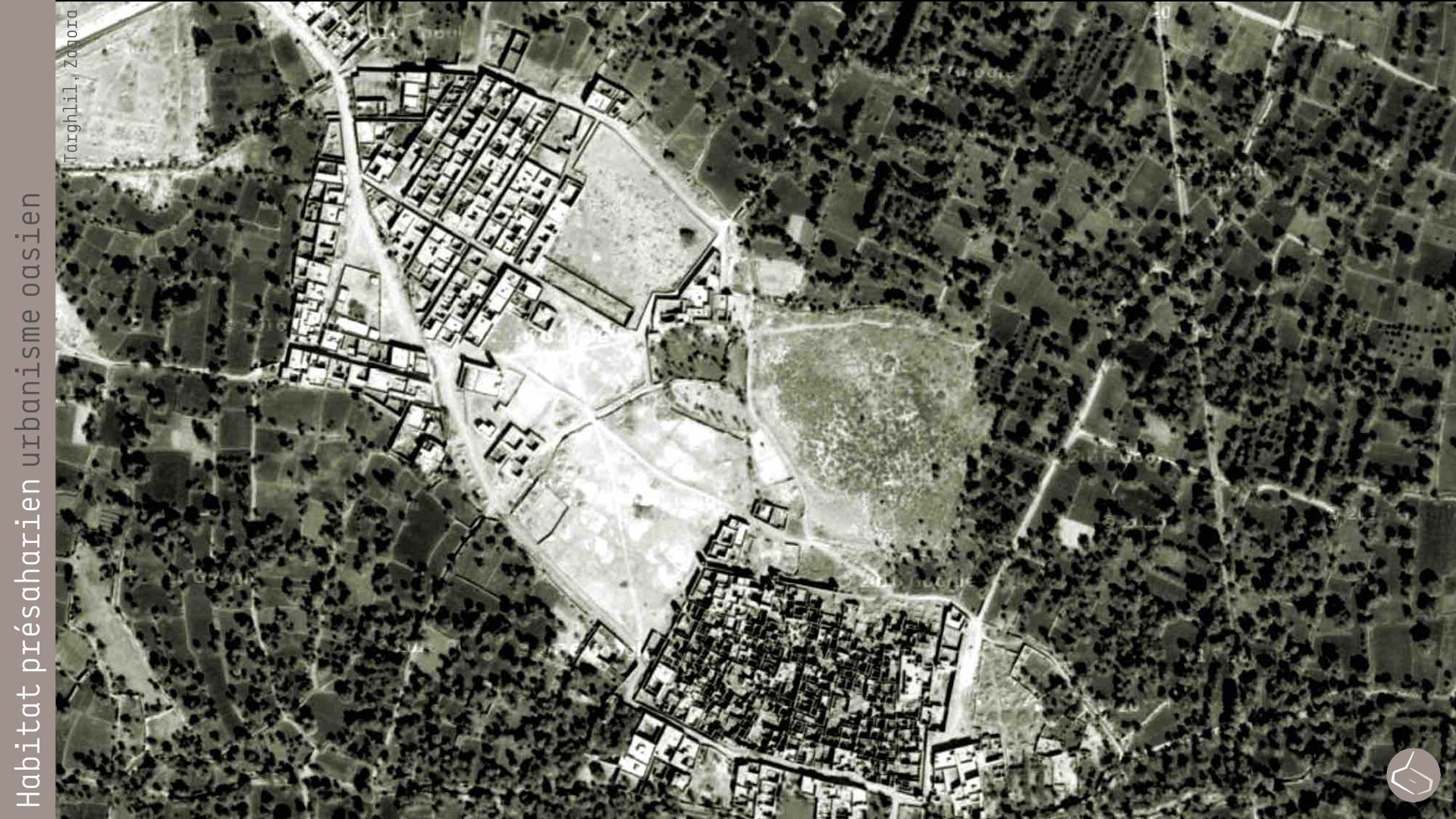 90. Il est vrai, l'auto-construction et l'urbanisme sans contrôle mettent en péril les palmeraies, mais on pourrait proposer des plans d'aménagements "contemporains" et adaptés aux contraintes climatologiques. Or, on pourra pas copier et coller les aménagements d'autres régions qui n'ont rien à avoir avec celles du sud. Au fait, il suffisait de regarder attentivement ce que les gens ont fait d'une manière presque instinctive, pour améliorer l'urbanisme des ksour, tout en gardant ce qui marche. Voyons le cas du ksar de Targhlil, près de Beni Zoli (Zagora). Le ksar a été complètement abandonné suite aux inondations dans les années 80. Les habitants ont dû construire des nouveaux quartiers dans les parcelles voisines.
90. It is true that self-construction and urban planning without control endanger the palm groves, but "contemporary" urban plannings could propose, plans adapted to climatic conditions, instead of copying urban plans from other regions that have nothing to do with those in the south. In fact, it could be enough to look carefully at what people are doing, in a instinctive way, to improve the urban structure of ksour, keeping what works. The ksar of Targhlil near Beni Zoli (Zagora) was completely abandoned following the floods in the 80s, residents had to build a new neighbourhood in the nearby plots.
Targhlil: https://goo.gl/photos/r4sS3FvNPbREKXeJ9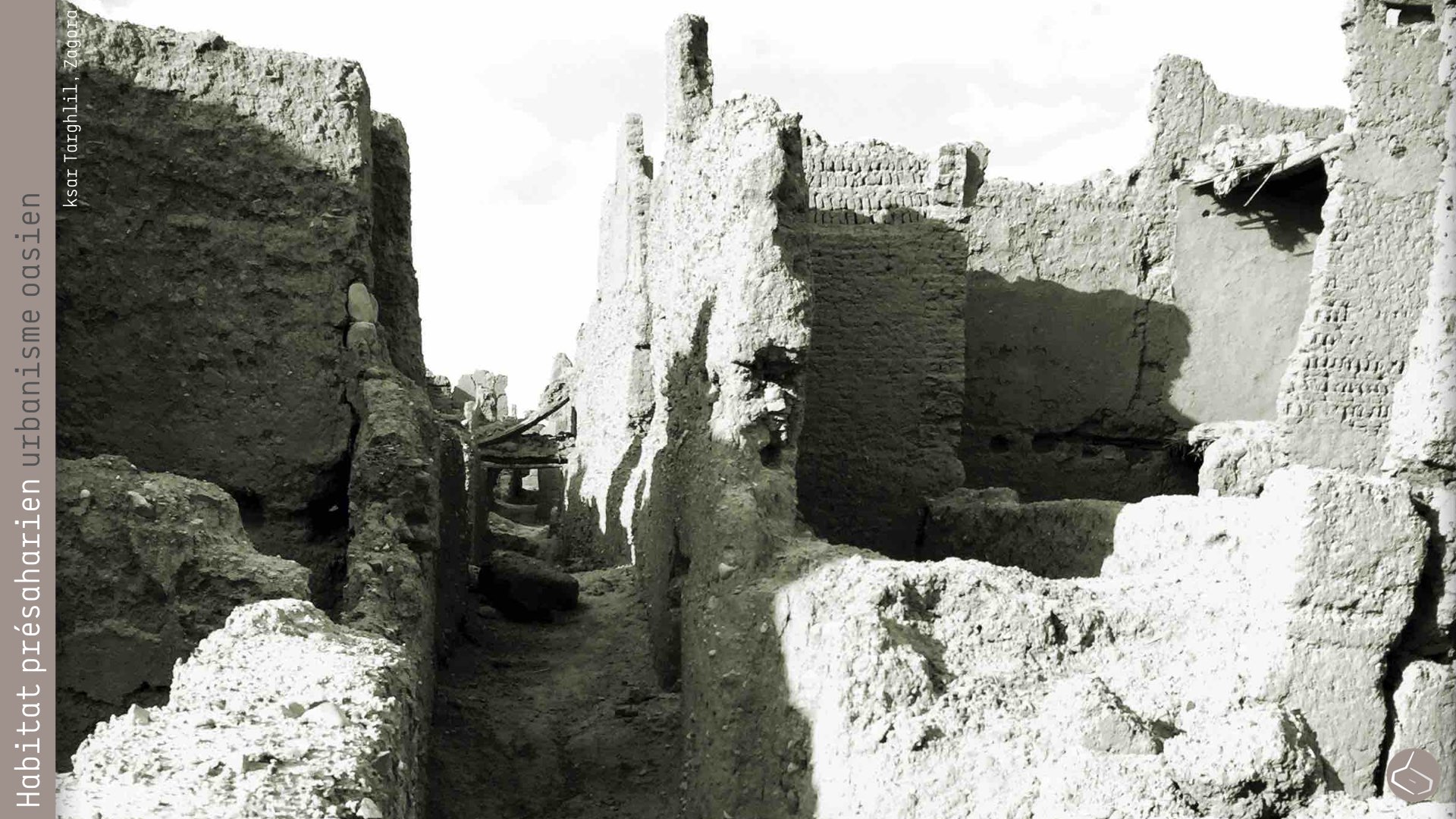 91. Ils savaient que les ruelles étroites et bien orientées, allaient permettre de mieux se protéger de la chaleur et du vent.
91. They knew that narrow and well-oriented streets, would help to better protect themselves from the heat and the wind.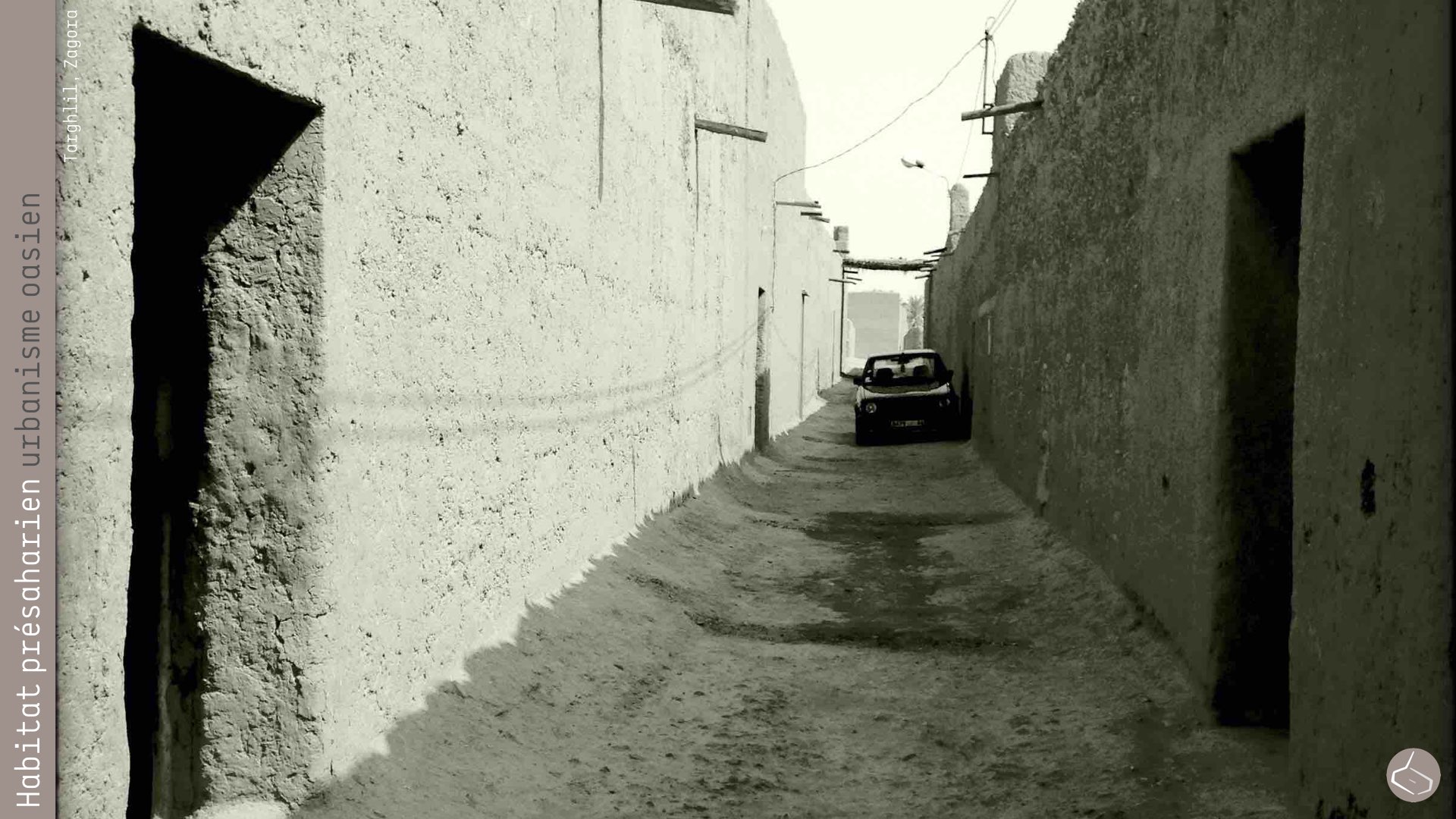 92. Alors, ils ont fait des ruelles perpendiculaires au sud, qui permettent de créer de l'ombre sans avoir besoin de la couvrir complètement, mais ils ont agrandi légèrement la largeur afin de pouvoir rentrer occasionnellement avec une voiture ou un chariot. Par ailleurs, les maisons ont un seul étage, avec un grand patio. On peut dire que ce quartier est une évolution de ksar, toujours avec la terre, un peu dense (mais sans arriver au niveau des ksour), adapté aux modes de vie de ses habitants du 21ème siècle, et le plus important, à l'intérieur de la palmeraie.
92. So, they made perpendicular streets to the south, which create shade without having to cover them completely, they made them wider, in order to have occasionally access with a car or a carriage. In addition, the houses have just one floor, with a large courtyard. We can say that this neighbourhood is an evolution of a ksar, built in rammed earth, a bit dense (but without arriving at the ksour density), adapted to the lifestyles of the inhabitants of the 21st century, and most important, inside the palm grove.
https://plus.google.com/u/0/photos/+marsaddraa/albums/6066366549804177505
93. Il faut rappeler que la différence de température entre vivre dans la palmeraie ou en dehors, peut arriver à 6ºC. L'idéal serait de construire les nouveaux quartiers, non pas dans la palmeraie, mais dans les terrains occupés auparavant pour les palmiers, en profitant de l'aménagement "urbain" pour reboiser la palmeraie…
93. We would like to remember that the temperature difference between living inside or outside the palm grove can reach 6 ºC. The ideal would be to build new districts, not in the palm grove, but in the land occupied in the past for the palm trees, taking advantage of the "urban planning" (or we must say oasian planning), we could reforest the oases ...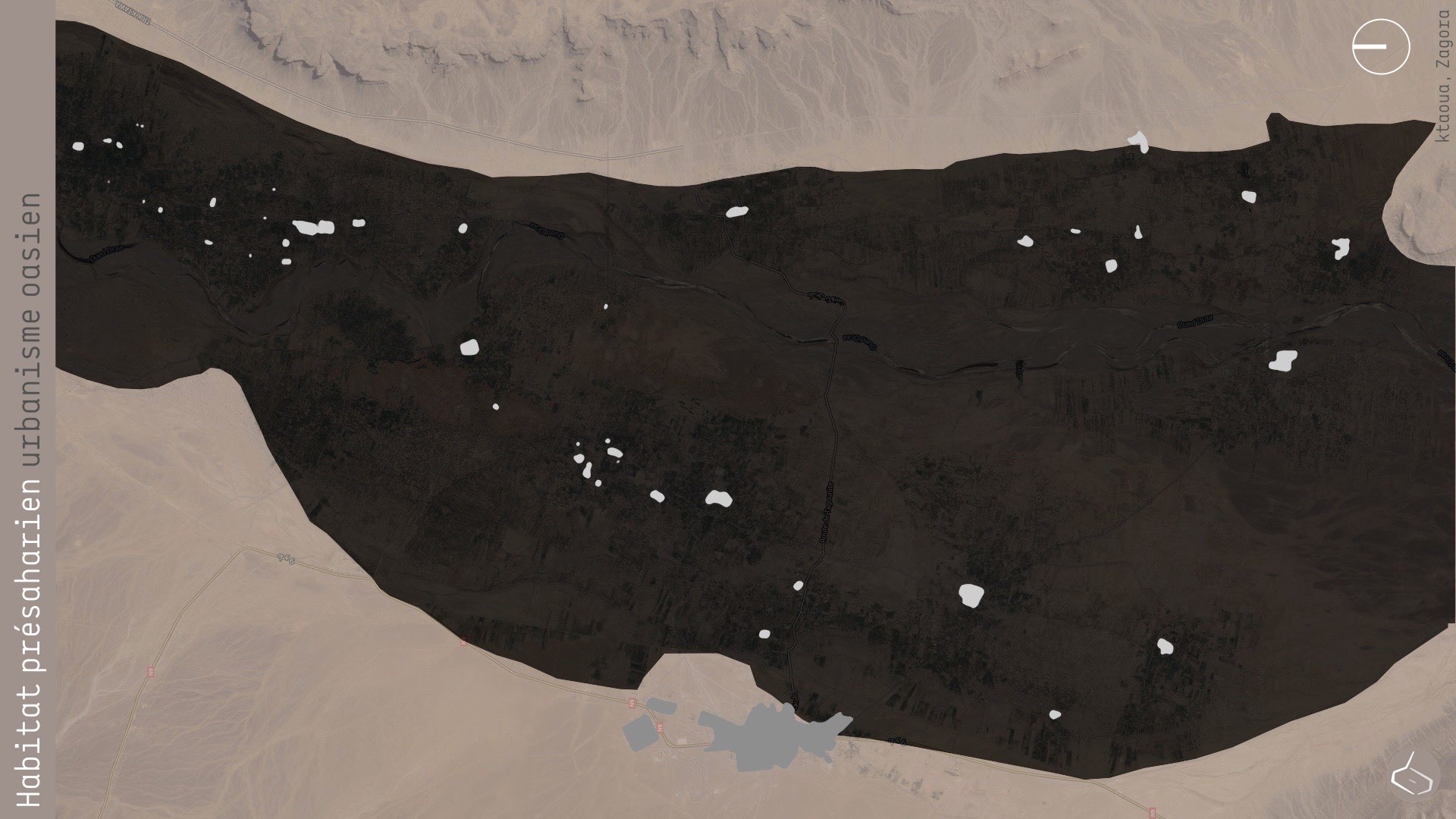 94. Et ainsi avoir un urbanisme qui s'approche le plus possible de celui de Ktaua.
94. And thus we could have an urbanism closer to the one we saw in Ktaua.
93. Il faut rappeler que la différence de température entre vivre dans la palmeraie ou en dehors, peut arriver à 6ºC. L'idéal serait de construire les nouveaux quartiers, non pas dans la palmeraie, mais dans les terrains occupés auparavant pour les palmiers, en profitant de l'aménagement "urbain" pour reboiser la palmeraie…
93. We would like to remember that the temperature difference between living inside or outside the palm grove can reach 6 ºC. The ideal would be to build new districts, not in the palm grove, but in the land occupied in the past for the palm trees, taking advantage of the "urban planning" (or we must say oasian planning), we could reforest the oases ...