🅒 🅦 Paseo de las Palmeras renovation Ceuta (Spain) 2001/2003 🅘 🅟🅡🅘🅩🅔 Partners: José Luis Pérez Marín, architect. Antonio Molina Ortiz and Vicente Vicent, engineers. Collaborators: Juan Astorga, Rocío Salvador, Ismael Martínez, Rocío Martín, Desirée González, Judith Martínez, Nordim Abdesalam, Mayte Martín, Francisco Pantano, architects. Manuel Pérez Marín, quantity surveyor. José Luis Pérez Díaz, engineer. José Luis Gómez Barceló, historian. Ricardo Ugarte, biologist. Younès Rahmoun, Antonio San Martín, Ahmed Amrani, visual artists
On July the 24th, 2001, the Autonomous City of Ceuta convened the design and work tender for the "Design, Execution Project and Health and Safety Project of the Works and Infrastructures necessary for the widening of the Paseo de las Palmeras in Ceuta". We collaborated with FCC and the proposal was delivered the 10th September. On December the 28th, we were awarded the tender (the contract was signed on January the 28th, 2002), the works began the 19th March, 2002 and they project was accomplished on December 2013. This is the story of this project.
.....
Le 24 juillet 2001, la Ville Autonome de Ceuta a convoqué les projets de conception, d'exécution, de Sécurité et Santé des Travaux et Infrastructures nécessaires pour l'élargissement du Paseo de las Palmeras de Ceuta". Nous avons collaboré avec FCC et la proposition a été livrée le 10 septembre. Le 28 décembre, nous avons été retenus par le jury (le contrat a été signé le 28 janvier 2002), les travaux ont commencé le 19 mars 2002 et le projet a été accompli en décembre 2013. Ceci est l'histoire de ce projet.
.....
El 24 de julio de 2001 la Ciudad Autónoma de Ceuta convoca el concurso para "Diseño,Redacción de Proyecto de Ejecución, de Seguridad y Ejecución de las Obras e Infraestructuras necesarias para el Desdoblamiento del Paseo de las Palmeras en Ceuta", concurso de obra y proyecto al que concurrimos con FCC y que se presenta el 10 de septiembre. Con fecha 28 de diciembre se nos adjudica el concurso (el contrato se firma el 28 de enero de 2002), las obras comienzan el 19 de marzo de 2002 y finalizan en diciembre de 2003. Esta es la historia del proyecto.
initial state/état initial/estado inicial
The city centre had traffic jam almost everyday and the problems were localised in two sectors, Constitution square and the Cristo bridge. These points originated the collapse of the "Paseo de las Palmeras".
Le centre ville avait des embouteillages presque tous les jours et les problèmes étaient localisés dans deux secteurs, la place de la Constitution et le pont du Cristo. Ces points provoquaient le blocage du "Paseo de las Palmeras".
El centro de la ciudad sufría atascos de tráfico casi todos los días y los problemas estaban localizados en dos zonas, la plaza de la Constitución y el puente del Cristo, lo que provocaba el colapso en el Paseo de las Palmeras.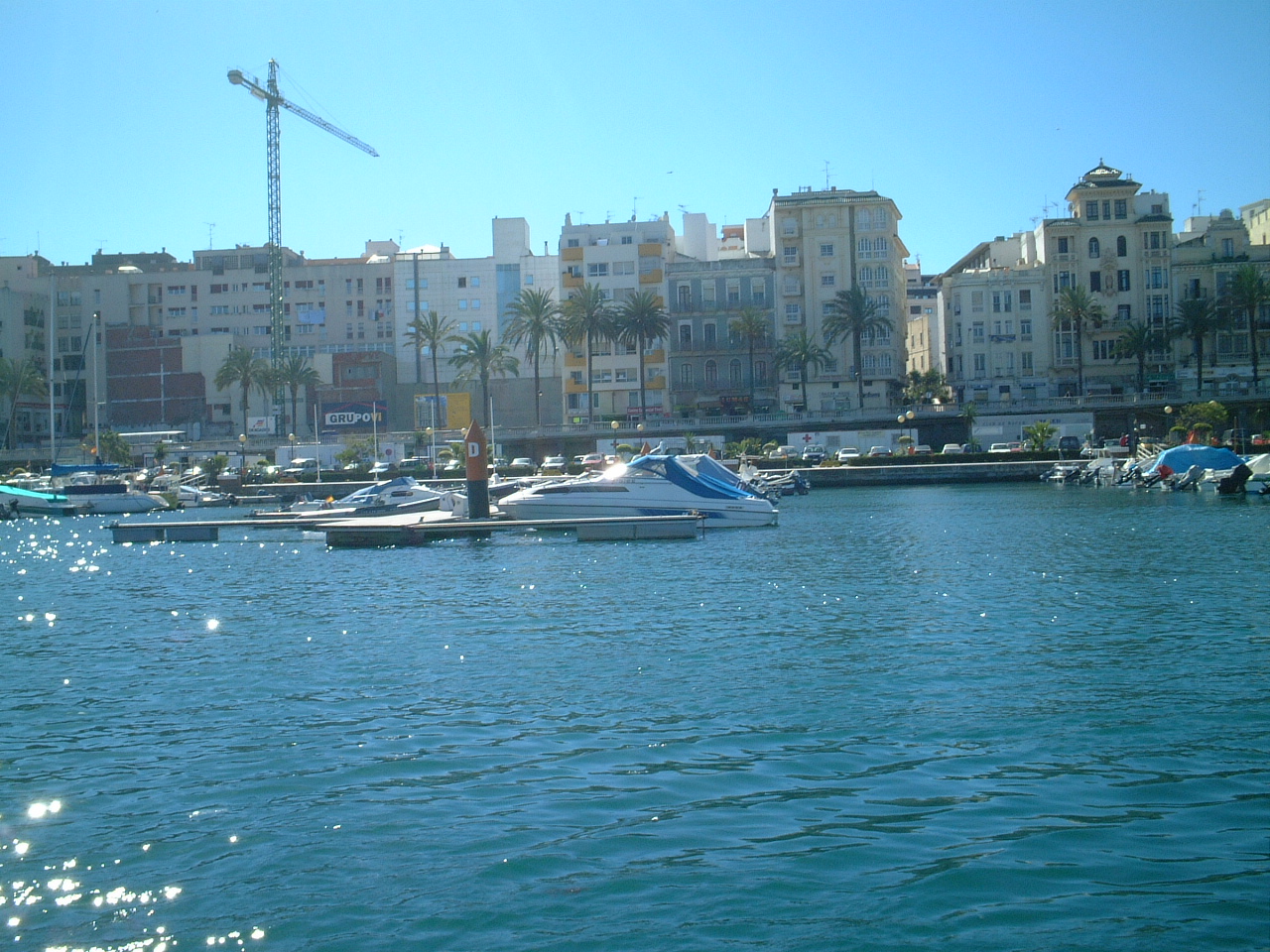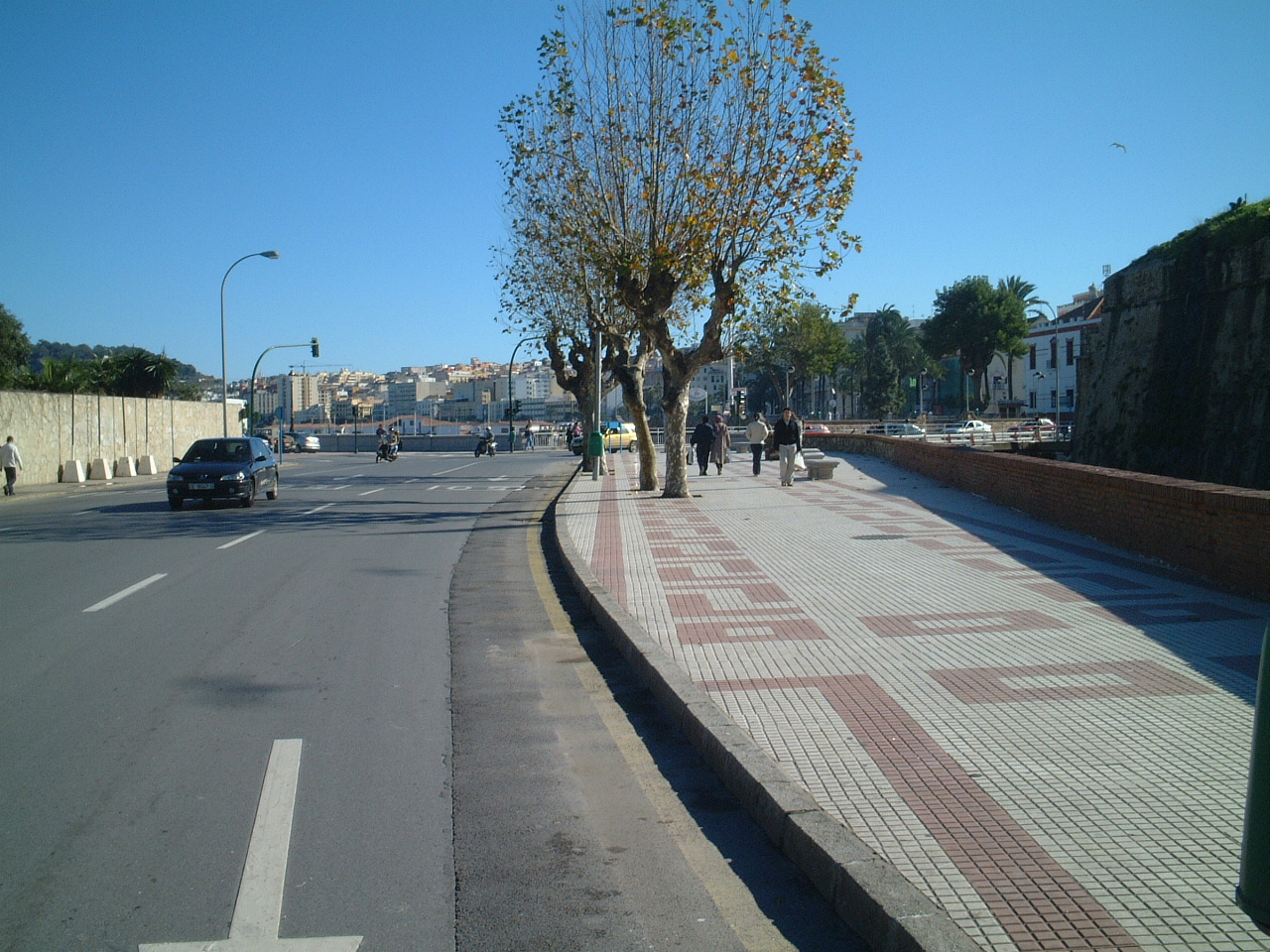 proposals/propositions/propuestas
The goals of the competition was the widening of the existing road (Paseo de las Palmeras) in order of having 4 lanes instead of two, with the possibilities of two directions and not just one.
Les objectifs du concours étaient l'élargissement de la route existante (Paseo de las Palmeras) afin d'avoir 4 voies au lieu de deux, avec la possibilité d'avoir aussi deux directions et non pas seulement une.
Los objetivos del concurso eran la ampliación del actual Paseo de las Palmeras con el fin de tener 4 carriles en lugar de dos, y la posibilidad de tener dos direcciones y no solo una.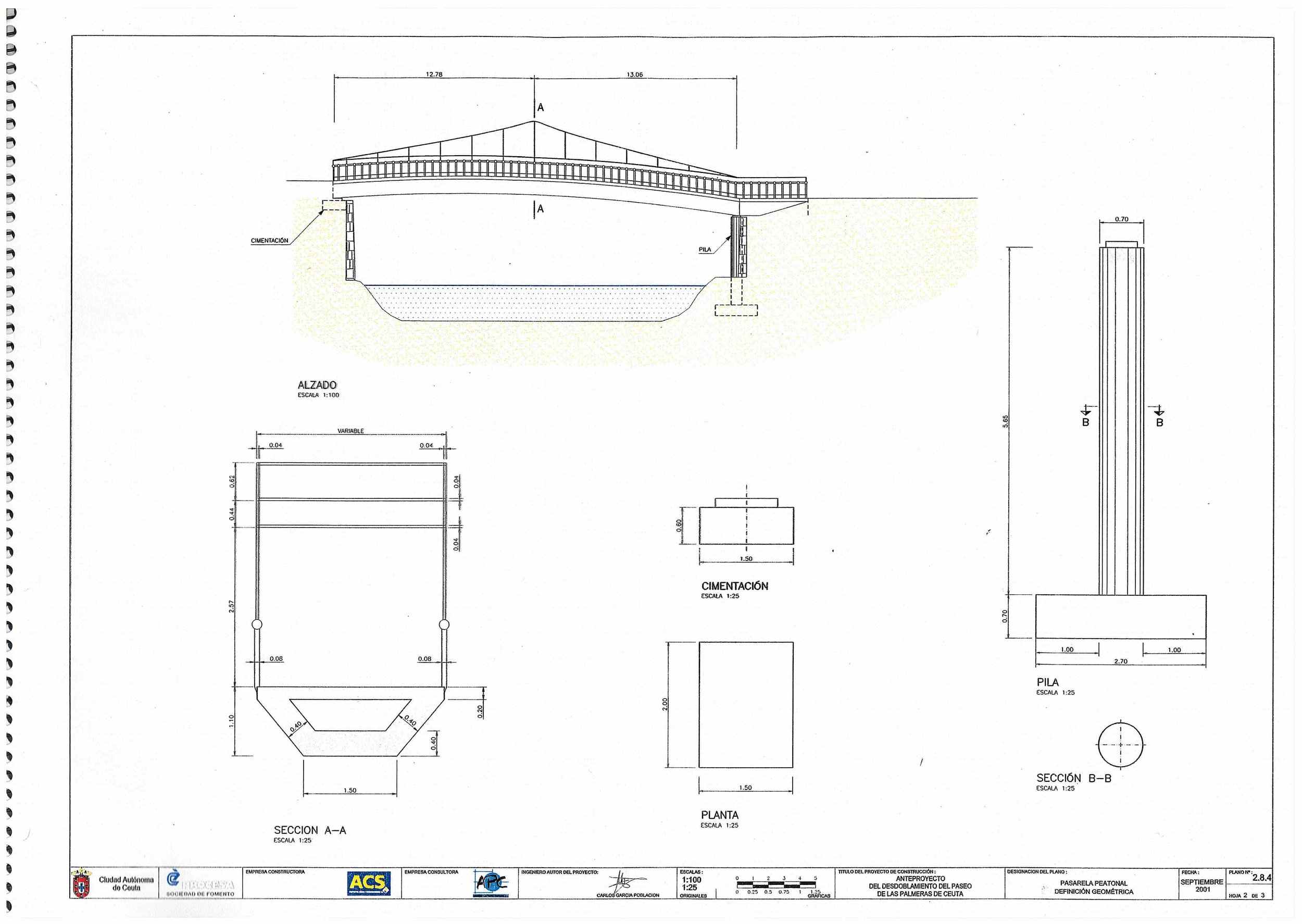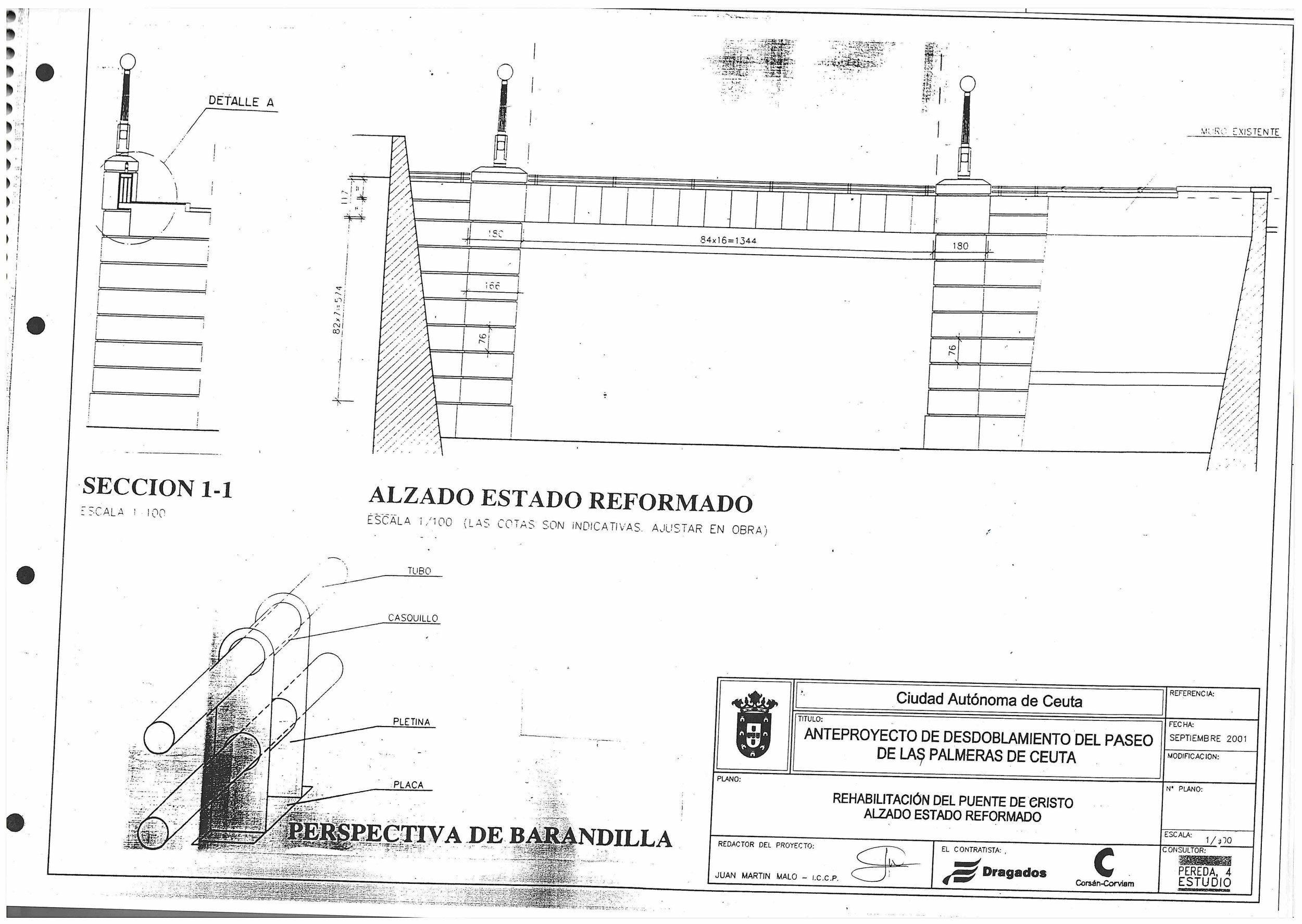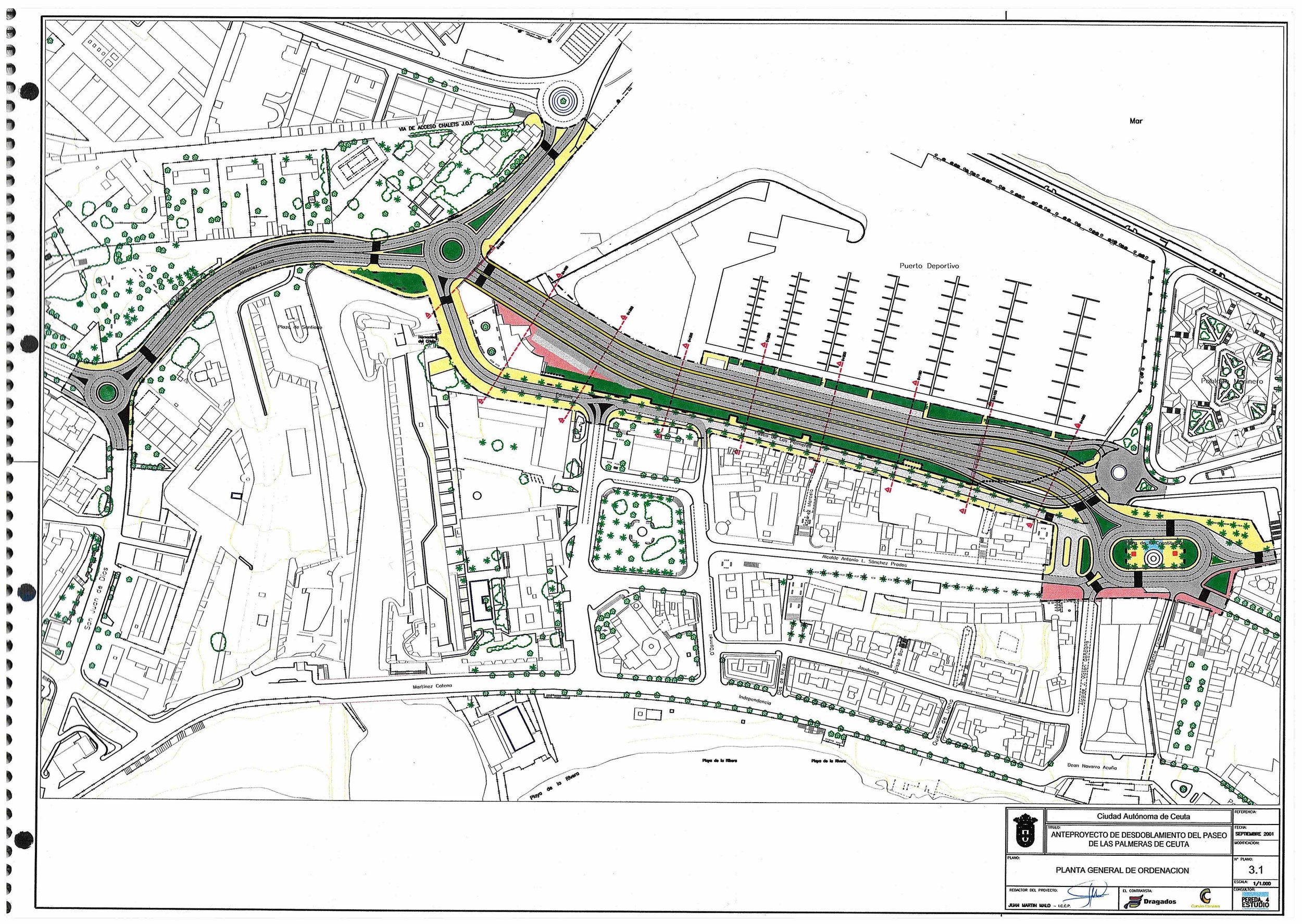 public presentation/présentation public/presentación pública
The first thing we did when we started to work on the tender, was to think about the suitability of the project. Did we really have to widen the road? Where was the right location for those new lanes? In the same place, close, in another one? We had to consider the impact of this transformation in the whole city, not just in the area affected by works and then to think how the city could grow in the next 20 and 50 years. We thought (and we still think) there will be another road along the limits of the maritime park and the marina dock, that will cross until the roundabout of Cañonero Dato street. Later, it will be necessary to build another bridge which will connect the two docks of the mouth, creating a new ring road between San Amaro and Benítez districts (we even did some drafts), but that will be maybe in 2050...
For the tender, we considered as the best option to build a new road with two lanes in both directions, on the grounds of the marina, but we had two problems to solve, the connections in the Constitution square and the crossroad near the old "Cristo Bridge", both had a higher elevation than the new road.
La première chose que nous avons fait quand nous avons commencé à travailler pour l'appel d'offres, a été de réfléchir à l'adéquation du projet. Était-il vraiment nécessaire d'élargir la route? Où était le meilleur emplacement pour ces nouvelles voies? Au même endroit, à côté, dans un autre lieu? Nous avons aussi dû considérer l'impact de cette transformation dans toute la ville, pas seulement dans la zone affectée par les travaux, puis penser comment la ville pourrait se développer dans les 20 et 50 prochaines années. Nous avons pensé (et nous pensons toujours) qu'il y aura une autre route le long des limites du parc maritime et du quai de la marina, qui traversera jusqu'au rond-point de la rue Cañonero Dato. Plus tard, il y aura un autre pont qui reliera les deux quais de l'entrée au port, en créant un nouveau périphérique entre les quartiers de San Amaro et Benítez (nous avons même fait quelques esquisses), mais cela sera peut-être une réalité en 2050 ...
Pour l'appel d'offres, nous avons considéré comme la meilleure option pour construire une nouvelle route, avec deux voies dans les deux sens, sur les terrains de la marina, mais nous avions deux problèmes à résoudre, les connexions sur la place de la Constitution et le carrefour à côté du "Pont du Cristo", car les deux étaient plus hauts que la nouvelle route.
Lo primero que hicimos cuando empezamos a trabajar en la licitación fue pensar en la idoneidad del proyecto. ¿Realmente tenemos que ensanchar el camino? ¿Dónde estaba el lugar adecuado para esos nuevos carriles? En el mismo lugar, cerca, en otro? Tuvimos que considerar el impacto de esta transformación en toda la ciudad, no sólo en el área afectada por las obras y luego pensar cómo la ciudad podría crecer en los próximos 20 y 50 años. Pensamos (y todavía pensamos) que habrá otro camino a lo largo de los límites del parque marítimo y el muelle del puerto deportivo, que cruzará hasta la rotonda de la calle Cañonero Dato. Más tarde, será necesario construir otro puente que conectará los dos muelles de la bocana (incluso hicimos algunos croquis), creando una nueva carretera de circunvalación entre los distritos de San Amaro y Benítez, pero que será tal vez en 2050 ....
Para la licitación, consideramos como la mejor opción para construir una nueva carretera, con dos carriles en ambas direcciones, los terreno del puerto deportivo, pero nos enfrentábamos a dos problemas, las conexiones en la plaza de la Constitución y en el cruce cerca del "Puente del Cristo", porque ambos estaban a cotas superiores respecto al nuevo viario.
Our proposition was able thanks to the knowledge of the architectural heritage that still remained in the area, a complex set of fortifications from the 10th century to the 19th century, especially in the Constitution square. We knew the space in front of the central market was an artificial platform obtained after building a bridge and filling the espace between two bastions (San Sebastián and San Juan de Dios). We thought we could use those grounds fillings to connect the actual square with the new road (that was in a lower level), besides we tried to place a footbridge in orden to do not cut the walking area between "Paseo de la Marina" and the new "Paseo de las Palmeras". For the historical research we worked with José Luis Gómez Barceló, you can read his report clicking on the old picture next to this text.
Notre proposition a été possible grâce à la connaissance du patrimoine architectural qui restait encore dans la zone, un ensemble complexe de fortifications construites ente le 10ème siècle et le 19ème siècle, en particulier sur la place de la Constitution. Nous savions que l'espace devant le marché central était une plate-forme artificielle obtenue après la construction d'un pont et le remplissage de l'espace entre deux bastions (San Sebastián et San Juan de Dios). Nous avons pensé que nous pouvions utiliser ces terrains pour relier la place actuelle avec la nouvelle route (qui était à un niveau inférieur), en plus nous avons essayé de placer une passerelle en ordre de ne pas couper la promenade existante entre le "Paseo de la Marina" et le nouveau "Paseo de las Palmeras". Pour la recherche historique, nous avons travaillé avec José Luis Gómez Barceló, vous pouvez lire son rapport en cliquant sur l'ancienne photo à côté de ce texte.
Nuestra propuesta fue posible gracias al conocimiento del patrimonio arquitectónico que aún permanecía en la zona, un conjunto complejo de fortificaciones construidas entre los siglos X y XIX, especialmente en la plaza de la Constitución. Sabíamos que el espacio frente al mercado central era una plataforma artificial obtenida tras construir un puente y rellenar el espacio entre dos baluartes (San Sebastián y San Juan de Dios). Pensamos que podíamos utilizar esos rellenos para conectar la plaza de la Constitución con la nueva carretera (que estaría en un nivel inferior), además, intentamos ubicar una pasarela para no interrumpir el paso entre el Paseo de la Marina y el nuevo "Paseo de las Palmeras". Para la investigación histórica trabajamos con José Luis Gómez Barceló, podéis leer su informe haciendo clic en la imagen antigua junto a este texto.
second proposal/deuxième proposition/segunda propuesta
We proposed another solution that would be more interesting to improve public spaces in the city centre.
Instead of crossing the moat with a bridge we thought to build a tunnel, letting a garden close to the moat in the marina. From a technical point of view there was a problem, the roundabout was going to be under the water level, without no building to counteract the pressure of water, that's why we also proposed the construction of a building with 400 parking spaces and sports courts on the roof. Even if authorities found this idea more interesting, the construction of the parking wasn't able because of the budget considered in the tender, neither the possibility of an administrative concession that could finance the works. At the end the problem was the administrative management of the tender. Politiciens used to think it is better to do just one tender instead of two, one for the architectural project (to choose between several ideas) and another for the construction company. With a architectural competition, this proposal could be possible, without more money than expected.
Nous avions proposé une autre solution qui aurait été plus intéressante pour améliorer les espaces publics du centre-ville.
Au lieu de traverser le fossé avec un pont, nous avions pensé construire un tunnel, en créant un jardin tout près du fossé dans la marina. Dès un point de vue technique il y avait un problème, le rond-point allait être sous le niveau de l'eau, sans aucun bâtiment pour contrer la pression de l'eau, c'est pourquoi nous avons également proposé la construction d'un bâtiment avec 400 places de stationnement et des terrains de sport sur le toit. Même si les autorités trouvaient cette idée plus intéressante, la construction du parking n'était pas possible en raison du budget envisagé dans l'appel d'offres, ni la possibilité d'une concession administrative qui pourrait financer les travaux. Finallement, le problème était la gestion administrative de l'appel d'offres. Les politiciens ont l'habitude de penser qu'il est préférable de faire juste un appel d'offres au lieu de deux, l'un pour le projet architectural (à choisir entre plusieurs idées) et un autre pour la société de construction. Avec un concours d'architecture, cette proposition aurait pu être possible, sans surcoûts par rapport au budget envisagé initialement.
Propusimos otra solución que hubiese sido más interesante para mejorar los espacios públicos en el centro de la ciudad.
En vez de cruzar el foso con un puente pensamos en construir un túnel, dejando un jardín cerca del foso, en el puerto deportivo. Desde el punto de vista técnico había un problema, la rotonda iba a estar por debajo del nivel freático, sin ningún edificio para contrarrestar la presión del agua, por ello también propusimos la construcción de un edificio con 400 plazas de aparcamiento y pistas deportivas en la cubierta. Aunque las autoridades encontraron esta idea más interesante, la construcción del aparcamiento era inviable debido al presupuesto fijado en la licitación, tampoco se contemplaba la posibilidad de realizar una concesión administrativa que pudiera financiar las obras. Al final el problema estaba en la gestión administrativa de la licitación. Los políticos suelen pensar que es mejor hacer un solo concurso en lugar de dos, una para el proyecto arquitectónico (para elegir entre varias ideas) y otra para la empresa constructora. Con un concurso de arquitectura, esta propuesta hubiese sido posible, sin más dinero de lo presupuestado inicialmente.
The works had a tight schedule (very) because the upcoming elections (May 2003). In theory we had just two months, since we signed the contract, to do the execution project, there was no time at all to do it, even if we already had preliminary one, there were a lot of things to rethink and to develop. We had two options, to finish what we proposed for the tender or to make an effort and develop all the elements during the works, without delaying them. We chose the second option because we thought the city deserved better, not just industrial elements selected from a catalog or copied from other cities, we wanted a footbridge, an acoustic protection and a bridge that one could not find elsewhere (we already had the walls as singular component of the project). We wanted a project that could reinforce the identity of our city.
You will find more information below on the creation process, the works and the state of the footbridge, the new road and the bridge several years later.
Les travaux avaient un calendrier serré (très) à cause des prochaines élections (mai 2003). En théorie, nous avions juste deux mois, depuis la signature du contrat, pour faire le projet d'exécution et il n'y avait pas assez de temps de le faire, même si nous avions déjà un avant-projet, il y avait beaucoup de choses à repenser et à développer. Nous avions deux options, terminer ce que nous avions proposé pour l'appel d'offres ou bien faire un effort et développer tous les éléments pendant les travaux, sans les retarder. Nous avons choisi la deuxième parce que nous pensions que la ville méritait mieux, pas seulement des éléments industriels choisis dans un catalogue ou copiés d'autres villes, nous voulions une passerelle, une protection acoustique et un pont que l'on ne pouvait pas trouver ailleurs (nous avions déjà les murailles en tant que quatrième élément singulier). En définitif nous voulions un project qui ait pu renforcer l'identité de notre ville.
Vous trouverez plus d'informations ci-dessous sur le processus de création, les travaux et l'état de la passerelle, la nouvelle route et le pont quelques années plus tard.
Las obras tenían un calendario muy ajustado ante la proximidad de las elecciones (mayo de 2003). En teoría teníamos sólo dos meses, desde que firmamos el contrato, para hacer el proyecto de ejecución. No había tiempo material para redactarlo, aunque ya teníamos un anteproyecto, había aún multitud de elementos que había que repensar y desarrollar. Teníamos dos opciones, terminar lo que propusimos para la licitación o hacer un esfuerzo y desarrollar todos los elementos durante las obras, eso sí, sin retrasarlas. Elegimos la segunda porque pensábamos que la ciudad se merecía mejor y no sólo elementos industriales elegidos de un catálogo o copiados de otras ciudades, queríamos una pasarela, una protección acústica y un puente que no se pudieran encontrar en otras ciudades (ya teníamos las murallas como elemento singular).
A continuación encontrará más información sobre el proceso de creación, las obras y el estado de la pasarela, el viario nuevo y el puente varios años después.
traffic proposals/propositions pour la circulation/propuestas para el tráfico
In order to improve the traffic in the city centre, we proposed some changes to nearest street, like the one in San Juan de Dios avenue, that could let cars arrive directly to the port instead of crossing the Constitution square. During the works we even though to convert the petrol station between Enrique el Navegante, San Juan de Dios and Martinez Catena in a roundabout that would make possible to change one of the lane of Independencia street, so people could go from Recinto to the border directly. Finally, non of these proposals were adopted, but they still could in the futur, indeed, we think one day they will...
Afin d'améliorer la circulation au centre-ville, nous avons proposé quelques changements dans les alentours du projet, comme celui de l'avenue San Juan de Dios, qui pourrait laisser les voitures arriver directement au port au lieu de traverser la place de la Constitution. Pendant les travaux nous avons même transformé la station-service entre Enrique el Navegante, San Juan de Dios et Martinez Catena dans un rond-point qui permettrait de changer une des voies de la rue Independencia, afin que les gens puissent aller du Recinto à la frontière directement. Enfin, aucune de ces propositions ont été adoptées, mais elles pourraient encore dans le futur, en effet, nous pensons qu'un jour ils les feront...
Con el fin de mejorar el tráfico en el centro de la ciudad, propusimos algunos cambios a las calles cercanas, como en la avenida San Juan de Dios, que un el cambio de sentido de uno de los carriles, permitiría que los coches llegaran directamente al puerto en lugar de cruzar la plaza de la Constitución. Durante las obras, incluso propusimos convertir la gasolinera entre Enrique el Navegante, San Juan de Dios y Martinez Catena en una rotonda que hiciera posible cambiar uno de los carriles de la calle Independencia, para que la gente pudiera ir desde el Recinto a la frontera directamente. Al final, ninguna de estas propuestas fueron adoptadas, pero todavía podrían hacerlo en el futuro, de hecho, es más, pensamos que algún día se llevarán a cabo...
construction documents/projet d'exécution/proyecto de ejecución
present state/état actuel/estado actual
execution project/projet d'exécution/proyecto de ejecución
construction works' pictures/photos du chantier/fotos de la obra